HAPPENING NOW: Third Industrial Revolution
At Green Builder Media's recent Sustainability Symposium 2018, economist Jeremy Rifkin delivered a mind-blowing keynote outlining the transformation that our global economy is currently undergoing, with advances in communication, energy, and mobility solutions that will fundamentally change our built environment.
Jeremy Rifkin's resume couldn't be more impressive. Economist, futurist, political advisor, sustainability activist, and lecturer at The Wharton School, Rifkin has written 20 bestselling books and helped heads of state in Europe and China craft long-term development plans for smart, sustainable cities.
Rifkin graciously agreed to deliver the opening keynote for Green Builder Media's recent Sustainability Symposium 2018: Champions of Change. He couldn't resist the opportunity to talk with hundreds of forward-thinking sustainability professionals who would not only understand his message, but could also personalize it and turn it into meaningful action.
Rifkin began his enlightening keynote with a sobering reflection on our economy, our society, and our planet.
Relative to the economy, Rifkin reported that our global GDP is growing at a historically low rate, and productivity has been declining throughout the world for last 15 years. Unemployment is high, especially for millennials, who are trying to find their place in 21st century workforce. We have reached an economic plateau, and there is nothing but long-term stagnation projected on the horizon.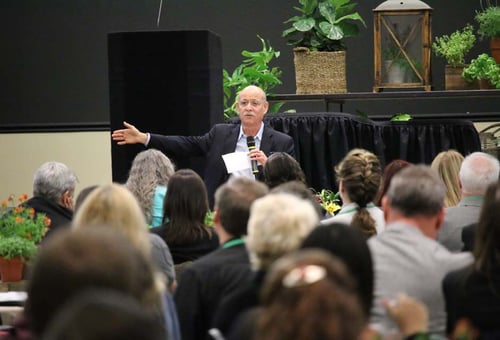 These economic doldrums have been precipitated by our current industrial era, the technologies of which have given rise to the real-time crisis of climate change.
These technologies—and their carbon emissions—have altered the water cycles of the earth. "We are the watery planet," says Rifkin, "and hydrological cycles have historically created our ecosystems. For every 1 degree that the Earth's temperature rises, the atmosphere sucks up 7% more precipitation from the ground. Heat forces this precipitation into clouds, which lead to more violent extreme winter events—more flooding, more summer droughts and wildfires. These are real time climate changes; we've hit the exponential runaway curve and our ecosystems are collapsing because they can't adapt to the changing water cycles."
"Scientists tell us that we're in 6th extinction of life on earth," he declares. "This is the most dramatic story of our time, but it barely makes the headlines. We could lose over 50% of life on earth. We're clearly not grasping the moment."
But Rifkin isn't all gloom and doom—while he recognizes the massive extent of the problem, he is actively evangelizing the solution: a new economic vision for the world, and a quick game plan for acting on that vision.
Rifkin avows that we need to "be off carbon in less than 4 decades if we have any chance of avoiding the abyss. We can't evade climate change—it's here, now, for thousands of years. But we may be able to circumvent catastrophe and regenerate the planet."
In order to understand how to dodge collapse and create a biophilic future, Rifkin looks to the past. Previous industrial revolutions have been led by innovations in three defining technologies—communication, energy, and mobility—which converge across civilization to transform global socio-economics.
The first industrial revolution was led by the telegraph, steam-powered printing (which enhanced public education and literacy), coal, and the steam engine (locomotives). These advances changed the built environment by concentrating populations in urban areas.
The telephone, oil, and internal combustion engine ushered in the second industrial revolution, leading to the advent of suburbs, shopping malls, travel and tourism.
But, as Rifkin laments, the productivity of second industrial revolution technologies is now in decline, so in order to jump start our economy—and give our planet even a fighting chance against climate change—we must shift away from the second industrial era infrastructure of fossil fuels and internal combustion engines towards third industrial revolution technologies: Internet-based digital communication; renewable energy; and smart, autonomous, carbon-free mobility solutions.
Third industrial revolution technologies rely on an integrated network of sensors that comprise the Internet of Things—they provide ubiquitous connectivity that conjoins the human race and our surroundings in an entirely new way. This network takes us from globalization (centralized, top down, proprietary) to distributed (lateral, open, transparent).
Rifkin calls the economic platform that is driving the third industrial revolution "Glocalization", since communication, transactions, energy transfer, and mobility occur in real time, physically and virtually, in a local, cost-effective and fully scalable manner.
Global digitalization is introducing new issues, namely around safety, security, and privacy, and Rifkin predicts that the next three generations will focus on managing what he calls the "dark net."
However, this mass digitalization is also changing the capitalist system: as fixed costs for digital communications, transactions, and mobility plummet and marginal costs approach zero, our economic system is shifting from buyers, sellers, workers and owners to providers and users, where people don't buy things but rather access services (take for example, car sharing) and there is an ongoing flow of services transacted within the context of blockchain and the sharing economy, which Rifkin claims is the "first new economic system since capitalism and socialism."
Rifkin is hopeful about the progress that is occurring in places like Germany (which currently draws 35% of its energy from solar & wind and is projected to be 100% renewable before 2040) and China, which just invested $82 billion into a program called Internet Plus China to digitalize electricity across the country.
He is not so optimistic about the U.S. "Our government in Washington is taking us back to the 1950's," he said. "When countries like Germany and China plug into renewables, an economy dependent on fossil fuels can't compete."
He encourages U.S.-based utilities to shift their business models before it is too late, emulating those in Germany that have become managers of energy, data, and analytics to help power producers (businesses, homeowners, cities, etc.) increase their aggregate efficiency.
Despite his optimism about the third industrial revolution, he cautions that technology alone won't assure our success. "Technology enables us, but what we need is a transformation of consciousness," he says. "This will require a commitment by the human race to an extent that we've never seen before."
He is confident that the millennials are driving that change. "When I was growing up, we thought that freedom meant independence and exclusivity, and that power was a pyramid. But millennials find freedom in connectivity and inclusivity, and power is collective, networked, transparent and open. We used to believe that competition was a zero-sum game. Millennials have shifted from an old model of geopolitics to biosphere consciousness, and they're asking questions that previous generations haven't asked before about our ecological footprint."
Here's hoping that Rifkin is right—that the millennials and third industrial revolution technologies will enable us to quickly and successfully align our social values and our economy with our ecosystems.
Want to learn more? Click here to watch Rifkin's riveting presentation, and click here to read more about the Sustainability Symposium 2018: Champions of Change, generously sponsored by Ingersoll Rand, Emerson, Bosch, Panasonic, Uponor, Samsung, Siemens, and OUC.
What do you think will facilitate the third industrial revolution? Write to me at sara.gutterman@greenbuildermedia.com.
Want to read more? Follow me on Twitter and Facebook. For more information about green building and sustainable living, visit Green Builder Media at www.greenbuildermedia.com, like us on Facebook, and follow us on Twitter for regular updates and breaking news.