EXCLUSIVE GB INTERVIEW
Greening Suburbia

Wildlife ecologist Mark Hostetler, maps out how to transition suburbs from treated lawns and invasive plants to oases of biodiversity.

By Green Builder Staff
GB: Why don't we start with a simple question. What is biodiversity?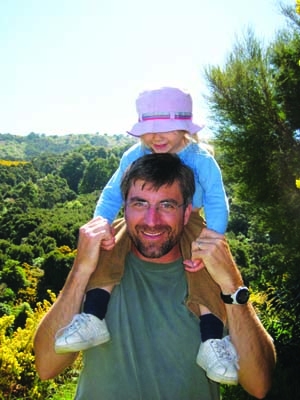 MH: Many of you may recognize it as species diversity, simply the number of different species you find in a given area. But we also define it as habitat diversity, the number of different ecosystems such as prairies, forests, wetlands, etc., and also genetic diversity.
When ecologists talk about biodiversity conservation, we're focusing on native and endemic species. Native species are those found in a given area pre-European colonization, and endemic species are those species that are native and found nowhere else in the world. For example, in Florida we have the Florida Panther in the Everglades.

GB: Which, of course, has been severely compromised by development.
MH:Florida is a biodiversity hotspot: we have 2,850 native plants, 224 of which are endemic, 700 native vertebrates (birds, mammals, reptiles and amphibians), 14 of which are endemic and 15,000 native invertebrates (insects), 1,500 of which are endemic. California is another hotspot.

GB: So why conserve urban biodiversity?
MH: First of all, there are many social and economic benefits. For example, when natural, open spaces are conserved in urban environments, home prices located near these areas are higher. Urban areas are the primary areas where many people interact with local plants and animals. Finally, urban areas impact surrounding natural ecosystems, so we need to think about how they're designed and managed to minimize that impact.

GB: So if we're going to plan and design urban communities to conserve natural resources, mainly plants and animals, who do we need to reach?
MH: Here's an example from the Southwest. If you're the homeowner who's decided to have turf in the middle of the desert, which takes a lot of water and fertilizer—not to mention it's a monoculture so there's not a lot of biodiversity—compared to the person who's decided to use native plants and cacti, you can imagine those decisions are made within hours, and implemented in the coming days and weeks. Maybe the homeowners don't understand why the other one did what they did, but if everyone did what the "greenie" did, then you'd have a huge impact on biodiversity, with the number of native plants and animals that could survive in that subdivision.

GB:So how do you get homeowners to make that switch?
MH: Those homeowners are constrained. If you think of the builders, architects, landscape architects, civil engineers, etc., with one stroke of the pen they really set the framework and tone for the community. They decide where the roads are, how big the lots are, what type of landscaping palette, what kind of water treatment is used, whether to use exotic or native plants in landscaping and what kind of covenants are done for the subdivision. If you're in a master-planned community you have a lot of homeowners associations in Florida and all over, that really constrains what the homeowner can do.

GB: How does one overcome neighborhood covenants that prohibit non-grass yards?
MH: It's very difficult. Depending on the wording in an HOA, you need to have a certain percentage of people vote to change the rule. I may as well tell a story. This was in Michigan. There was a person who moved into a subdivision, was an environmentalist, and ripped up the turf in the front yard and put in native prairie landscaping. They promptly got a call and a visit from the HOA saying, "The covenants state you have to have 80 percent turf in your front yard." The homeowner got a lawyer. The story got in the paper and in the end, half the people were for her and half the people were against her. At the HOA meeting the homeowner said, "I realize that this is enforceable and you can fine me if I don't comply, but I will do something that's totally legal if you make me tear up my prairie. Once I put the turf in, I'll put 1,000 plastic pink flamingoes in my front yard."

GB: I bet she got to keep her prairie! Are you seeing more use of water-conserving grass species like, for instance, Buffalo Grass?
MH: In certain areas I am, especially in areas where there's drought. We've gone through periods in Florida where the water management district says, "There's no water, period." And the HOA says you have to keep your lawn green. That ended up in court in several instances. But you are beginning to see that in areas that suffer water shortages, alternative grasses are being used. It's difficult to promote in areas where water seems abundant. Again, that one maverick can do something different. I had a homeowner in a subdivision in Gainesville who replaced that little strip between the sidewalk and curb with perennial peanut. It's a legume that fixes nitrogen. And while everyone else was replacing theirs, this perennial peanut was green even through the drought period. It produces this nice little yellow flower and doesn't need to be mowed. Now other homeowners are thinking, "This may be the way to go."

GB: Can you talk a little about constraints on the builder side of things?
MH:The policy makers constrain what the developers can do, and developers can constrain what citizens and homeowners can do, but there's an important feedback loop. Citizens with purchasing power can demand a better product from developers, contractors, etc. Developers, with their economic power, can have influence on policy makers and planners, and citizens can elect different officials that can also make policy. If a goal is to conserve urban biodiversity, then more developments need to incorporate green infrastructure into their design and management plans.

GB: And how is this done, specifically?
MH:There are two steps to this. One is to conserve natural resources or biodiversity on site, and the second is to minimize impact on surrounding areas. Think about the three phases of a development. You have the design phase, which determines where the roads are, and where any natural space is conserved. But there are two other phases that are equally, if not more important. There's construction—all the contractors and subcontractors coming onto the site and implementing the design. There's also post-construction. If you have the design and construction right, then you have people move in from all over the country. How they manage their homes and neighborhoods have implications for conservation.

GB: Can you walk us through these, step by step?
MH: Site design issues include large percentage of impervious surfaces, no sensitivity to surrounding land (e.g., buffers), fragmented design, improper inventory of natural areas and road placement that impedes wildlife movement. There's a range of construction issues, such as improper protection of waterbodies (contaminants going off site), improper treatment of storm water, improper protection of conserved trees, improper use of earthwork machines, use of invasive exotics, large percentage of turf, impacts on wildlife, untrained contractors and unshielded lights. Then you have a number of post-construction issues.

GB: So, this means the people actually living in the development.
MH:Right. These issues include drawing down the water table, spread of invasive plants and animals, funding for long-term management, ATVs and foot traffic into preserved areas, nutrient runoff from lawns and impervious surfaces, underground seepage from septic tanks, management of storm water systems, improper pesticide use, feeding wildlife and other human/wildlife conflicts, management of built and conserved areas and no environmental covenants.

GB: Feeding wildlife?
MD:For example, if you build in Florida, there's a tradition of feeding marshmallows to alligators. Alligators like it. It's cheap. It can bring these large reptiles up close to people. You can imagine the impact this has, because alligators naturally have a fear of humans. But if you feed them they lose that fear and become a danger within a development. Small children and pets are in danger once alligators lose their fear.

GB: So you have to educate people about things like that.
MH: It's all about engagement. We need trained and motivated developers, architects and environmental consultants to do the site layout. We need trained and motivated contractors, civil engineers and landscaping companies to do the construction, and we need educated and motivated homeowners. We need to reach all of these people in order for a conservation development to be successful. I'd like to talk a bit more about the post-construction phase, mainly because I've seen a lot of green developments fail in this phase, and research also shows this.

GB: Interesting. What do you mean?
MH: When we look at residents in these subdivisions, they score low in terms of environmental attitudes, knowledge or behaviors, and there was no difference between homeowners in conventional or "green" developments. Study after study shows that homeowners don't have the appropriate information to manage their homes, yards and neighborhoods. Often, when you go into a sale office at a green development, there are banners of all the wildlife and all the green features, but sale office information is not adequate and homeowners forget the information, particularly when the homes are sold and the developer is long gone.

GB:So how do you provide that information after the sale?
MH: One is to install neighborhood educational programs. A good example is the town of Harmony. You can imagine it takes a lot of buy-in from homeowners to understand the importance of prescribed burns, not only for wildlife and plants, but to decrease the hazard of big fires in and around these subdivisions. These signs [about prescribed burns] were installed near sidewalks. We have dynamic educational signs, meaning that, instead of embossing the signs, which is expensive, you can pop out the panel and replace the information for about $80-$90. There's also a website and covenants and brochures for homeowners.

GB:Do the signs actually work?
MH: We did a study where we compared the education program within the town of Harmony to a control community, and we tracked the residents over a period of four years. We found that, with the education program, residents increased capability to apply environmental practices, and they also had improvement in terms of environmental attitudes, knowledge and behaviors. Most residents used the dynamic signs.

GB: How can governments support conservation development initiatives that actually conserve biodiversity?

MH: There are a lot of initiatives out there. You hear about a lot of cluster design initiatives, but we have very little policy that addressees the construction and post-construction phase.

GB: What about getting contractors and developers on board?
MH: Here's one example from Colorado, an incentive-based policy where you give a density bonus for stewardship practices. So you get one step beyond the design phase into the post-construction phase. The developer would get extra units based on these five practices: native landscaping, environmental community codes and restrictions such as pets on a leash, biodiversity conservation and restoration management plan, signage in the neighborhood and a funding mechanism through HOA dues or property taxes to hire environmental professionals. But we've done some research on incentive-based policy and about 95 percent of them don't have much of an impact.

GB: So what do find to be more effective than incentives?
MH: I think it's all about building model developments. Over the last 10-15 years, I've seen more impact with a maverick developer or a maverick city that found a land owner and planning team to put something really different in the area. If you're interested in checking out some of these communities, look at Harmony and Madera, Florida, or the Woodlands at Davidson in North Carolina. Then you organize tours of the model developments. They provide local examples for people to see with their own eyes.

GB: You've helped create a guide for creating conservation developments. Tell us about that.
MH: There's an online course, with a resource manual on conserving biodiversity in the subdivision development. It's available at www.gbrionline.org. The course is essentially broken out into four presentations: Key Concepts and Players discusses key biodiversity concepts and the key players of urban communities. The second presentation discusses the design phase, the third covers the construction phase. Finally, the last section of the course is the post-construction phase, which includes engaging residents through education and CC&Rs, open space management, minimization of human-wildlife conflicts, minimization of impacts on conserved areas and securing permanent funding for management.

GB: When it comes to species protection, do you find resistance from developers and if so, how do you overcome that?
MH: Over the years, being an academic and wildlife biologist, at first I put developers in one box. Then after working with a number of them and seeing their constraints, with everything from getting a project off the ground, the number of hoops they have to jump through, the number of departments they have to see and having the banks breathing down their necks, I've become much more empathetic in trying to work out solutions.

GB: The construction industry, as you know, is one of the most conservative.


MH

: There are a few "mavericks" out there. Those are the rare birds you need to find right away and get those examples on the ground. It's much easier to convince the next developer you work with after that. We had several developers in Gainesville and one did a maverick low-impact community with very little turf, leaving about 99 percent of the tree canopy cover. There was another developer in town who did not want to do any of this. We were doing a tour of the development, and they started talking about economics as we went from lot to lot. The one developer said, "Well, how much does this cost you to do all this landscaping?"

GB: Let me guess...


MH

: It was about $2,000 less than what he was paying. Then he asked how fast the homes were selling, and they were selling faster in the green development, and he was getting more per square foot. In this case, the economic benefits of conservation were shown. It's much better for developers to talk to each other than it is for me to talk to a developer.
READ MORE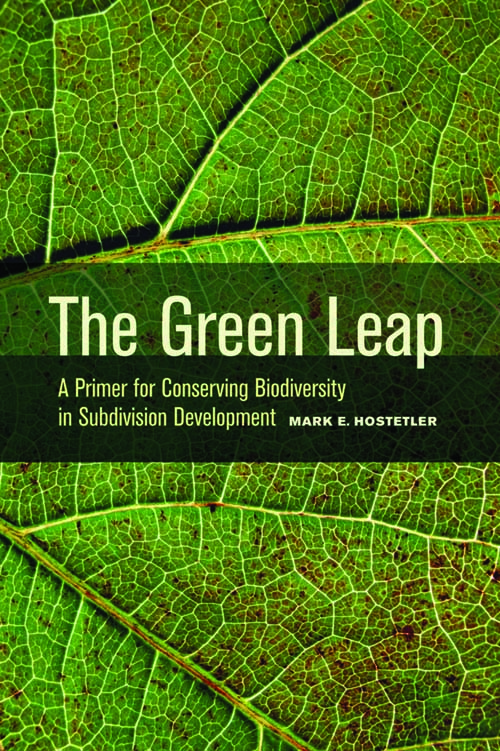 "The Green Leap is one of the first books that brings together recent research on urban ecology and urban wildlife conservation, with emerging trends in sustainable development and green design. Hostetler's book is a welcome addition to the urban wildlife and conservation biology literature and will also be of interest to those interested in urban planning and green design."
-Charles Nilon, Department of Fisheries and Wildlife Sciences, University of Missouri