Green Windows and Doors From a Sustainable Manufacturer

Alan Naditz
3 min read
For this Eco-Leader residential door and window maker, green is good—very good.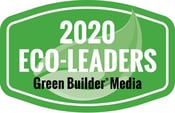 YKK AP America manufactures commercial facade systems, and residential doors and windows, and considers the environment in everything it does. The environmental pledge which governs the company's practices states, "It is recognized today as being a most important duty for all humankind that we preserve the abundantly endowed global environment and that we transfer it to the next generation in a sound condition."
YKK Group proclaims it will address and promote "harmony within the environment" as the "highest priority of its business activities."
The company has a two-pronged approach to sustainability. First, YKK AP develops innovative products designed to block heat, provide insulation, and improve ventilation in homes and offices around the world. Simply put, it manufactures architectural products that provide safe, comfortable environments for building occupants and help reduce energy usage.
Its second strategy takes innovation a step further, extending beyond "what" YKK AP manufactures to "how" YKK AP manufactures it. YKK AP works to minimize its carbon dioxide emissions across manufacturing, sales and distribution processes. It actively invests in energy-saving technology to cut the amount of energy used per-unit weight of products shipped.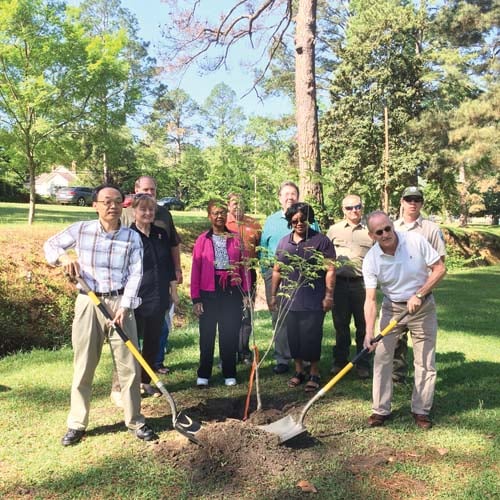 There is no shortage of volunteers when it comes to YKK AP-sponsored educational green events, such as this recent tree planting near the company's headquarters in Cobb County, Ga. Courtesy YKK AP America
YKK Group, which includes YKK and YKK AP, recently announced its Environmental Vision 2050, "Towards a brighter future for nature and humanity," in response to the great need for environmental actions on a global scale.
According to the company, YKK AP was the first residential window maker to launch a product line that spotlights energy efficiency within the building materials industry. It established tools like My Thermal Assistant, an app that helps architects calculate their desired energy performance and better identify environmentally friendly products to meet their needs.
The company's manufacturing plant in Dublin, Ga., is ISO 14001 certified and has a 73 percent recycling rate. The plant recycles 100 percent of aluminum waste on site and has reduced the amount of other waste materials sent to landfills by 40 percent. The manufacturing plant also uses regenerative burners to save 50 percent of the melting/casting operation's fuel consumption.
Additionally, the plant captures and burns 93 percent of all solvent emissions from the paint line, and uses state-of-the-art techniques for wastewater treatment.
The manufacturing facility is located on 204 acres of land. About 120 acres are still maintained as a natural habitat, where turkey and deer thrive and are regularly seen on the grounds. In 2000, when the company built its fabrication plant, there was a need to utilize a section of identified wetland area for the plant. YKK AP worked with the Army Corps of Engineers to develop and maintain an even larger wetland area in place of the one needed for the expansion.
YKK AP elevated its commitment to sustainability by becoming the first façades manufacturer to voluntarily provide third party-certified environmental product declarations for all products in its portfolio. YKK AP now offers product-specific Type III Environmental Product Declarations (EPDs) for storefront systems, window walls, curtain walls, windows, balcony doors, sun control products, and entrances.
From these categories, YKK AP can contribute up to seven of the 20 products needed to receive LEED credit for a single project within LEED v4—the USGBC's first major update to credit requirements for the global standard in green buildings. Projects seeking LEED v4 certification can earn "Materials and Resource" credits by using products with EPDs.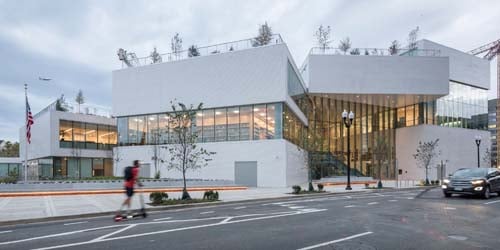 The Heights Building in Arlington, Va., is a LEED Gold certified, state-of-the-art middle school adorned with YKK AP's heavily insulated walls, windows and doors. Photo: Laurian Ghinitoiu
Product-specific Type III EPDs provide the highest credit value, as their environmental footprint can be more accurately reported. YKK AP utilizes EPD data to refine and manage its manufacturing processes to improve product performance and become a more sustainable company.
YKK AP also supplies residential windows for the U.S. Department of Energy's biannual Solar Decathlon. In 2019, Georgia Tech won first place for a net-zero energy, urban single-family home. Using YKK AP's residential windows, the team designed a community-driven, low cost, net-zero home in Grove Park, Atlanta.
Last, employees at all levels volunteer—through educational programs, community revitalization projects, and international exchange promotion — to bring meaningful change to the communities where they work and live.
Employees at YKK AP's headquarters in Austell, Ga., recently initiated the company's participation in Keep Cobb Beautiful's Adopt-a-Mile Program, in which workers help maintain their dedicated mile of highway in their own backyard of Cobb County, Ga., to improve the area's environmental and waste management processes.
---
Alan Naditz is the managing editor of Green Builder magazine. He has covered numerous industries in his extensive career, including residential and commercial construction, small and corporate business, real estate, and sustainability.
---

Alan Naditz is managing editor of Green Builder Magazine. He has covered numerous industries in his extensive career, including residential and commercial construction, small and corporate business, real estate and sustainability.