Tire Rubber from Dandelions? We Didn't See That Coming.
Who knew that the humble dandelion might provide a source of rubber for future tires and other products?
According to a new report from Reuters : "Dutch biologist Ingrid van der Meer often meets with disbelief when she talks about her work on dandelions and how it could secure the future of road transport. The reaction is understandable, given most people regard the yellow flowers as pesky intruders in their gardens rather than a promising source of rubber for tires ...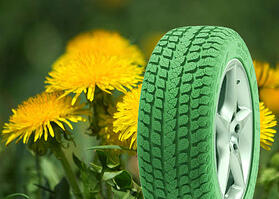 The dandelion mission is being backed by some big tire manufacturers, "such as industry leader Bridgestone Corp and No.4 player Continental AG."
The report adds: "A U.S. research team found the dandelions delivered per-hectare rubber yields on a par with the best rubber-tree plantations in tropical Asia."
A report in Rubber News last year says that what is old is new again. Apparently dandelions were grown for rubber use during World War II and grown purposefully throughout 42 U. S., states for the rubber industry. After World War II, production ended.
The cultivar considered most promising is the Russian varietal, though breeding is ongoing to make even more productive varietals.
The Creve Coeur, Mo.-based Kultevat L.L.C., is seriously into domestic Russian dandelion cultivation.and refers to dandelions as a bio-material worth $100 billion a year.
According to Rubber News, Kultevat set up business in Carlsbad, Calif., in 2008 and became a California corporation in 2010. It moved to the Saint Louis area in June 2013.
Rubber News reported "Kultevat will apply its knowledge of commercializing alternative rubber crops, biotechnology, rapid variety improvement process economics and feedstock to maximally valorizing co-products," according to Kultevat CEO Daniel R. Swiger (founder and former chief operating officer of Yulex, a Phoenix-based company involved with the production of latex from the desert plant guayule. He left Yulex in 2005)."
"We have been working (on the) Russian dandelion since 2008," Swiger told Rubber News. "With our extensive network in agriculture, greenhouse, seed propagation and commercial rubber sales, (Netherlands-based) KeyGene is an ideal global partner for Kultevat because they are the leaders in plant breeding, research, partnerships and molecular genetics. This will improve on our ability to rapidly scale and commercialize."
Here is a link to the Reuters video on dandelions to tires.

And here is one from Ohio State University in which Katrina Cornish, Ohio research scholar and endowed chair in Bio-Based Emergent Materials in the Department of Horticulture and Crop Science at The Ohio State University, talks about the importance of natural rubber and how a specific type of dandelion is being used as a source.