From Drawdown: The Most Comprehensive Plan Ever Proposed to Reverse Global Warming— green roofs are one of the 100 most substantive solutions to climate change.
From an aerial view, most cities are a patchwork of gray, brown and black rooftops. But look down over some parts of Stuttgart, Germany, or Linz, Austria, and many rooftops are easily mistaken for small parks or grassy squares. They are affirmation of the modern movement for green or "living" roofs, which has taken off in the past 50 years. They also evoke a much longer history, back to the heyday of the Viking Age, when such roofs first became popular in Scandinavia. Rewind modern-day Norway to the ninth or 10th century, and you would find a landscape dotted with sod-roofed homes, now called torvtak.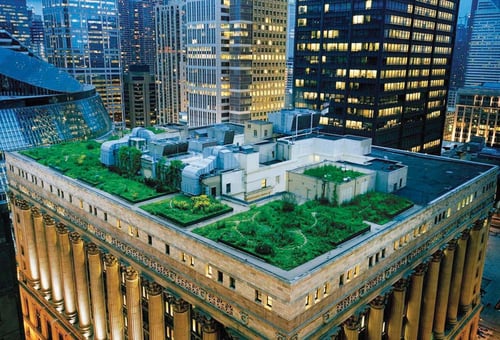 Chicago's City Hall, with its living walls and path-derived gardens, is a prime example of how a green roof can look like more than just a building with plants on top.
Today, the conventional rooftop is a brutal, lifeless terrain, typically serving a sole purpose: protecting the building and inhabitants beneath from the elements. In fulfilling that role, roofs take a beating from sun, wind, rain and snow. They can endure temperatures up to 90 degrees higher than the air around them on a hot day, making it harder to cool the floors below and contributing to the urban heat island effect. This phenomenon of cities being measurably hotter than nearby rural and suburban areas is particularly harmful for residents who are young, elderly or ill.
Green roofs, on the other hand, are veritable ecosystems in the sky, designed to harness the moderating forces of natural ecosystems and curtail a building's carbon emissions in the process. Living roofscapes depend on a series of carefully designed layers that ensure the roof itself is protected, rainwater is filtered and drained, and plants can thrive. If aiming for performance with minimal inputs, they may have shallow soil to support a simple carpet of hearty, self-sufficient groundcover such as sedum. Often called stonecrops, these flowering succulents cover more than 10 acres atop Ford's truck plant in Dearborn, Mich.
Green roofs can also have intensive systems to sustain full-fledged gardens, parks or farms—places where people can rest, recreate, and raise flowers or food. That is how once-unused rooftops across Brooklyn have become a mecca of urban agriculture.
Different Shades of Green
The intensity of investment, structural requirements, installation and upkeep depends on the level of greenery chosen. Though upfront costs for green roofs are higher than those of their conventional cousins and some maintenance is required, returns are compelling and long-term costs are comparable, sometimes lower. The soil and vegetation function as living insulation, moderating building temperatures year-round—cooler in summer, warmer in winter.
Because the energy required for heating and air-conditioning is curbed, greenhouse gas emissions are lower, as are costs. On the floor below a living roof, energy use for cooling can drop by 50 percent. Green roofs also sequester carbon in their soil and biomass, filter air pollutants, reduce rainwater runoff, support biodiversity within cityscapes, and address urban heat islands—benefiting not just the floors beneath but nearby buildings as well. Because vegetation protects the roof itself from the elements and UV rays, green roofs have double the life span of conventional ones.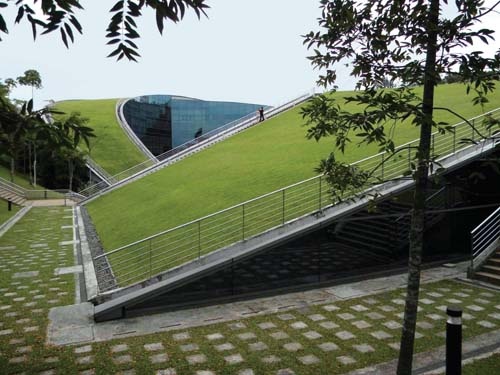 Nanyang Technological University's School of Art, Design and Media features a five-story green roof sloped at a 45-degree angle. The roof doubles as a scenic outdoor communal space and keeps the building's ambient temperature low.
People who live, work or play near green roofs enjoy more natural beauty and greater well-being—the result of biophilia, humanity's innate affinity for the natural world. At the same time, building developers, owners and operators enjoy increased property appeal and value. Green roofs bring what people love to encounter on the ground to elevated yet often wasted spaces. Land is generally the most limited urban resource, but green roofs can create acres and acres of opportunity for green space and the climate benefits that come with it.
To see the green roof on Chicago's City Hall or Singapore's Nanyang Technological University is to imagine the breadth of the opportunity atop buildings. These signature projects and other demonstration efforts—such as those atop bus stops, visible to pedestrians and passing cars—inspire wider public support. Hot spots of implementation, such as Germany, offer a key lesson: Construction incentives for green roofs and building policy that encourages or mandates their use are twin drivers of proliferation. They are the stimulus for scaling—from oddity to ordinary.
To raise the ratio of green in Singapore, for example, the government covers half the cost of green roof installation. Chicago fast-tracks permits for buildings with green roofs. Regulations around storm water control and retention also can encourage adoption of green roofs. In addition, clear and consistent industry standards and capable architects, engineers and builders can ensure quality.
In October 2016, San Francisco became the first U.S. city to adopt a green roof mandate. As of this year, 15 percent to 30 percent of roof space on new buildings must be green, use solar power or both. Other cities should follow suit.
A Perfect Patchwork
By attending to the life both within buildings and on top of them, the world's current patchwork of barren roofs can flower, transforming cities into life-supporting systems. Cool roofs are kith and kin to green roofs, achieving similar impact but doing so with different methods, hurdles and boons. "Reflection" is from the Latin for "bending back," and cool roofs do just that. When solar energy hits a conventional dark roof on a 99-degree day, just 5 percent of it is reflected back into space. The rest remains, heating the building and surrounding air.
A cool roof, on the other hand, reflects up to 80 percent of that solar energy back into space. Cool roofs take a variety of forms: light-colored metal, shingles, tiles, coatings, membranes and more being developed.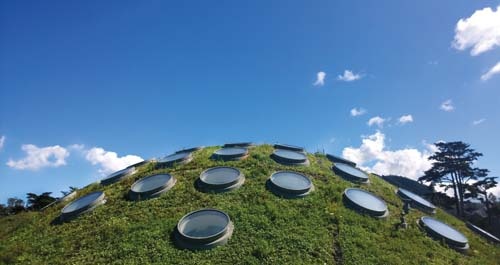 The City of San Francisco's green roof mandate is expected to make projects such as this domed development at the California Academy of Sciences a common site among new residential and commercial construction.
Whatever technology is used, in an increasingly urban and warming world, sending solar energy back to where it came from, rather than absorbing it, is essential. Not only do cool roofs reduce heat taken on by buildings, driving down energy use for cooling, they also reduce the temperature in cities. Recent studies have shown that the capacity of cool roofs to relieve the urban heat island effect is more pronounced during heat waves, when heat islands are particularly intense, sometimes deadly.
The growth of cities continues, so making them cleaner, more livable and better for well-being is essential. Where green roofs struggle with the high costs and special skills needed for implementation, cool roofs are cheaper, simpler and more like conventional installs. They are eminently doable. Though regular cleaning is needed to sustain top-notch reflection, maintenance needs are much lower as well. Despite this ease, it is necessary to consider context. Cool roofs can create glare for their neighbors, and their impact depends on local climate. Hotter places benefit more from their cooling effect, while suffering less from their reduced heat retention in cold months. In colder climates, the insulation of green roofs may be more optimal year-round.
Cool roofs are not a new concept, but have been slow to take root worldwide. They are on the rise in the United States and European Union, while getting increasing attention, and occasionally official commitment, elsewhere. California has been their greatest champion, integrating cool roofs into the state's building efficiency standards, Title 24, a decade ago. The success there shows the way forward, including the importance of regulations, rebates and incentive programs.
The evolution of cool roof technology is also promising. Traditional building aesthetics have worked against so-called "white roofs," but cool roof materials now come in an array of colors, and adjustable levels of reflection may ultimately address their downside in winter. In the interest of "bending back" not just solar energy and air temperature but also emissions, cool roofs hold considerable promise.