An article going around this week suggests that green building is a "social movement" that, like other social movements (prohibition, civil rights, etc.) stands at the precipice of success or failure. The writer argues that green building could easily be "co-opted, repressed, subject to failure, or succeed." In other words, he's arguing that the mainstream acceptance of the need to build energy-efficient, low-impact buildings is a matter of social choice—not something that "must" happen. I disagree.
Why? Because treating green building as a social movement is like calling eating a lifestyle choice.
To illustrate: If the suffragette movement or the civil rights movement of the last century had failed or been repressed (realizing that some believe they have), the end result would likely not have been the death and displacement of millions or even billions of human beings. There would be suffering, to be sure, but arguably not on the biblical scale.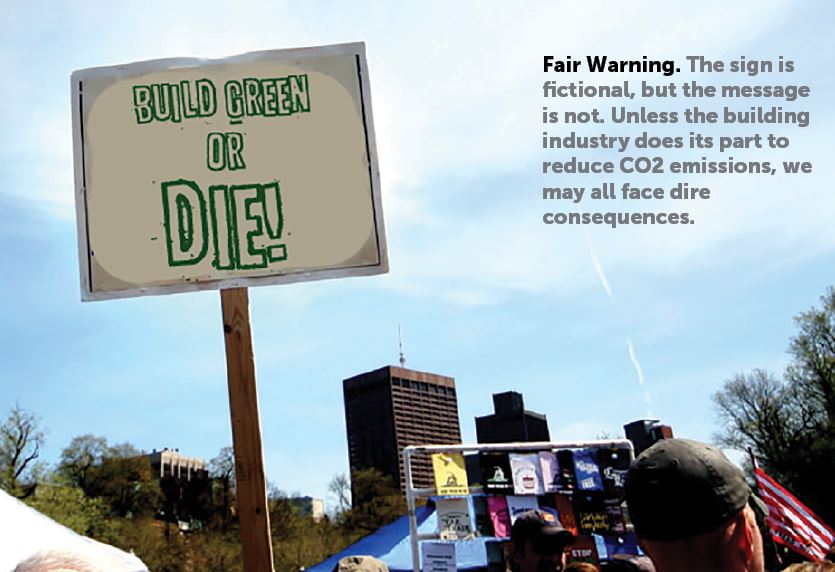 The same cannot be said of ignoring the urgency of raising the efficiency bar on all buildings. The pace of construction globally keeps breaking records, especially in China. According to the International Energy Agency, commercial and residential buildings globally produce about 31 percent of all energy-related greenhouse gas emissions. And that's just operational impact, not materials.
The construction industry thus already plays a major role in the race against climate change. And it is a race. Author George Monbiot says we need an 87 percent reduction in CO2 emissions by 2030 to head off severe climate scenarios. Building green is a critical component of the emergency measures that MUST be taken to avoid or "soften" impending disasters such as sea level rise, extreme heat and monster storms. We may be talking about the survival of our species. In other words, building green is not optional, the way a social movement is—not unless we consider mass suicide an option.
Fortunately, this is not an impossible task. As you'll read in my Celestia chapter on materials this month (p. 42), simply by focusing on how we use five key materials in buildings—and continuing the shift toward net zero or better standards in both retrofit and new construction—we can make huge strides in reducing CO2 emissions. With some good political leadership and real commitment from industry, other nations will follow our lead.
Climate change is a runaway train, but we have the means to apply the brakes. We don't need a social movement to do this. All we need is a survival instinct. —MP