These tips can reduce Your baseline budget, at the same time improving the home's performance.
Green bling refers to expensive green upgrades. These range from high-performance heating and cooling equipment, high-efficiency water heaters and plumbing fixtures, energy-efficient appliances, photovoltaic electricity panels and home automation systems, to solid wood and stone floors, earth-plaster walls and custom cabinets.
It is unfortunate that many certified green homes earn that designation by adding these expensive upgraded systems without making the effort to first improve the building performance so that they realize a worthwhile return on those investments.
So before we look at the bling, we want to recap the steps that we took to reduce our baseline budget and improve our home's performance so that we get the greatest efficiency out of the home's mechanical systems.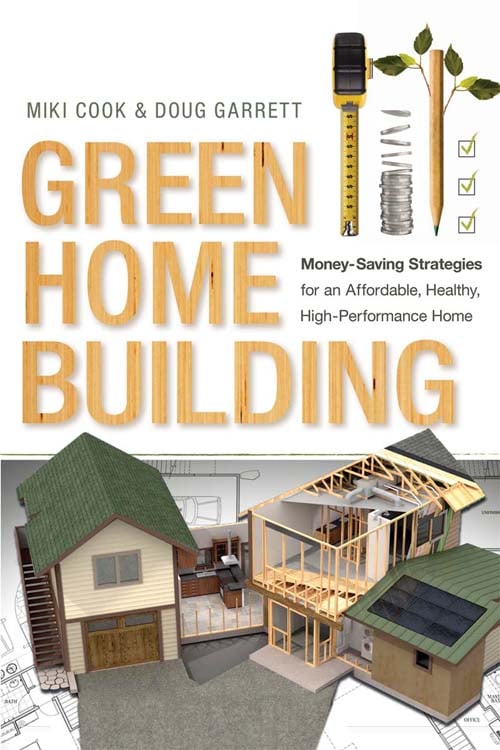 First, and highest on our priority list, we designed a home that was resource-efficient in every way. This means it saved materials resources in construction, and it will save energy and water resources over its life cycle.
Even with the most modest budget, you should still use quality building materials and methods, to assure the long-term durability of your home. This will reduce repairs and maintenance that can adversely affect your ongoing household budget.
Even if you cannot afford more expensive insulation or rainscreen materials, how you use what you can afford is most important. Advanced framing is key to reducing costs and improving performance.
As much as you can, you should include products and systems to improve indoor air quality and basic system-efficient operations.
Usually this includes spot ventilation, low-VOC wall and ceiling paint, hard surface (or no) flooring and right-sizing your HVAC coupled with a good-quality installation. In smaller homes, minisplit systems may provide the best investment for conditioning limited spaces. The more you can do from the following list, the closer you will be to achieving your goal.
The location is either urban infill or within a mixed-use community with existing infrastructure and in a walkable neighborhood with bicycle and mass transit access.
Home size is limited, accommodating only our defined longterm needs, with spaces that provide flexible use for our changing needs over time or common needs for future owners.
The design is site specific based on a simple basic rectangle with total wall lengths on two-foot increments.
The site development protects or restores native habitats and captures stormwater for natural irrigation.
Turn-key contractors provide expert input into the design to achieve high-performance assemblies and operations.
The roof design is a simple gable or hip roof, with a passive solar long axis ridge line running east to west, with unobstructed roof orientation to the south.
The structural design of the building envelope permits a continuous and contiguous thermal enclosure.
The plumbing design is compact with the water heater centrally located between wet locations.
The plumbing design incorporates water reuse to the extent possible by code in the area.
HVAC furnace/air handler are centrally located with short runs to inside walls.
Large overhangs and porches protect walls and windows and provide shading appropriate to the climate to reduce cooling and heating loads. • Windows provide daylighting and passive ventilation.
The room layout minimizes internal heat loads and optimizes comfort working with passive ventilation strategies.
Durable materials, resistant to termites or other pests, are installed with methods that reduce the risks inherent to your location.
Wall assembly materials and construction methods are used that withstand water damage, restrict airflows, provide high thermal value and manage water intrusion.
The HVAC system is sized according to Manuals J, D and S with correct inputs for climate, design and construction quality, with a quality installation.
The design provides basic fresh air ventilation.
Spot ventilation is provided at cooking appliances, laundry rooms, and bathrooms exhaust moisture outside of the home.
Electrical design provides the future ability to manage phantom loads.
Lighting design provides options to provide specific lighting needs and controls.
Appliances are sealed combustion (furnace and water heater, if they are gas).
Uses low-VOC interior paint and hard surface (or no) flooring.
All contractors are provided written Scopes of Work detailing the expected quality of installation and resource- (cost-) efficient strategies.
Strategies put in place to minimize waste while optimizing performance.
These strategies will lower your base construction cost, help to keep your total cost of living low over the life of living in the home and significantly improve the efficiency and comfort of the home. You will have achieved a very affordable and comfortable home. Even if you have very limited budgetary constraints, you can still use what money you have to build a home that provides passive benefits and reduces the burden on the community as a whole.