An article going around this week suggests that Green Building is a "social movement" that, like other social movements (prohibition, civil rights, etc.) stands at the precipice of success or failure. The writer argues that green building could easily be "co-opted, repressed, subject to failure, or succeed." In other words, he's arguing that the mainstream acceptance of the need to build energy efficient, low impact buildings is a matter of social choice, not something that "must" happen. I disagree.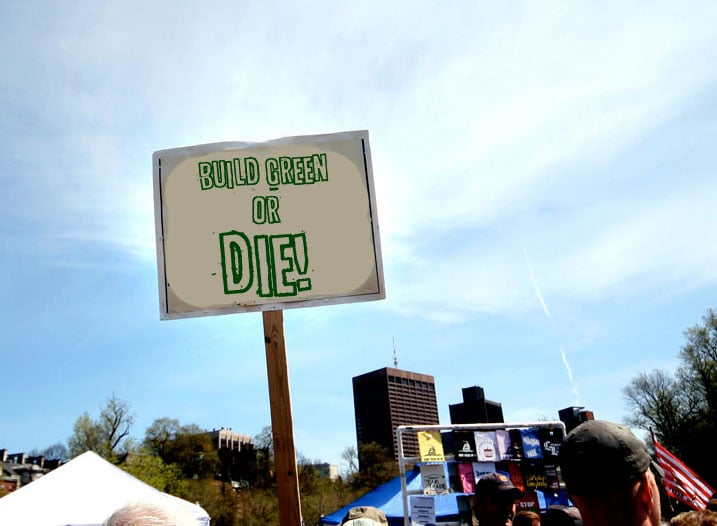 Why? Because treating Green Building as a social movement is like calling eating a lifestyle choice.
To illustrate: If the suffragette movement, or the civil rights movement of the last century had failed or been repressed (realizing that some believe they have), the end result would likely not have been the death and displacement of millions or even billions of human beings. There would be suffering, to be sure, but arguably not on the Biblical scale. The same cannot be said of green building.
Most of us can agree we're at the tipping point with regard to Climate Change, and while we may debate the intensity of the negative effects likely to occur on our current track, we know they're bad--very bad--for human beings.

Because buildings are such major contributors to greenhouse gases (UNEP PDF), green building is a critical component of the emergency measures that MUST be taken to avoid or "soften" impending climate disasters, and perhaps to ensure the survival of our species.

Building (and retrofitting) our shelter environment is not optional, the way a social movement is--(not unless we consider mass suicide an option). NOT acting will likely result in disaster scenarios that will affect people across the globe, albeit some will suffer sooner, and worse.Of course, we need more consistent measures of what constitutes a green building,

That said, I'm hopeful. Mandatory statewide and local energy codes are coming. While on the surface, we have a long way to go (see the map of statewide adoption here: https://www.energycodes.gov/status-state-energy-code-adoption), the forces driving change will become ever more intense.

Climate Change is a runaway train. Our choices are very narrow: Apply the brakes in every human activity, or face the prospect of a fiery crash. We don't need a social movement to do this. All we need is a survival instinct.

Matt Power is Editor-in-Chief of Green Builder magazine. See his year-long project about how we can achieve ecological balance at www.greenbuildermedia.com/celestia