Green Building in a Trump Administration
As with every President-Elect, the verdict is out about whether President Trump's campaign rhetoric will translate into action and result in policy. Green building professionals on both sides of the isle are asking the same question: will Trump negate the progress that has been made over the past decade when it comes to energy efficient, healthy, durable, and resilient structures?
Over the past decade, green building has transformed from fringe to mainstream, and it is now an intelligent and cost-effective building strategy. Innovations in building science practices, advanced products and technologies, and business models (for example, in the solar financing space) have revolutionized the built environment.
Much of the progress that has been made relative to green building, energy efficiency, water conservation, healthy homes, and sustainable development has been at a local, jurisdictional, and state level, and many of the sectors that make up the colorful tapestry of the green building industry are healthy and independent, some growing at exponential rates.
The continued expansion of green building isn't dependent on the federal government, but many green building professionals are nonetheless worried about the future, and with good reason.
Bad for the Environment
No doubt, a Trump administration will weaken the EPA, eliminating certain environmental provisions like the Clean Water rule (also known as Waters of the United States), which redefines the EPA's jurisdiction under the Clean Water Act, and weakening the Ozone rule, which sets the allowable ozone level in air at 70 parts per billion (ppb), down from 75 ppb. Trump will also attempt to dismantle the Clean Power Plan, which requires a 32% decrease in the power sector's carbon emissions by 2030 (more on that later).
There certainly won't be a national carbon tax or renewable energy mandate, but those may have been a stretch even under a progressive administration.
And fossil fuel companies won't pursue decarbonization as aggressively as they would have under Clinton. I suspect that we'll see some fossil fuel companies invest in renewables and carbon capture technologies, as they receive mounting pressure on a global scale to strand assets and contribute to emission reductions, but they'll likely do it as incrementally as possible, responding only to need and demand rather than pursuing proactive strategies.
But the fossil fuel industry is has indelibly changed, and undeniable market forces are in play: despite Trump's campaign promises to bring back the coal industry, current economics favor natural gas and utility-scale renewables—even without the Clean Power Plan. Nearly 100 coal power plants were retired in 2015, with renewables accounting for nearly 65% of all new electricity generation.
Good for Green Building
When it comes to green building, there is very little that Trumpian forces can do to roll back codes or negate local, city, or state efficiency and sustainability requirements. In fact, some experts predict a "greenlash", in which cities and states respond to federal inaction with increasingly progressive policies—especially in major cities along the east coast, like New York, Boston, and Miami, which are suffering from superstorms and rising sea levels, as well as cities throughout California and the U.S. West that are grappling with mega-droughts that last up to 30 years.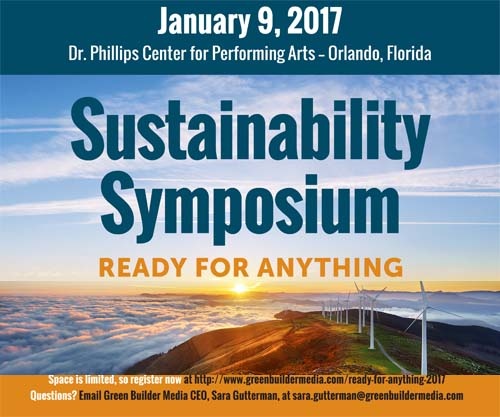 And, fortunately, creating energy efficient, intelligent, healthy, durable and resilient homes and buildings makes financial sense for everyone, regardless of geography, race, gender, sexual orientation, or political persuasion. The U.S. Department of Energy says that energy efficiency is "one of the easiest and most cost effective ways to combat climate change, clean the air we breathe, improve the competitiveness of our businesses and reduce energy costs for consumers."
The burgeoning renewables industry is relatively safe. It's already viable on its own—it is no longer a fledgling industry that depends on the security of federal subsidies, and with the exception of the ITC, most standards and incentives for renewables occur at the state level. Wind is now the lowest-cost wholesale power option in the U.S., and solar is the lowest-cost form of retail electricity in many states.
According to Merrill Kramer, chair of the sustainable energy practice at Sullivan & Worcester, "Economics as much as energy policy are driving the markets — fracking is not economic at current gas prices, worldwide demand for oil is down and the cost of coal retrofits is prohibitive. Conversely, the cost of solar PV panels and wind turbines continue to decline."
And renewables have certainly overcome partisan hindrances—red states including Iowa, South Dakota, Kansas, Oklahoma, North Dakota, Montana, Ohio, and Texas are rich in wind energy, and Arizona and Nevada are hotbeds for solar activity. In fact, the top 10 wind-energy producing congressional districts are represented by Republicans.
Perhaps Republican Senator Chuck Grassley from Iowa said it best when referring to Trump's assertion that he'll get rid of federal tax credits for wind and solar: "If he wants to do away with it, he'll have to get a bill through Congress, and he'll do it over my dead body." Let's face it—the renewables train has left the station.
And smart/connected technology companies have nothing to worry about. Even if Trump reverts to "business at any cost", smart tech companies marry the Holy Grail business elements of profit and innovation, and are therefore considered an untouchable beacon of light in the economy.
The Silver Bullet: Paris Agreement
While green building in the U.S. seems, at least for now, fairly protected, Trump's approach to the Paris Agreement is certainly in question. His campaign rhetoric indicates that he plans to abandon the climate accord, but the reality of mounting pressure from governments around the globe, businesses (including tech behemoths Apple, Google, Intel, and Microsoft, who, combined, command more resources than most nations), NGOs, environmental groups, and citizens committed to the agreement will ostensibly force him to participate on some level.
Some experts fear that if the U.S. steps away from the Paris Agreement, other large emitters, namely China (who went on record last night reminding Trump that it didn't actually make up the concept of climate change to make U.S. businesses less competitive) and India, will follow suit. Others project a different outcome, predicting that if the U.S. doesn't take the lead on climate action, then China will seize the opportunity to fill the void, taking a dominant—and powerful—position in the solar and wind industries, giving the country a clear economic advantage
All said, it's fortunate that we have already embarked on the green building revolution, and that sustainable development is inexorable. The transition to a sustainable economy will occur despite any temporary setbacks. Our progress may be slowed, but the outcome is inevitable.
Want to take an active part in the transition to a sustainable future? Don't miss the opportunity to join Green Builder Media and other sustainability advocates at the Sustainability Symposium 2017: Ready for Anything. Space is limited, so click here to register today.
What do you think about green building in a Trump administration? Write to me at sara.gutterman@greenbuildermedia.com.
Want to read more? Follow me on Twitter and Facebook. For more information about green building and sustainable living, visit Green Builder Media at www.greenbuildermedia.com, like us on Facebook, and follow us on Twitter for regular updates and breaking news.