Green Building: A Healthy Approach
Homebuilders are finding that more customers than ever want green houses that promote both their well-being and the environment.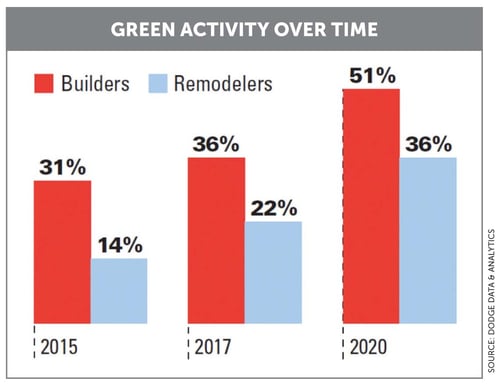 GREEN CONSTRUCTION already makes up a growing portion of homebuilders' work orders, and things aren't expected to slow down. But in the coming decade, the market's health will be all but married to the welfare of its customers, according to a market study by Dodge Data & Analytics.
According to Green and Healthier Homes, an aging but more experienced homeowning generation of baby boomers will help turn health into "the next critical trend" as the green building movement matures. Eighty-three percent of builders surveyed for the study also believe that consumers will pay more for a healthier home versus a green home.
If those results come true, all homebuilding is in for a hectic but profitable ride. Thirty-one percent of homebuilders report that more than 60 percent of their projects are green, and 51 percent expect to be doing that level of green work by 2020. Building homes with a healthy focus won't hurt. "As the building industry's attention shifts to the impact of buildings on the health of their occupants, the focus on health has the potential to boost the green residential market even further," the report states.
Buying by Experience
Dodge Data & Analytics conducted short, confidential interviews with nine homeowners who had purchased a home in the last year to determine the degree to which green and healthier features influenced their current purchase, and how these factors might influence them in the future. DDA notes that while the group interviewed is too small to create a portrait of generational differences, the responses offer insight into the age-based differences reported by builders, in terms of the homebuyer responses to green and healthier homes and features.
Among the findings: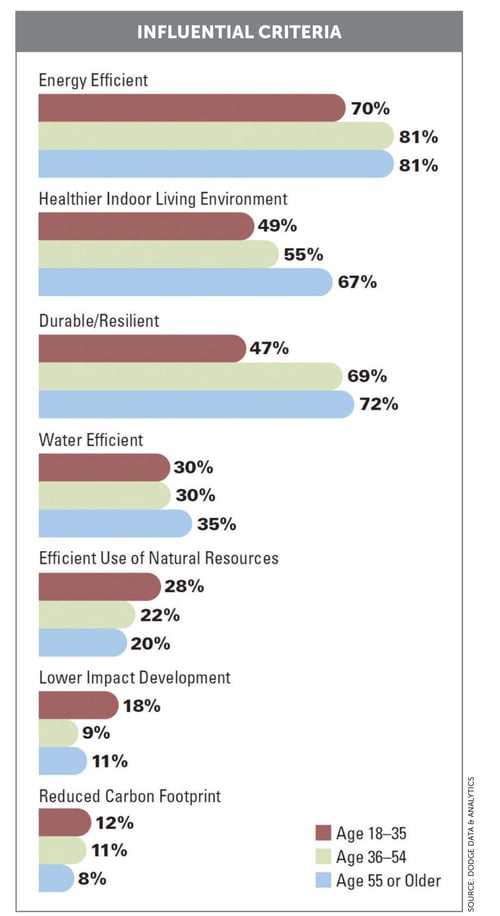 Green is influential, but not a primary driver of home purchases. Participants said major factors that influenced the purchase of their homes included condition of the home, location (including the neighborhood), the type of home and the price. But when asked to rate how specific green elements influenced the decision to buy their home, it was a different story:
Most interviewees reported that durability and energy efficiency were influential in their decisions. But these factors were among the first passed over by first-time buyers who bought older homes. In general, missing green elements could be added after the fact, according to the report.
While less unanimous, about half of the respondents considered healthier indoor air environment, reduced carbon footprint, water efficiency and lower impact development influential. People who bought a somewhat recently built home also expected features such as a healthier indoor living, because the house was newly constructed.

The efficient use of materials in construction was the only factor that was not considered influential by any of the interviewees.
More experienced homebuyers have different green priorities. The homebuyers' experience with other homes, knowledge about hom building or knowledge about environmental issues is a critical factor in determining how they prioritize features, according to DDA. Builders expect older buyers (age 55-plus) to generally prioritize most aspects of green homebuilding directly related to performance more than younger buyers," the report notes. "The older the homebuyer, the more likely they are to have experienced good and bad features in previous homes and to be more cognizant of ways to address the issues they find."
There are exceptions. One young interviewee (under age 35) with family members in the construction industry knew to consider items such as the R-value of the roof and insulation. By comparison, another first-time homebuyer associated energy performance with merely having efficient appliances, according to DDA.
There is no clear-cut winner when it comes to healthier homes. There was no consensus in terms of the valuation of a healthier home, but a few interesting trends emerged, according to the study:
Those buyers with children or with family members with health concerns place greater emphasis in general on healthier home features.
A few interviewees voiced concerns about how they could know for certain whether a home was healthier or not.
Those who did not express concerns about verifying a home's health impacts generally reported that they would pay more for a home certified to be healthier.
A few were confused about the attempt to distinguish between green and healthier homes, operating on the assumption that green homes are also healthier by definition.
Generational Green Buying Criteria
For the survey, homebuilders were asked the generational makeup of their clients, splitting them into age groups of 18 to 35 (millennial), 36 to 54 (Generation X), and 55 and older (baby boomer).
When it comes to homebuying, the three most influential green criteria—energy efficiency, health impacts and durability—are influential to a much lower percentage of homebuilders' clients age 35 and under than they are for other groups, especially those 55 and older. DDA cites several possible reasons:
Homebuyers under age 35, many of whom may be first-time homebuyers, could be strictly limited in terms of their options by budget. This could crowd out factors that they would like to prioritize.
Greater experience with homeownership in general may make these green criteria more important to buyers age 55 and older.
There is evidence that millennials feel strongly about a green lifestyle, but are also "more aware of and engaged by a general goal of doing good for the planet than for the immediate, tangible impacts of green building on their lives," the study notes. The ratings for efficient use of natural resources, lower impact development and reduced carbon footprint may also support the difference in how millennials view green.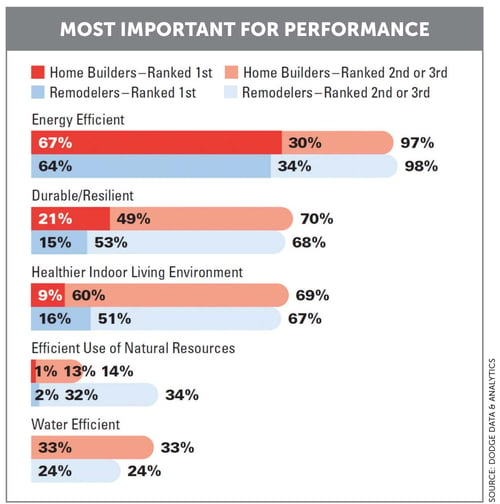 While the rankings are relatively low across the board, more builders believe that these general impacts are highly influential for the youngest generation of buyers than those builders who believe that they influence buyers who are 55 and older. This supports the notion that younger buyers are more influenced by the broader impacts of their behavior on the world at large, while older buyers are more focused on the specific financial and physical performance of their homes. "This is an important distinction to keep in mind when attempting to market green or healthier homes to these audiences," the report notes.
A Healthier Performance Ahead
Homebuilders and remodelers were asked to rank the top three most important green practices to improve a home's performance out of a list of seven options. Not surprisingly, energy efficiency tops the list, with nearly all respondents selecting it in their top three. This finding is consistent with previous studies, DDA notes.
But an up-and-coming practice toward improving a home's green performance for builders and remodelers is the creation of healthier indoor living environments. In the current study, it is not only selected by over two-thirds of builders and remodelers as among the top three most important practices, but it also is selected by 11 percent overall as the most important practice out of the list of seven. This variable may increase in importance if the industry continues to give more attention to healthier buildings, according to DDA.
Homebuilders and remodelers generally agree on the importance of building products and practices that enhance indoor environmental quality, just as they do on most of the other categories of building products and practices. However, the residential sector as a whole is widely split in terms of the importance of specific products and practices, DDA notes.
Increased moisture control and ventilation is recognized by most respondents (78 percent) as important to improve the performance of a green home. Most people expect a green home to also be healthier, and controlling moisture and maintaining sufficient ventilation are widely recognized as important factors to prevent a home from having a negative impact on health. The recognition of its importance ranks with the highest energy efficiency products and practices.
The use of low-volatile organic compounds (VOC) materials falls in the middle range of importance, with 60 percent rating it at that level. Use of green building certification systems has widely raised industry awareness of the need to avoid VOCs. It is possible that it would rank higher if there were greater awareness among home owners as well, the study notes.
Less than half consider MERV 8+ filtration and/or air cleaning systems important.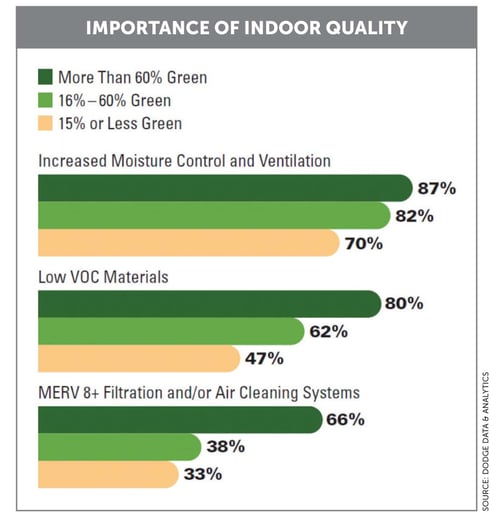 Previous findings suggest that those who use these methods find them very important, but that their use is low, DDA notes. The current study also suggests more industry education is needed on the importance of these strategies.
Meanwhile, the difference between homebuilders heavily involved in green and those less involved is more distinct on all three indoor environmental quality products/practices than they are for any other category.
Even a moderate level of green building work (16 percent or more green projects) increases the likelihood that builders will consider increased moisture control and ventilation important.
As involvement in green increases, the recognition of the importance of using low-VOC materials increases consistently. Only builders with a relatively high level of green involvement (more than 60 percent of their projects are green) widely recognize the importance of MERV 8+ filtration and/or air cleaning systems.
Is a Healthy Indoor Environment Worth More?
Builders and remodelers generally believe baby boomers, Generation Xers and millennials are all willing to pay more for a healthier home. According to the survey results, at least 80 percent of each age group will pay a higher price, a finding that confirms that the concept of healthier homes resonates with consumers. It also demonstrates that green builders and remodelers can benefit from capitalizing on the impact of green building approaches on home owner health, DDA notes.
However, there are differences by age of consumers in how much more builders and remodelers believe they will pay for a healthier home:
Fifty-two percent believe that consumers who are 55 or older will pay at least 5 percent more for a healthier home. Builders believe that the value of a healthier home is not limited to those raising a family but is of wider interest. It suggests that marketing in this area is likely to be quite successful, DDA notes.
The lowest percentage (37 percent) believe that those in the youngest age group (age 35 and under) will pay more than 5 percent. This result is consistent with the findings about influential factors for purchasing decisions, in which health was ranked low for buyers and owners 35 and under.
The findings for those in the middle-age group (age 36 to 54) vary. The highest percentage (36 percent) say these clients will pay only 1 percent to 2 percent more, and the lowest (5 percent) say they will pay at least 10 percent more. This suggests that for many, these clients will pay less for health. However, a relatively high percentage (35 percent) believe that they will pay between 5 percent and 10 percent more, which suggests that for some, health is a high priority.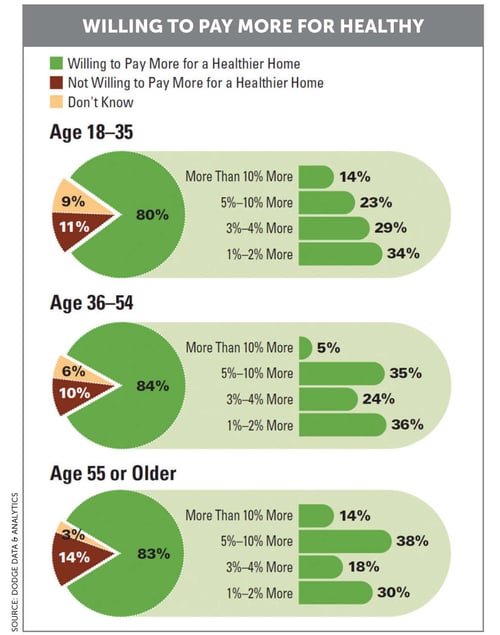 What Goes into a Healthy Home
Although several features in homes have been demonstrated to positively impact occupants' health, their use by builders and remodelers varies widely, according to the study.
For the most part, a similar percentage of homebuilders and remodelers report use of these features during construction. The level of green involvement, on the other hand, is influential in determining the degree of use of many healthier home features.
The most widely used healthier home feature is the use of adequate sunlight or daylighting throughout the home. This is a critical health strategy in the home, since access to sunlight positively impacts the mental health of the occupants, DDA notes. This popular practice among green builders can also make the home more visually enticing for buyers, which contributes to its wide level of use, even among those who do a moderate level of green building (16 percent to 60 percent of their projects green). Daylighting needs to be managed carefully, however, to avoid glare and to avoid increased energy use to keep spaces cool.
Eighty percent of homebuilders and remodelers who are dedicated green builders (more than 60 percent of their projects green) use non-chemical pest prevention, a much higher percentage than builders doing less green work. Non-chemical pest prevention consists of using sealing, caulking and screening rather than chemicals to keep out pests, which can have an important impact on the air quality within the home. Sixty-four percent of those who do a moderate level of green building also report using this feature, much higher than those who do little green building (46 percent).
The degree of green involvement is very influential in whether a builder or remodeler is likely to use a dedicated fresh air system. Nearly three quarters (74 percent) of dedicated green builders make this investment in their homes, compared with just 18 percent of those doing little green building. Since this is part of the mechanical system, it is used by a significantly higher percentage of builders (48 percent) than remodelers (27 percent). It is more likely to increase the cost of the mechanical system, but it can also have a big impact on the air quality in a home, according to the study.
Acoustic comfort has not been included as a credit on many green home rating systems, and this may account for the fact that there is less difference in its use across the three levels of green involvement than for any other healthier home feature, DDA notes. It may also explain why it is not more widely used in general, even though it is an important factor for comfort, and for health factors such as sleep quality.
The use of exhaust fans in garages is still an emerging feature for those doing a lot of green building and those doing very little, although it is more likely to be used by dedicated green builders, the study notes.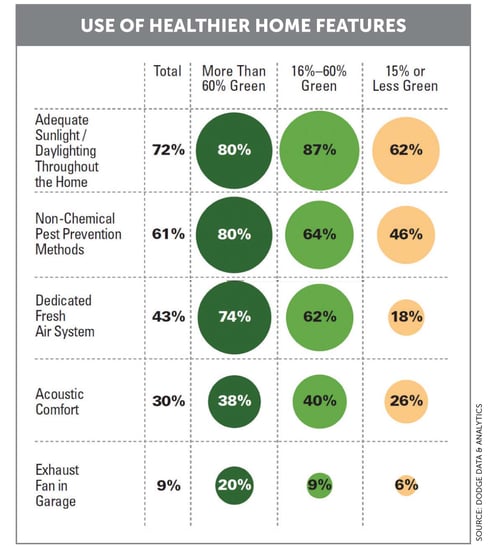 Air Quality Products by Degree of Use
Green and Healthier Homes identifies several types of air quality products considered important to builders and remodelers in their sustainable housing projects, depending upon their amount of green involvement:
Carbon monoxide detectors are the most widely used of all building products that impact indoor air quality. This is largely due to the number of states (29) with varying mandates for their use. In addition, public awareness of the risks posed by the accumulation of carbon monoxide in the home, including illness and death, has increased significantly in the last decade, creating consumer demand for these products in homes, according to DDA.
Low-/no-VOC products and low-/no-formaldehyde products are each used by 60 percent to 66 percent of survey respondents. However, these are far more widely used by dedicated green builders and remodelers (those doing more than 60 percent of their projects green) than by those doing less green building. The study attributes the high usage rates to builder awareness of requirements and points given to their avoidance by green building rating systems.
A relatively high percentage of dedicated green builders and remodelers use air purification systems (41 percent) and MERV 8+filters or higher (51 percent) compared with those doing less green building. The study deems this an indicator that green building experience impacts the willingness of builders and remodelers to invest in these systems.
Level of green building involvement has no impact on the use of a central vacuum system and insulated siding, according to DDA. The study notes that greater industry awareness of the benefits of these products on improving indoor air quality is necessary.