Green Builder Media Breaks Ground Yet Again
Green Builder Media is proof positive that time does fly when you're having fun. We founded the company over ten years ago to affect positive change in the world, and we haven't for a moment taken our eye off our goal of manifesting authentic leadership.
Since our inception, Green Builder Media has played a significant role in shaping a national conversation about sustainability. Now, as the country's leading media company focused on sustainable living, we're enhancing our leadership position, focusing our innovative thinking on redefining the way that we deliver media.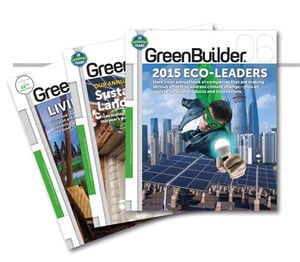 We have won a number of editorial and design awards over the past decade, including Best Trade Publication for three years in a row. With such a track record of success, most people wouldn't think about changing their strategy. But we've never been fans of the "if it aint' broke, don't fix it" model—rather, we follow the "break it regularly to make it better" mentality. As our President Ron Jones says, "Being afraid of change isn't what leadership is about. The responsibility that comes with leadership is that we always need to push the envelope and find new ways to test our limits."
In a publication sector where content is often regurgitated and becomes stagnant, stale, and repetitive, we refuse to be confined by a formula. In our constant pursuit for greater sustainability, we simply can't rest on our laurels—we're perpetually searching for more effective ways to speak our voice and disseminate the message of sustainability.
Furthermore, our content marketing programs have far exceeded our expectations and have enabled us not only to deeply engage our trade audience of the most advanced building professionals across North America, but also to amass a loyal following of savvy homeowners who are interested in sustainable living topics such as energy efficiency and renewables, connected home, resilient housing, indoor air quality, and saving water.
We've put a lot of time and resource into developing an intelligent technology platform and award-winning website that optimizes our editorial outreach to provide the most valuable and targeted content to our readers.
The next stage of our evolution will enable us to fully leverage that technology platform, following market trends and bringing us further into the digital age. To that end, we want everyone to know that we're refreshing our mix of media offerings, updating our blended portfolio of print, online, digital, mobile, and social media to reflect the massive and rapid adoption of smart, distributed technology.
Beginning in 2016, Green Builder Media will bolster our digital media and streamline our print schedule. We will vigorously disseminate our award-winning content on a daily basis through our digital media and content marketing efforts, enhancing them through eight issues of Green Builder magazine—6 thematic bi-monthly issues and two special issues.
Our editorial calendar will continue to spotlight the most leading-edge concepts, products, projects, and people in sustainability. Issue themes will include Internet of Things; Eco-Landscaping; Clean Transportation; Renewable Energy; Eco-Leading companies; Building Science; and Code Updates. Each issue will include departments that explore essential topics such as energy efficiency and renewables; water and resource conservation; indoor air quality; resiliency and durability; enabling technologies; and builder marketing insights.
We expect 2016 to be another banner year for Green Builder Media and our partners. We invite you to join us for this wildly exciting journey into the future of new media.
Interested in being a part of our exciting growth? Contact us today to get your 2016 media kit! Write to me at sara.gutterman@greenbuildermedia.com or follow me on Twitter or Facebook.
For more information about green building and sustainable living, visit Green Builder Media at www.greenbuildermedia.com, like us on Facebook, and follow us on Twitter for regular updates and breaking news.