Ron Jones will deliver closing luncheon keynote at the 2015 Energy Efficient Building Association conference in Denver, Colorado.
Ron Jones, Co-Founder and President of Green Builder Media, will deliver the closing luncheon keynote at the EEBA conference on October 8 at 12:15 PM. Internationally renowned pioneer of the green building movement, Jones has been an award-winning green builder and leading advocate for a more sustainable built environment for over three decades.
Jones, the only person ever to serve on the national Boards of Directors for both the U. S. Green Building Council and the National Association of Home Builders (NAHB) and Chairman of the Consensus Committee that developed the American National Standards Institute (ANSI) National Green Building Standard™, claims an extraordinary portfolio of custom green homes in the Rocky Mountain region and decades of active involvement in the regulatory, legislative, and code development arena. His lengthy resume of leadership bridges a wide variety of organizations, associations, and industry groups. Jones served seven years as an original member of the USGBC LEED for Homes committee, he is a Senior Life Director at NAHB, and Co-Founder of the Green Builder Coalition.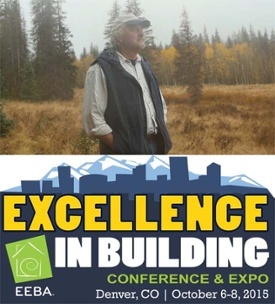 Jones has been a clear and persuasive voice for sustainability, both within the North American home building industry and across a widespread global community. His inter-organizational leadership history is a testament to his knowledge, his integrity, his credibility, and to his effectiveness in advancing green building throughout the country and the world.
At the EEBA conference, Jones will offer his insights into the state of the green building market, and he will discuss his latest building achievement, Mariposa Meadows—a completely off-grid sustainability center located on a stunning 122 acre in-holding in the mountains of Colorado. Mariposa Meadows unites extraordinary design, extreme performance, innovative products, and intelligent technology, displaying solutions that can be applied in rural, suburban, and urban areas across the nation. The project will serve as a 'living laboratory' to study, test and monitor the performance of products, systems, and structures on a long-term basis.
For more details, email Heather Wallace at heather.wallace@greenbuildermedia.com or register for the EEBA conference.
About Green Builder Media
Green Builder® Media, LLC is the leading media company in North America focused on green building and sustainable living. With a comprehensive suite of print and digital media solutions, demonstration projects, case studies, online training and live events, Green Builder Media assists building professionals in preparing themselves for the new green economy and helps homeowners understand how to live more sustainably.
---
© 2017, Green Builder Media. All rights reserved. This article is the exclusive property of Green Builder Media. If you would like to reprint this content, you are free to extract a short excerpt (no more than 1/4th of the total article), as long as you 1. credit the author, and 2. include a live link back to the original post on our site. Please contact a member of our editorial staff if you need more information.