Green Builder Media is constantly exploring new frontiers in sustainability, including changing codes that require homes to be more efficient, healthier, and durable. To that end, we just launched a new title—CodeWatcher—that offers essential information about code changes.
As Green Builder Media enters our second decade, we reflect on all of the changes that have transpired in both the building industry and our company. It all started in 2006 with the launch of Green Builder magazine—a trade publication that we hoped would affect positive change by offering enlightened content for progressive readers.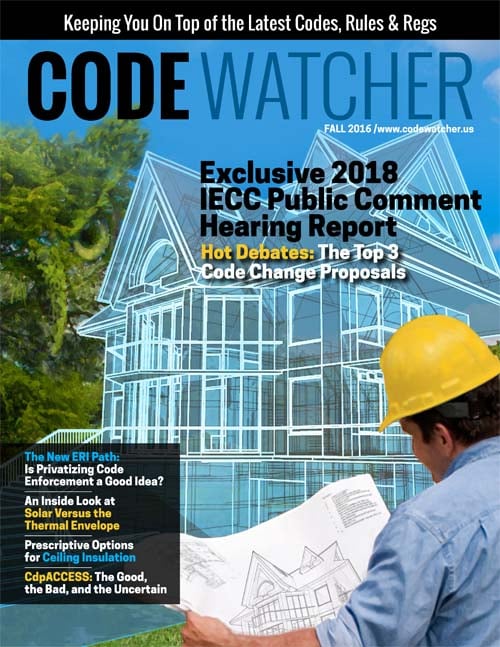 To our surprise and delight, we quickly accomplished our goal of shaping and driving a national dialogue about green building. After winning Best Trade Publication for the past 4 years and Best Website for the past 2 years from NAREE, Green Builder magazine has established itself as the nation's publication focused on green building and sustainable living, pioneering forward-thinking editorial in areas like the smart home and enabling technologies, renewable energy, resilient buildings, building science, code updates, and more.
But, at Green Builder Media our mission is to constantly pioneer new frontiers in sustainability, and our quest is to remain on the cutting edge of today's most relevant issues. To achieve that goal, we just launched a website and publication on one of today's most vital topics: codes. Appropriately called CodeWatcher, the initiative brings together some of the industry's brightest minds and most astute code experts.
The first issue of CodeWatcher is jammed packed with breaking news, original insights, and scuttlebutt accompanying the upcoming code meetings (taking place this month in Kansas City), including articles about the top issues that will be debated at the 2018 code hearings, a quick primer on how to get the right R-value in ceilings using the prescriptive path, an inside look at the solar versus high-performance trade-off, and the privatization of energy code enforcement.
True, codes may not be as sexy as smart home technology, but the codes themselves—as well as the code development process—are far more important and nuanced than most people think, particularly since codes, designed to keep homeowners and building occupants safe and protected, play a critical role in protecting the environment.
Unfortunately, special interests and building professionals whose only concern is lowest upfront cost have hijacked the code process for too long—a reality that can only be changed when the secret code of codes has been cracked and vital information about code development, and the related politics, has been shared with a broad spectrum of vested parties.
Codes are the fundamental building blocks for our future. "Building to code" can no longer represent what is simply enough to "get by". If the purpose of codes is to provide protection for inhabitants, shouldn't those of us in the building sector feel the obligation to raise the bar high enough to adequately address issues of health, resiliency, resource use, and environmental impact?
I encourage you to follow CodeWatcher so that you can remain abreast of the evolving codes and play a role in their ongoing development.
Want to get involved in the upcoming code hearings? Write to me at sara.gutterman@greenbuildermedia.com.
Want to read more? For more information about green building and sustainable living, visit Green Builder Media at www.greenbuildermedia.com, like us on Facebook, and follow us on Twitter for regular updates and breaking news.