Green Builder Media Congratulates our Home of the Year Winners!
Green Builder Media recently announced the winners of our 10th annual Green Home of the Year Awards. This year's victors delight and inspire.
The winners of Green Builder Media's 10th annual Green Home of the Year Awards include sustainable, innovative, and beautiful projects that showcase creative applications of pioneering green products, advanced technologies, renewable energy, building science best practices, and forward-thinking design strategies.
Judges Kim Shanahan (Executive Officer of the Santa Fe Home Builders Association), Jennifer Beaman (Owner of Pippin Home Designs), and Ari Rapport (Strategic Relationship Manager at IBACOS) selected the winners based on overall sustainability, resiliency, synergy with the environment and surrounding neighborhood, affordability, creativity, and depth of building science employed.
While all of the projects that were submitted had interesting features, a few of the winners stand out.
Sense of Place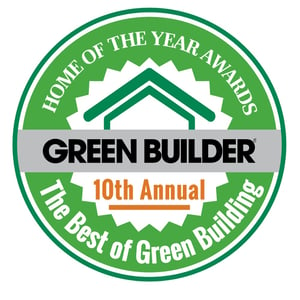 This year's overall winner is a home that is truly one with the environment. The MARTaK Passive House, designed by Andrew Michler for his own family, is an off-grid mountain retreat that achieves the highest performance standards even in an extreme, high-altitude climate.
The innovative applications of building science fundamentals give this cozy, Colorado-based hideaway high insulation values—even by passive house standards—with the thickest walls reaching R-120. The super-efficient home requires the equivalent of a stovetop burner for heating and relies on a modest 2.3 kW solar array. "We overbuilt," Michler admitted with a smile.
Situated in a fire-prone landscape, the home takes advantage of metal roofing, cement board siding, wool board, and triple-pane windows to mitigate fire risk, and it has a rain catchment system designed to assist in fire suppression if necessary.
The home also features FSC certified wood for cabinets, shelves, and flooring, a hydronic heating system, mineral wool insulation, LED lighting, and low-flow plumbing fixtures.
Ohm Sweet Ohm
Our Mainstream Green category represents affordable, small footprint homes. This year's winner, located in Roseville, MN , takes net zero to an entirely new level with a HERS Index score of -49 (yes, that's negative 49—to offer some perspective on how insanely efficient that is, the home's monthly energy savings could power a 1,200 square-foot house!)
Designed by SALA Architects and built by Hage Homes, the simple and functional home showcases how sustainability can be incorporated into a home of any size or price point, using passive house design, proper orientation, and features like overhangs to cost-effectively optimize energy use.
Water conservation is also a key feature of this home—storm water is creatively channeled and absorbed onsite into four rain gardens that, in turn, replenish groundwater and the local aquifer.
The home also features super-efficient appliances, two EV charging stations, mineral wool insulation, recycled decking and countertops, LED lighting, sustainable furniture, low flow plumbing fixtures, and a ground source heat pump.
Contemporary Urban Infill Excellence
The Best Contemporary winner, a net-zero energy home in Seattle's Columbia City neighborhood, was designed by esteemed Dwell Development. The high performance, airtight home boasts an open floorplan, fluid spaces, clean lines, and abundant natural light, as well as a HERS Index score of 0.
The home features all LED lighting and electric power, efficient appliances, a solar thermal system (for water heating) and an air-to-water heat pump (for space heating and cooling.)
Net Zero Victorian
The award for Best Historic Remodel was awarded to an 111 year-old home in Minneapolis. The owners aspired to preserve and enhance the traditional character of the home, while making dramatic enhancements to the home's sustainability and efficiency.
To reach a HERS Index score of -9, the owners deployed hydro-vacuumed expanded polystyrene (EPS) insulation, an air and vapor barrier, spray-foam insulation, triple paned windows, a ground source heat pump (for air heating and cooling), and LED lighting.
During the home's first year of occupation, the 54-panel solar array produced 17,000 kW of solar, while only the home only used 12,000 kW.
Other noteworthy elements of the home include efficient appliances, an EV charging station, formaldehyde-free cabinets, reclaimed flooring, and drywall that improves indoor air quality.
Click here to read more about these and other Home of the Year award winners. As a part of the awards program coverage, our editors have identified many of the innovative products that were used in the homes. A special call out out to a handful of products that were featured in several of the homes, including Sherwin Williams low-VOC paint, James Hardie fiber cement siding, CertainTeed AirRenew drywall, Rockwool mineral wool insulation, and GeoComfort ground source heat pump.
Congratulations again to all of the winners! May your projects inspire others to push the boundaries when it comes to designing and building innovative, beautiful green homes.
Do you have a project that you'd like to submit for next year's Green Home of the Year Awards? Write to me at sara.gutterman@greenbuildermedia.com.
Want to read more? Follow me on Twitter and Facebook. For more information about green building and sustainable living, visit Green Builder Media at www.greenbuildermedia.com, like us on Facebook, and follow us on Twitter for regular updates and breaking news.