Each year, Green Builder Media's editorial team recognizes pioneering companies that are confronting environmental challenges in innovative ways. This year's Eco-Leader selections don't disappoint—with breakthrough technologies and inventive approaches to reducing our collective footprint, these organizations are paving the way to a sustainable future.
This year's chosen Eco-Leaders understand the competitive advantage of sustainability. These inspired companies have developed advanced products, enabling technologies and innovative manufacturing processes that reduce our environmental footprint, improve people's lives, and enhance profitability.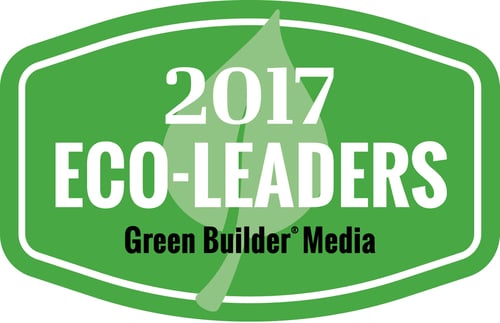 These Eco-Leaders are not relying on the federal government or regulations to tell them what to do relative to climate action. Rather, they're taking things into their own hands, proactively making the choice of progress: adopting renewable energy, conserving resources, reducing carbon emissions, and developing novel business strategies.
The Green Builder Media team celebrates the sustainability efforts of this year's Eco-Leaders:
Congratulations to these Eco Leading companies for daring to be different, for accepting the responsibility of making the planet a better place, and for taking the risk to create positive change in the world. We commend your efforts.
Want to learn more about these and other Eco Leading companies? Join us as Green Builder Media's upcoming Sustainability Symposium: Champions of Change on January 8, 2018 at the University of Central Florida campus in Orlando, Florida. The event will directly and honestly confront the reality of climate change—the challenge of our generation, and the opportunity of a lifetime—and will highlight the activities of today's leading corporations, building professionals, cities, and sustainability advocates.
Click here for more information about the Sustainability Symposium 2018: Champions of Change. Space is limited, to be sure to reserve your seat today! Register before September 29 using the code EarlyBird to receive a $100 discount.
Who do you think we should consider for next year's Eco Leaders list? Write to me at sara.gutterman@greenbuildermedia.com.
Want to read more? Follow me on Twitter and Facebook. For more information about green building and sustainable living, visit Green Builder Media at www.greenbuildermedia.com, like us on Facebook, and follow us on Twitter for regular updates and breaking news.