Green Builder Media recently announced the winners of our 11th annual Green Home of the Year Awards. This year's winning selections delight and inspire, offering a glimpse into what a sustainable future with a truly high performance built environment will look like.
The winners of Green Builder Media's 11th annual Green Home of the Year Awards include a spectrum of beautiful residential projects that showcase pioneering green products, advanced technologies, renewable energy, building science best practices, and forward-thinking design strategies.
Judges Stace McGee (prominent green architect and Founder of Environmental Dynamics Inc), Jillian Pritchard Cooke (distinguished sustainable designer and Founder of Wellness Within Your Walls), Bill Roth (progressive green builder and Founder of Modern Design + Construction, Inc), and Mark Sapiro (pioneering custom home builder and Founder of Mark Sapiro Professional Building Services) selected winners based on overall sustainability, resiliency, synergy with the environment and surrounding neighborhood, affordability, creativity, and depth of building science employed.
While all of the projects that were submitted had interesting features, a few of the winners stand out.
Riverfront Masterpiece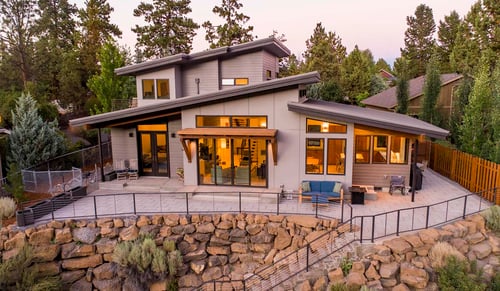 This year's Grand Overall Winner is a home that is truly one with the environment. The Rowe-Toogood residence, located in Bend, OR and designed by The Shelter Studio, takes advantage of the site's natural features—including a river that runs through the backyard—and optimizes access to sunlight to achieve the greatest passive solar benefits possible in winter and summer.
High efficiency lighting, appliances, mini-split heat pump, windows and insulation, as well as a full solar array, make this house net zero energy, resulting in power bills of $9 per month in the summer and less than $100 in the winter—even in Bend's harsh climate.
Sustainable exterior and interior materials make the home resilient, low maintenance, and healthy.
Sustainability Showcase
This year's Peak Performer, Panacea Retreat, was built by the esteemed Thrive Home Builders in Denver, CO. Panacea is a true showcase of how to optimize energy efficiency in a production-level home. At 3,200 square feet, this midcentury modern home has a HERS rating of 8 due to its full spectrum of energy efficient products and systems, including 9.76 kW of solar, battery storage, 9-1/2-inch thick R-40 double-stud walls, 14-inch raised heel height trusses, a 0.97 EF tankless water heater with a smart recirculating pump, an 18.9 SEER variable speed heat pump, a 98 percent efficient backup furnace, and LED lighting. Thrive estimates that the home's energy efficiency features save owners approximately $4,600 per year in utility bills, when compared to the cost of a non-green home.
The home also boasts a variety of products that improve indoor air quality, including an ERV that provides continuous fresh air, an air purifier, non-toxic finishes, and drywall that absorbs pollutants in the home.
Loud as a Whisper
Whisper Valley, our most Sustainable Community winner located in Austin, TX, has taken net zero to an entirely new level. Developed by Taurus Investment Holdings, the community was designed around the concept of affordable sustainability. The entire development is powered mainly by an EcoSmart Solutions geothermal system, which saves about 80% in heating costs.
The geothermal system, combined with solar panels and energy efficient insulation, lighting, appliances, and smart thermostats, make all 7,500 homes in the community net zero capable with HERS ratings in the teens and low 20's. Monthly heating bills range from $7-$60, far less than the region's average of $300. Homes start in the low $200,000's, making the homes accessible for a broad range of buyers.
The Simple Life
As "right-sized" living becomes more popular (and as housing prices in markets like California continue to spiral out of control), smaller footprint homes are proliferating. This year's 784-foot Tiny Home winner is straightforward and super-efficient.
The Strickland Residence in Oak Harbor, WA, built by Clifton View Homes, offers the owners a simple, relaxed lifestyle. Built with Structural Insulated Panels (SIPs) and powered by solar, the house is net zero. Its cathedral ceilings and southern facing windows give the small house a large feel while optimizing passive solar as well as views.
Organic Infill
According to Dwell Development founder Anthony Maschmedt, urban infills are the most sustainable way to build. And Maschmedt and his team outdid themselves with the Northwest Net Zero project in Seattle, WA.
This four-bedroom house was built on an infill lot in the Columbia City neighborhood, and special care was taken to ensure that the home met the community's aesthetic and lot-size parameters. To that end, the project team used reclaimed barn wood from eastern Oregon and architectural designs that easily let the home fit into its surroundings.
But the home's historic feel doesn't mean that it skimps on performance—advanced energy and water saving systems were implemented at every step, along with non-toxic, organic, and recycled materials, to reduce the home's footprint.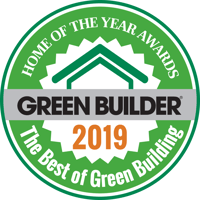 Click here to read more about these and other Home of the Year award winners, which will be honored at a gala dinner on February 17 at Mr. Chow in Caesars Palace in Las Vegas.
Congratulations again to all of the winners! May your projects inspire others to push the boundaries when it comes to designing and building innovative, beautiful green homes.
Want to join us for the awards dinner on February 17, or do you have a project that you'd like to submit for next year's Green Home of the Year Awards? Write to me at sara.gutterman@greenbuildermedia.com.
Want to read more? Follow me on Twitter and Facebook. For more information about green building and sustainable living, visit Green Builder Media at www.greenbuildermedia.com, like us on Facebook, and follow us on Twitter for regular updates and breaking news.