Green Builder Media Brings Smart Home 2.0 to CES
A smart, right-sized home from Green Builder Media and Shelter Dynamics demonstrates real-world applications for high-flying technology.
Right-sized living meets next-generation smart house technology in the Flex House on tour at CES January 9-12, 2018, in Las Vegas. The Flex House, the latest of Green Builder Media's esteemed VISION House demonstration project series, is designed to help homeowners use exactly the amount of resources they need to live affordably and abundantly without unduly taxing the resources of our beautiful planet.
The house, built by specialty modular builder Shelter Dynamics and retailing for $85,000-$100,000, showcases high-tech products in the context of real-world lifestyles. "What you have seen from the Internet of Things so far is a disparate, fractured view of what the smart home will look like," explains Matt Power, Editor-in-Chief of Green Builder. "We are combining many wi-fi-enabled and smart products in a way people will actually use them."
Technologies include a diverse ecosystem of voice-enabled smart home devices, such as lights, speakers, switches, plugs, locks, and appliances, as well as advanced thermotechnology, solar panels with battery storage, "sun-scaping" (sun-powered landscaping tools), connected irrigation and weather tracking systems, digital sleep aids, healthcare monitors, food allergy sensors, and virtual reality home schooling.
"An interactive, multimedia tour of the house will detail all the intelligent, high-performance products and systems used in the Flex House—for people who attend the show as well as remote viewers," Power adds.
Creatively conceived, the Flex House allows homebuyers to design a home that matches their specific living needs by selecting from a menu of pre-fabricated modules. The base unit is 760 square feet with a master bedroom, smaller room that can service as both an office and second bedroom, bathroom, two living areas, full kitchen, and flexible "niche" space. Additional modules can enlarge the floorplan.
"To us, right-sized living doesn't just refer to square footage," says Green Builder Media CEO Sara Gutterman. "It also means having the flexibility to adapt your home to your evolving lifestyle and consuming only the natural resources that you need—no more, no less."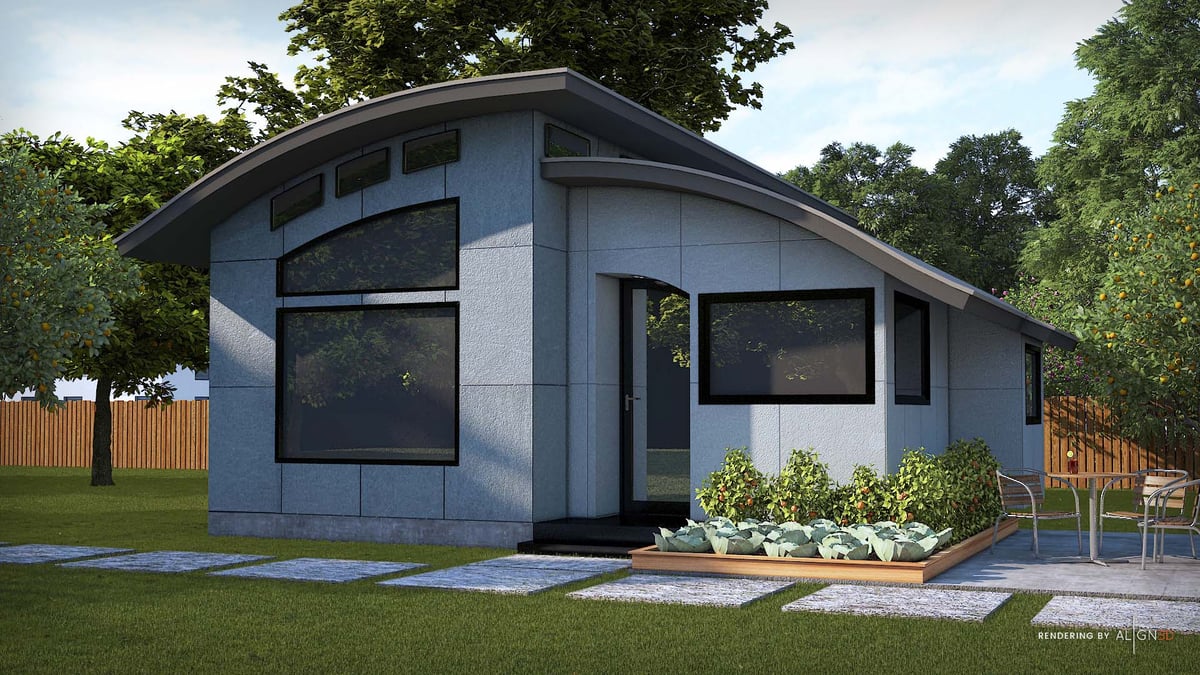 Boasting a fully integrated smart + solar system, the Flex House is fully powered by a cutting-edge solar system with battery storage. The home can produce all of its own power and serve as a microgrid.
The advanced smart home hub platform streamlines the production, storage, monitoring, and usage of energy to create the ultimate demand-side energy management strategy. It also connects voice-enabled controls with lighting, mechanical, entertainment, water, indoor air quality, irrigation, and other systems.
The Flex House also highlights the concept of Intelligent Water. Designed to be ultra-water efficient, the home features water conserving products and fixtures, as well as leak detection, water filtration, grey water, and smart irrigation systems.
Featuring high performance windows, spray-foam insulation, tankless water heater, mini-split HVAC system, smart lighting, advanced appliances, and indoor air quality systems, the Flex House is resource efficient, durable, and healthy.
Flex House sponsors include:
Amazon Alexa Echo

Emerson smart Sensi thermostat and fans

Belkin wireless charging station

WeMo smart switches and plugs

Linksys Velop

Phyn whole home water monitoring system

Bosch Thermotechnology HVAC and water heater

Bosch smart appliances

Bosch EV charging station

Jinko Solar photovoltaic panels

Tabuchi Electric solar system battery

Toyota Prius Prime

American Standard low flow fixtures, smart shower sensor, and accessories

Greenworks Tools electric tools

DuPont Tyvek protective membrane (housewrap)

BaySeal high-performance spray foam insulation

Neolith countertops

SYLVANIA Lighting by LEDVANCE

Rachio smart irrigation

Nexus e-Water greywater system

Viking sprinklers

Awair IAQ sensor and sleep report

Mohawk flooring