Green Builder Media "Best Trade Magazine" for Third Year Running
Three is a Charm in the NAREE Real Estate Journalism Competition—Publishing Powerhouse Also Takes Gold Award for Best Website.
NOTE: Green Builder magazine has subsequently won for two more years, bringing the total number of Best Trade Magazine years to five in a row, as of 2017.
For the third year running, Green Builder Media has emerged as the best trade magazine in a competition including such heavy hitters as Inman News, The Wall Street Journal, and The New York Times. The company was presented with both the Best Residential Trade Magazine Gold Award and the Best Web Site Gold Award in the 65th Annual Journalism Awards recognizing excellence in reporting, writing, and editing stories about residential and commercial real estate.
Currently celebrating its 10th anniversary leading the charge for more sustainable building—effectively both making and reporting on the news in the green building and sustainable living space—Green Builder Media proves its mettle by consistently being chosen as a standout publication delivering authoritative content that helps building professionals create the most sustainable built world possible.
A panel of expert judges from the E.W. Scripps School of Journalism at Ohio University selected this year's award winners: "This magazine has a clear and reader-friendly design along with strong graphics and presents data in a useful and accessible format. It also has striking photography. It addresses an important audience segment."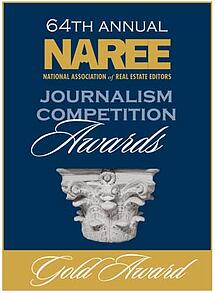 "We were especially pleased about this year's win because it included our year-long Celestia Project, our vision of living abundantly in the year 2100," says Green Builder Editor-in-Chief Matt Power. "We took a lot of risks making forecasts and predictions, but they seemed to resonate with both our print and online readers."
And while the print win is exciting as a standalone honor, the fact that the content of this publication is then seamlessly translated into the digital world worthy of yet another Gold Award, shows the company's focus and talent in ensuring its valuable readership is served information independent of format.
"The exciting thing about the web accolade isn't the nod to our website design," Power points out. "Anybody can make a nice looking page. It's what's happening on the back end. Our team broke new ground in 100s of different ways, vastly increasing our impressions, tracking and organizing visitors by their interests. We rewrote the way media web portals work."
Co-Founder and President Ron Jones adds, "We are truly honored to once again be recognized for our authentic leadership position, which is a reflection of the genuine passion shared by our entire team for creating a more sustainable future."
Long-time blogger Christina Farnsworth was on hand at the 49th Annual Real Estate Journalism Conference at the Intercontinental Miami Hotel June 26 to receive the award.
About Green Builder Media
Green Builder® Media, LLC is the leading media company in North America focused on green building and sustainable living. With a comprehensive suite of print and digital media solutions, demonstration projects, case studies, online training and live events, Green Builder Media assists building professionals in preparing themselves for the new green economy and helps homeowners understand how to live more sustainably.