Each July, Green Builder Media releases the Eco Leaders issue of Green Builder magazine, highlighting a handful of companies that are doing great green things in the world, paving the way to a sustainable future with innovative products and forward-thinking ideas.
These Eco Leaders are setting an example for other companies to follow. Their products improve the lives of a wide range of people. They contribute to resource conservation, waste reduction, and reduced carbon emissions. They utilize renewable energy, extend the life cycle of their products, maintain a sustainable supply chain, and give back to their communities.
These companies take climate change seriously, developing business strategies that account for diminishing natural resources and contributing to the evolution of a regenerative economy. They are pioneering products that are saving the planet while contributing to their bottom line.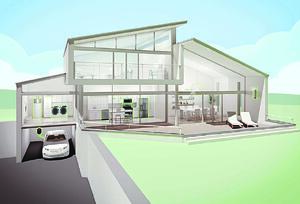 This year, the Green Builder team is celebrating the sustainability efforts of the following nine deserving companies:
GE, for its constant pursuit of innovation through the Ecomagination program. Ecomagination is largely focused on developing energy efficient, durable consumer products, such as its GeoSpring hybrid water heater (which combines a heat pump with a traditional electric coil, drawing heat from the air to help heat water within the tank, making the unit 60% more efficient than comparable electric water heaters.) GE has reduced its freshwater use by 46% since 2006, moved away from harmful refrigerants, and participates in the EPA's Responsible Appliance Disposal (RAD) program.
SolarCity, for its groundbreaking mission to deliver clean energy to the masses. In the mid-2000's, SolarCity revolutionized the solar industry with its service agreement model, which offers solar leasing programs that dramatically reduce the upfront cost of installing solar systems and lock in monthly electricity rates throughout the life of the contract. By delivering clean, renewable energy, SolarCity is not only making solar power affordable, it is reducing carbon emissions and water use, which is essential in drought-stricken California, the company's largest market (SolarCity estimates that PV installations in California saves the state 684 million gallons of water annually.) SolarCity is also currently the largest solar employer in the US, hiring approximately 400 people each month, with operations centers within 30 miles of 90% of its customers. SolarCity, in conjunction with its sister company Tesla, is now setting its sights on battery technology, which will further transform the solar industry, reducing costs and enhancing storage capacity.
Owens Corning, for its efforts in transparency, third-party certification, and environmental product declarations (EPDs). OC plans to share the total life cycle assessment for all its core products by 2015. The company has reduced its toxic air emissions by over 60% and its greenhouse gas emissions by over 30%. The company's development of advanced composite materials will contribute to the continued evolution of a wide range of industries, making items like wind turbine blades, vehicles, and lithium ion batteries lighter and stronger.
Kohler, for making water conservation sexy. The company not only delivers elegant low-flow fixtures to the market, it has added essential backup generators to its product line to provide power to homes during increasingly frequent severe weather events and power outages. Kohler has revamped its manufacturing process to reduce water use by 90% in some facilities, and it has dramatically increased waste reduction and material recycling in its plants. Kohler has taken on the mission of educating people across the globe about water use and the impact on their communities. To that end, the company launched the Believing in Better blog, where people can find inspirational ideas and share their sustainability stories.
Panasonic, for its comprehensive approach to sustainability. The company follows strict sustainability criteria for the design and production of each of its products, taking into account decreased contribution to global warming, effective utilization of resources, reduced use of hazardous chemicals, increased water conservation, and enhancement of biodiversity. Panasonic has taken a leadership role in the recycling of e-waste, participating in an industry-wide initiative that collects 120 million pounds of e-waste annually, and it is actively designing products with end-of-life recycling in mind. In addition to consumer electronics and high-efficiency ventilation solutions, the company's wide swath of products includes solar panels, lithium ion batteries, fuel cells, whole home energy management systems, and sensor technology. Panasonic is currently the leading EV battery manufacturer in the world, providing batteries for the Toyota Prius and Tesla S Model.
DuPont, for marrying science with sustainability. The company is focused on solving global problems such as climate change, energy security, and sustainable food production in the face of a growing population. The company has doubled its R&D investments in products that offer environmental benefits and address the areas of climate change, energy use, pollution, material use, waste, disposal, ecosystems and biodiversity, water, toxicological risk, and use of non-depletable resources. DuPont's 'Drive to Zero' program has enabled the company to reach net-zero waste-to-landfill at its Building Innovations manufacturing sites, reducing its total waste output from 81 million pounds in 2009 to zero in 2012. DuPont has set its sights on achieving similar reductions in its water use.
Bosch, for its drive to increase efficiency across the most energy-intensive sectors: buildings, industry, and transportation. Its wide-ranging, energy-saving product line includes appliances (the company has received Energy-Star certification for 100% of its Bosch brand major appliances), boilers, solar thermal systems, geothermal heat pumps, energy storage batteries, energy management services, automotive diagnostics, and sensor technology. Bosch invests nearly 50% of its R&D budget into the advancement of environmentally beneficial products. The company's efforts to streamline manufacturing through heat exchange, water recovery, and renewable energy usage saves 10,000 metric tons of CO2 each year. Bosch provides clean diesel and hybrid technology systems, electric motors, power electronics, regenerative breaking systems, battery systems, and smart navigation systems to most of the major automotive manufacturers, and it has installed electric vehicle charging stations across the US, Canada, Europe, and Asia. The company is developing pioneering technology to support the widespread growth of automated, electric, and connected vehicles across the globe.
Uponor, for revolutionizing the piping, radiant heat, and fire protection industries with its durable, cost-effective PEX piping systems. Uponor's long-standing leadership in the radiant heat sector alone is enough to win them an Eco Leader award—they have pushed the boulder uphill for decades in a colossal effort to educate building professionals and homeowners alike about the health, comfort, and energy savings benefits of in-floor heating systems. The company has joined with European and US pipe and fittings associations to create a lifecycle assessment for PEX, which outshines iron, concrete, and copper. Since 2006, Uponor has created manufacturing efficiencies that saved one million kilowatt-hours and $100,000 in the first year alone.
Patagonia, for being the change we all wish to see in the world. Since its inception, Patagonia has marched to the beat of their own drum, pioneering the concept of the triple bottom line and defying the conventions that their publicly traded competitors are required to follow. Patagonia has forged the model for businesses that aspire to be simultaneously sustainable and profitable, practicing its own preachings by becoming California's first for-benefit B corp. It co-founded the Sustainable Apparel Coalition, aimed at reducing the environmental footprint of outdoor apparel, as well as the Higg Index, a system that identifies problems in supply chains. In 2005, the company launched the Common Threads program to take back any Patagonia product for repair, reuse, or recycling. In an effort to provide compete transparency, the company released The Footprint Chronicles, a website that allows customers to read about products, suppliers, raw materials, and other relevant information. Patagonia understands that we have to go beyond sustainability towards regeneration (restoring habitats and environmental systems.) To that end, it is engaging in forest protection and grassland restoration initiatives in South America. By 2015, the company will only use bluesign-approved fabrics in its clothing to ensure the reduction of chemicals and water used in manufacturing. Patagonia has gone far and beyond towards contributing to a responsible economy—it allocated 1% of its sales to support environmental groups, and revenues from its soon to be released line of Fair Trade-certified apparel will be allocated towards a special workers' fund. The company has granted over $5.6 million over the past two years to 773 non-profits in 18 countries.
Congratulations to these eco leading companies for daring to be different, for accepting the responsibility to make the planet a better place, and for taking the risk to create positive change in the world. We commend your efforts.
What other companies should we know about that are doing good things for the environment? Write to me at sara.gutterman@greenbuildermedia.com or follow me on Twitter or Facebook.
For more information about green building and sustainable living, visit Green Builder Media at www.greenbuildermedia.com, like us on Facebook, and follow us on Twitter for regular updates and breaking news.
---