Green Builder Media Applauds Eco-Leaders
Every year Green Builder Media releases the Eco Leaders issue of Green Builder magazine, highlighting a handful of companies that are doing great green things in the world, paving the way to a sustainable future with innovative products and forward-thinking ideas.
These Eco Leaders are setting an example for other companies to follow, improving the lives of a wide range of people through resource conservation, waste reduction, and reduced carbon emissions. These visionary companies utilize renewable energy, extend the life cycle of their products, maintain a sustainable supply chain, and give back to their communities.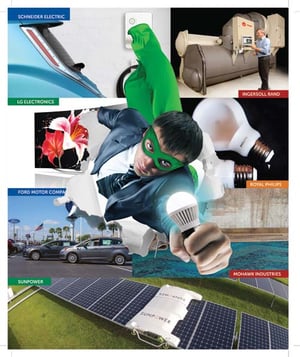 Our designated Eco Leaders take climate change seriously, developing business strategies that account for diminishing natural resources and contributing to the evolution of a regenerative economy.
This year, the Green Builder team is celebrating the sustainability efforts of the following deserving companies:
Congratulations to these eco leading companies for daring to be different, for accepting the responsibility to make the planet a better place, and for taking the risk to create positive change in the world. We commend your efforts.
Do you have a company in mind that we should consider for next year's Eco Leaders issue? Write to me at sara.gutterman@greenbuildermedia.com or follow me on Twitter or Facebook.
For more information about green building and sustainable living, visit Green Builder Media at www.greenbuildermedia.com, like us on Facebook, and follow us on Twitter for regular updates and breaking news.