Green Builder Media Announces 2018 Readers' Choice Winners
Just in time for Earth Day, Green Builder Media announces the winners of our annual Readers' Choice awards. Check out who was deemed the greenest and greatest of them all.
Each year, Green Builder Media asks our readers to select what they think are the most sustainable, innovative, highest performance brands across a wide spectrum of building product categories.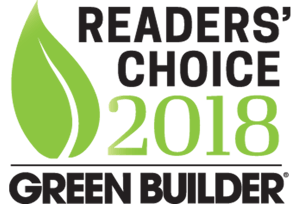 Since our readers are early adopters and first movers—progressives and influencers in their communities, the results of our Readers' Choice awards always offer insight into the brands that represent the leading edge of innovation.
In some cases, certain brands are stalwarts of their categories, victorious year after year. In other instances, emerging brands are selected, which typically points to transforming markets, changing buyer preferences, and shifting customer demand.
As an example, in previous years, blue chip companies generally won the grand prize for the overall greenest brand. But this year, tech unicorn Tesla claimed the prestigious accolade, which isn't a huge surprise given the company's ambition to do nothing less than revolutionize the energy, transportation, and space travel sectors. With very little marketing, Tesla has captured the hearts and minds of individuals who yearn to abandon the polluted fossil-fuel drenched past and fast-forward to a clean, sustainable future.
Also not a surprise—Amazon Alexa triumphed as best smart home technology platform and Nest prevailed as best smart thermostat, reflecting the market dominance and first-mover advantage that both companies have seized in recent years.
There were many winners in categories ranging from lighting to siding to cabinets to cars, but here are a few featured call outs.
Trane, which has been a perennial Readers' Choice winner six of the past seven years, continues to dominate the HVAC category. Not only does Trane offer a wide selection of ducted HVAC systems with high SEER ratings, they have also partnered with Mitsubishi to expand into the rapidly growing ductless system category, thereby bolstering their portfolio of offerings and widening their potential customer reach.
Speaking of market dominance, DuPont Tyvek has once again claimed best building wrap for the 8th year in a row! A hands-down leader in the space, DuPont's cadre of innovative building scientists and product developers continue to develop innovative housewrap, flashing, and weatherization products that enhance the performance, durability, and mold-resistance of the built environment.
Trex blew away its competitors in the decking category with its durable composite decking. Beyond its beautiful products, the company has an impressive sustainability story—as one of North America's largest plastic film recyclers, Trex has diverted over a billion pounds of plastic from landfills. Given the plastic debris crisis that we're facing on land and sea across the globe, the ability to recycle plastic into usable, environmentally responsible products at scale is of paramount importance.
Andersen won greenest window and door company, with its energy efficient, safe, and smart fenestration products. With sustainability in the company's DNA, Andersen has made great strides in waste reduction, energy and water conservation, and sourcing solar power.
On behalf of the Green Builder Media team, we congratulate the 2018 Readers' Choice winners, and we offer sincere thanks to all of you who participated in the selection process.
What do you think are today's greenest brands? Write to me at sara.gutterman@greenbuildermedia.com.
Want to read more? Follow me on Twitter and Facebook. For more information about green building and sustainable living, visit Green Builder Media at www.greenbuildermedia.com, like us on Facebook, and follow us on Twitter for regular updates and breaking news.