Green Builder Media Announces 2016 Eco-Leaders
Each year, the Green Builder Media editorial team selects a handful of Eco Leaders, companies that are paving the way to a sustainable future with innovative products and forward-thinking business practices, and highlights them in Green Builder magazine.
Green Builder Media's selected Eco Leaders are setting an example for other companies to follow, reducing their environmental footprint and improving the lives of a wide range of people through the development of enabling technologies, the advancement of the circular economy, the practice of resource conservation, and the continued reduction of carbon emissions. These visionary companies utilize renewable energy, extend the life cycle of their products, maintain a sustainable supply chain, and give back to their communities.
Our designated Eco Leaders take climate change seriously, developing business strategies that account for diminishing natural resources and defining a new set of business values through enhanced sustainability.
This year, the Green Builder team celebrates the sustainability efforts of our deserving winners: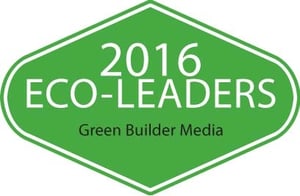 Google, for helping us understand and improve our indoor environments by compiling metadata on chemicals and toxins in building materials through its Healthy Materials Program. The company has been carbon neutral since 2007, purchased more than 2 gigawatts of renewable energy, and invested $2.5 billion in renewable energy projects around the world.
Ingersoll Rand (winner for the second year in a row), for comprehensively integrating sustainability into every division and corporate function. Led by its Center for Energy Efficiency and Sustainability (CEES), Ingersoll Rand is continuously breaking new ground when it comes to reducing the environmental impact of its operations and product portfolio. The company implements outstanding employee engagement practices that enable each employee to feel a sense of ownership in the company's success.
Whirlpool, for its advanced corporate sustainability practices, including engaging in pioneering demonstration projects that showcase how we can create net zero energy, water and waste homes. The company is minimizing its footprint by purchasing massive of renewable energy, and it has pioneered smart appliance functionality to facilitate and streamline sustainable living for homeowners.
Jinko Solar, for being a stalwart of the photovoltaics industry, offering high- efficiency panels, reliable customer service, and a conservative fiscal policy that, due to the company's solid growth, bolsters the solar industry. Jinko donates solar systems that provide reliable power to local communities around the world.
Schneider Electric (winner for the second year in a row), for highlighting climate change as a major driver of innovation at all levels of the company, and for propelling renewables and energy efficiency in markets across the world. Offering a spectrum of energy related products from electric vehicle charging stations to solar system components, Schneider Electric is playing an essential role in facilitating the transition to smart grids and smart cities.
Interface, for paving the way in so many ways for people and corporations to care about sustainability. Since its visionary founder, Ray Anderson, had his course correction decades ago, the company has reduced its greenhouse gas emissions by 92% and its water intake by 87%. It sources 84% of its power from renewables, and over 50% of its products incorporate recycled and bio-based materials. Its revolutionary Factory as Forest program relies on nature-based solutions to enhance the health and safety of factories and workplaces.
Anderson Corporation, for its efforts to reduce fossil fuel use, decrease carbon emissions, and increase energy efficiency though the construction of a new $20 million energy plant that injects sawdust into a boiler to create steam that powers plant equipment. The company is also purchasing large amounts of solar energy that will power its headquarters and manufacturing plants.
Daikin, for reducing its environmental footprint through innovation in areas like smart inverters, which enable air conditioners to save 30% more energy than traditional systems, and refrigerants that can carry heat more efficiently to minimize global warming effects.
Masonite, for encouraging employees to come up with novel solutions to enhance manufacturing and operations practices. The company's annual Environmental Excellent Awards facilitates original ideas that often become best practices for the company. The program has resulted in the development of sustainable products as well as new ways to productively reuse manufacturing waste.
Roxul, for producing truly sustainable products in the form of stone wool insulation, a byproduct of volcanic activity, that is sound absorbent, fire and water resistant, long-lasting, and contains up to 40% of recycled materials.
Accoya, for its careful selection of fast-growing Radiata pine and alder trees to minimize the effects of deforestation. Accoya's all-natural wood products are 100% biodegradable and non-toxic, with extremely low emissions levels.
Congratulations to these eco leading companies for daring to be different, for accepting the responsibility of making the planet a better place, and for taking the risk to create positive change in the world. We commend your efforts.
Do you have a company in mind that we should consider for next year's Eco Leaders issue? Write to me at sara.gutterman@greenbuildermedia.com or follow me on Twitteror Facebook.
For more information about green building and sustainable living, visit Green Builder Media at www.greenbuildermedia.com, like us on Facebook, and follow us on Twitter for regular updates and breaking news.