Green Builder Media, the nation's leading media company focused on sustainable living, has joined forces with CR Herro, VP Innovation from Meritage Homes (8th largest homebuilder in the U.S.) and internationally-renowned architect Stace McGee, Founder of Environmental Dynamics, Inc. to launch the VISION House Seattle Cascades: The House the Experts Built.
Bringing together some of the greatest minds in the green building, sustainable design, advanced technology, and building science sectors, this multi-year demonstration project will redefine what it means to build green homes in today's marketplace.
The project will highlight the "must-have" elements for residential green building, such as sustainable design, energy efficiency, renewables, indoor air quality, intelligent water, solar + storage, and smart home technologies, as well as options for different price points, climate zones, and aesthetic tastes, all while remaining in a reasonable price point.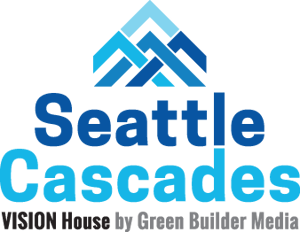 "The VISION House Seattle Cascades will be a template that we can share with building professionals and consumers across the country, illustrating the horizons of cost-effective sustainable design and construction given the advanced products, systems, and technologies that are available today," said Sara Gutterman, Green Builder Media CEO. "Furthermore, through this project, we want to turn the ridiculous metrics of lowest upfront cost and price per square foot upside down, and instead emphasize lifecycle costs, long-term value, and the monetization of sustainability."
Located in Enumclaw, WA, the net-zero, solar-powered, resilient, healthy, and intelligent home is situated on 20.5 acres of managed forest in King County (20 acres will remain a wildlife preserve) with spectacular views of the Cascade mountain range.
The home will be Herro's personal residence, enabling Green Builder Media and Herro to perform a multi-year data collection and performance analysis study. "Because I'm going to live in this house, it's paramount that performance, design, and livability are intertwined with sustainability throughout the entire process," says Herro.
The home's sleek, contemporary aesthetic will feature clean lines, mixed materials, and an open floor plan. The construction process will be optimized to reduce material use, jobsite waste, and cost. By deploying advanced building science and superior construction techniques, the home will exemplify resource efficiency and promote occupant well-being.
The result: a simple, replicable application of innovative design, progressive building science, and thoughtful green building that professionals and homeowners can follow throughout the nation.
"There is nothing more exciting than surrounding yourself with experts to design a new standard for home design and performance," says Herro. "It has been an honor to be a part of this team that is redefining cost-effective, sustainable home design and function, which is no small feat. The combined result is truly amazing."
The VISION House Seattle Cascades will boast some of the most advanced products and technologies available on the market, including:
Beautiful and intelligent appliances from Whirlpool
Super-efficient radiant heat and fire protection system from Uponor
Water monitoring and leak detection from Phyn
High-performance windows and patio doors from Western Window Systems
High-efficiency fireplace glass from Schott
Structural Insulated Panels (SIPs) from Premier SIPs
Stone coated steel roofing from Boral Roofing
Integrated Indoor Air Quality solution and ventilation system from Panasonic
Insulated Concrete Forms (ICFs) from NUDURA
Commercial-grade concrete flooring system from Hambro
Atmospheric generator for water production from Island Sky