Green Builder Congratulates our Home of the Year Winners!
Each year, Green Builder Media selects the most innovative, sustainable projects as our Green Home of the Year Award Winners. This year's victors delight and inspire.
Green Builder Media's Home of the Year Awards certainly feature the best of sustainable design and construction. Year after year, the winning projects showcase creative applications of pioneering green products, advanced technologies, renewable energy solutions, building science best practices, and forward-thinking design strategies.
Homes are judged by a panel of renowned building industry experts on their overall sustainability, resiliency, synergy with the environment and surrounding neighborhood, affordability, creativity, and depth of building science employed.
While almost all of the projects that are submitted are worthy of attention and fanfare, a few special ones catch our attention and are ultimately selected as our winners.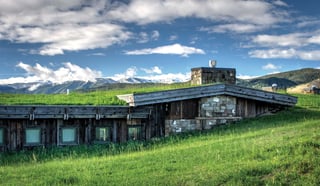 Overall Winner
Our overall winner this year is a home that is truly one with the environment. This Montana-based home, designed by architect Mike Wiseman and built by Rob Evans of Constructive Solutions Inc, was built into a natural bench overlooking the picturesque Gallatin Valley, boasting magnificent views of high alpine meadows and the surrounding Spanish Peaks. The home's design draws from historical ranching homesteads and potato barns that were nestled into the ground, with sod roofs and low profiles to protect them from the raging winds and cold temperatures that plague the region.
The home features SIPs, a green roof, thermally decoupled flooring, a geothermal system, locally sourced materials appropriate for the dry climate, efficient appliances and lighting, low flow plumbing fixtures, and smart home technology to streamline resource use.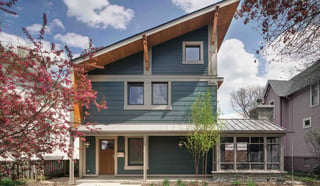 Green for All
Our Mainstream Green category represents affordable, small footprint homes. This year's winner, an Oak Park, IL based passive house, was designed by Tom Bassett-Dilly and built by Brandon Weiss of Evolutionary Home Builders. The simple and functional home showcases how sustainability can be incorporated into a home of any size or price point, using passive house design, proper orientation, and features like overhangs to cost-effectively optimize energy use.
With a super-efficient building envelope system, frost-protected concrete slab, and high performance mechanical systems, lighting, and appliances, the home uses 90% less energy for heating and cooling than a conventional home.
The home also features salvaged materials; low flow plumbing fixtures; toxin free cabinets and finishes to maintain healthy indoor air quality; and an energy recovery ventilator to ensure fresh air exchange.
Natural Beauty
The stunning Hale/Carpenter residence in Vancouver, WA won the Best Alternative Structure award. This lakeside home, designed by Douglas Ewing or Ewing Architects and built by Thomas McKone of Corner Stone Construction, was deliberately planned to protect, and even restore, the delicate native habitat. The beautiful modern home blends large format fiber cement siding with the cedar siding that is so representative of the Northwest. Large windows provide connectivity between the indoor and outdoor environment, taking advantage of the beautiful lake views.
The home includes a ground source heat pump for radiant floor heating and domestic hot water, a whole house heat recovery ventilator, sustainable and reclaimed materials, low flow plumbing fixtures, 5.25-kW solar system, an electric vehicle charging station, and drought-tolerant landscaping to reduce water demand.
Click here to read more about these and other Home of the Year awards winners, including a net-zero demonstration home in Saudi Arabia (seriously folks, if they can do net zero energy there, we can do it anywhere!), an ultra-green urban infill project, a solar-powered microgrid passive house, and a truly resilient custom home in the Hamptons designed to withstand the next big storm.
A sincere thank you to our judges--Terry Beaubois of Building Knowledge Systems, Bob Kingery of Southern Energy Management, Anthony Maschmedt of Dwell Development, and Colby Swanson of Momentum Innovation Group.
Want to learn more about our Green Home of the Year Awards? Write to me at sara.gutterman@greenbuildermedia.com.
Want to read more? Follow me on Twitter and Facebook. For more information about green building and sustainable living, visit Green Builder Media at www.greenbuildermedia.com, like us on Facebook, and follow us on Twitter for regular updates and breaking news.