The Redwood National Park in California was formed in 1968, although by that time about two-thirds of the land it occupied had already been logged. Then in 1977, a U.S. congressman from California introduced legislation that would enlarge the size of the park, and in 1978 President Carter signed it into law.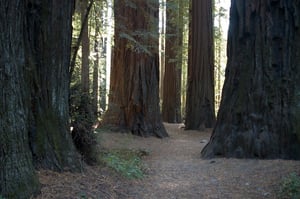 A provision of the legislation allowed timber companies to remove any redwood trunks that were lying on the ground. It is reported that in the last days before the law took effect, timber bosses ordered crews directly into the redwood forest to drop every redwood they could get to before the deadline.
As the story goes, they would fell the biggest and most valuable trees first to maximize their profits, while leaving less valuable trees for follow-up crews. The forests were left with clear-cuts that fanned out from staging zones visible from the air for decades.
Actions such as these blur the lines between greed and spite. Sure, the timber companies involved sought to wring every last drop of profit out of those amazing natural treasures. But they may have been equally motivated by resentment at having been denied unfettered access to the remaining resource. One has to wonder how many redwoods would survive today if not for regulations and legislation enacted to protect them.
In a number of ways, this tale reflects the mindset of many engaged in the homebuilding industry. This is true particularly those involved with trade associations, whose mantra seems to be: "Make all you can for as long as you can, and fight against any form of outside oversight with everything you've got!"
I recently read a release from RESNET reporting that in 2017 more than 2,000 homes across the country received HERS ratings of 40 or less. These homes were constructed by builders large and small, from coast to coast, in virtually every climate zone and in every price and size category.
Yet at the same time, some in the homebuilding industry, most notably homebuilder associations at various levels, directed vast amounts of financial resources, time and energy to attempt to prevent, or at least stall, adoption of updated energy codes. This occurred even though national surveys, many conducted by the trade groups themselves, consistently revealed—and still do—that homebuyers understand the benefits of greater energy efficiency and are willing to pay a premium for that performance.
Something says that this cannot all be about the dollars alone. While some builders and their apologists are willing fall on their swords to resist anything that adds a dime to their upfront costs—no matter how much lobbying expense and human resource is required to wage the battle—there is an even darker motivation driving them.
Put simply, they despise any form of oversight that holds them accountable. I hate to say it, but in my half-century in the industry I have witnessed deep, seething anger at being told what to do or how to do it. The trade associations have learned to harvest this ideological resentment of regulatory oversight and leverage it to their own advantage. They assume the role of defender and champion of the builder to justify and perpetuate their own existence.
Those who find success in this industry going forward will do so because they are willing to learn and adapt as the art and science of home building evolves, leaving the unnecessary baggage of spite where it belongs.