Google
Opening new windows into building science by compiling data on chemicals and toxins in building materials.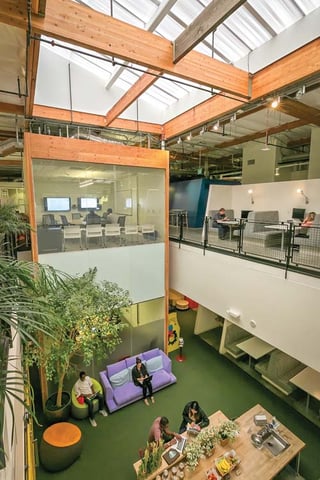 Google created its Healthy Materials Program to ensure all buildings are constructed with the healthiest products and materials. Google buildings follow Indoor Environmental Quality guidelines to enhance air quality, improve thermal comfort, mimic biophilia and improve acoustics and lighting.
Company Profile
Founded: 1998
Headquarters: Mountain View, CA
Leadership: Sundar Pichai, CEO
Products and Services: www.google.com/about/products
Employees: 60,000+
Website: www.google.com
TO ENSURE ALL Google buildings are constructed with the healthiest products and materials, Google created its Healthy Materials Program. The program screens and tracks products and materials using criteria in the Health Product Declaration, GreenScreen, and Cradle to Cradle. It's also aligned with the LEED version 4 rating system.
"Much like the scientific community, Google was eager to know what chemicals and toxins are in building materials and how they impact our employees' health and well-being," says Kate Brandt, lead for sustainability. "Our goal is to create the healthiest indoor environments and close the gap in transparency and material health information in building products."
The information is added to a database, which architects and contractors working on Google construction projects can use to find information about potential construction products and materials.
Google strives to achieve the optimal levels of air quality, temperature, lighting and more, which results in the most energy efficient use of interior systems. It also works to significantly reduce post-consumer landfill waste from daily operations—cutting waste by 85 percent in its campuses in the San Francisco Bay Area.
Google also focuses on its campuses' outdoor spaces with an ecology program that supports biodiversity and native habitats, plans for sea level rise and improves human health.
These efforts have paid off. Google has been carbon neutral since 2007 and recently signed contracts to purchase more than 2 GW of renewable energy. It also has invested more than $2.5 billion in renewable projects around the world.
"Climate change continues to be one of the biggest, most challenging problems our planet faces, and we know that a sustained global effort is needed if we're going to have any hope of reversing its effects," Brandt says. "We believe global businesses should lead the transition to a more circular economy that improves people's lives while reducing dependence on primary materials and energy."