It has been a good week for the environment—China will implement a landmark national cap-and-trade program, and Shell abandoned its plans to drill in the Arctic.
Climate experts have always said that there are two primary factors that will determine the future health of our planet—China's continued reliance on coal and other dirty energy sources, and achieving price parity for renewables so that investment in fossil fuel drilling, production, and distribution becomes infeasible and unprofitable. Fortunately, two momentous announcements were made this week that indicate progress on both fronts.
China's Cap and Trade
First, China, the world's largest polluter (accounting for nearly 30% of total global emissions), announced that it will implement a major carbon-trading system by 2017, placing a price on carbon dioxide emissions and encouraging big polluters (including those in the power, iron and steel, cement, chemicals, building materials, and paper industries) to adopt clean energy sources.
The cap-and-trade system will place a fee on every ton of carbon emitted by polluters, allowing companies to trade permits based on their emissions levels. The program will invariably result in an aggressive economy-wide reform, directing funds away from fossil fuels towards renewables.
China will also implement a "green dispatch" system that will prioritize power generation from renewables and the lowest-emitting fossil fuel sources, and it will soon reveal new heavy-duty vehicle emissions and building efficiency standards as a part of the country's overarching plan to tackle climate change.
The announcement is a follow up to the breakthrough deal forged by Presidents Obama and Xi Jinping last November in Beijing, in which China pledged to reduce its use of coal and other dirty energy sources, accessing 1/5th of its power from renewables and reaching peak emissions by 2030.
Experts who have been following China's climate action progress claim that the announcement was a natural extension of seven regional carbon markets that are already active—and successful—across the empire. Prices for carbon emissions in these regional programs are on par with similar programs across the globe.
While grappling with difficult issues like cybersecurity, currency devaluation, human rights, and the increasing militarization of the South China Sea, this particular accord between China and the U.S. on climate action represents a bright spot in relations between the two countries. The two superpowers have found common ground and developed a shared vision for climate action that they'll bring to the U.N. climate summit in Paris in December, including bilateral efforts and domestic policies that bring much-needed credibility to the agreement forged last November, as well as $3 billion dollar investments (from each country) to help developing countries deal with our changing climate.
Nonetheless, China's announcement puts pressure on the U.S., the world's second biggest polluter, to adopt similar programs to measure, price, and charge for carbon emissions. There are several cap-and-trade models that the U.S. could emulate, such as those already in place in California and the Pacific Northwest, but clearly, the mitigating factor remains political stalemate.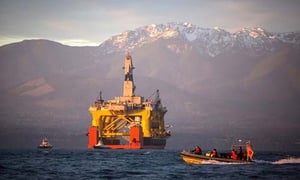 The Transocean Polar Pioneer, a semi-submersible drilling unit leased by Shell, was used to explore Arctic deposits. Photograph: Daniella Beccaria/AP via The Guardian
Shell Pulls Out of Arctic
In other important climate news, after spending 9 years and $7 billion dollars to explore a drilling location in the Arctic, Shell has reported that it "found indications of oil and gas... but these are not sufficient to warrant further exploration." As oil prices continue their steady decline, the economics of oil and gas drilling in the Arctic just don't pencil out, not to mention the "unpredictable federal regulatory environment in offshore Alaska," which created more risk than Shell was willing to bear.
Critics lamented the loss of jobs, investment opportunities, and tax revenue, but environmentalists worried about the sensitive and pristine Arctic ecosystem rejoiced after hearing the news. "It's proof positive that it's time to stop going to the ends of the Earth to search for dangerous, costly fossil fuels," said Franz Matzner, director the Beyond Oil initiative at the Natural Resources Defense Council. "It's not safe, it's not what the science demands if we're serious about climate change, and Shell just proved that it doesn't make any sense."
Shell's Chief Executive, Ben van Beirden, was apparently aware that the strong popular opinion against drilling in the Arctic undermined the company's ability to assert any kind of legitimate influence on the debate about how to tackle climate change. His claims that Shell is investing in natural gas as a transitional fuel but keeping its long-term sights set on lower carbon emitting solutions have been met with understandable skepticism.
Is Shell's Arctic departure the "unmitigated defeat" for big oil that some claim? Perhaps. It's certainly a sign that the industry is trimming its ambitions, and also that strong public dissent and raucous protests hold influence.
It's also a clear signal that we've finally reached a tipping point at which clean energy solutions are at price parity, an in some areas even cheaper, than fossil fuels. The market is demanding sustainable solutions, and the day for renewables has come—even without subsidies, rebates, and incentives.
No doubt, the world today is vastly different than it was in yesteryears, with new alliances and ground rules. It will be interesting to watch the market forces as they continue to shift in clean energy's favor.
What do you think about China and Shell's recent announcements? Write to me at sara.gutterman@greenbuildermedia.com or follow me on Twitter or Facebook.
For more information about green building and sustainable living, visit Green Builder Media at www.greenbuildermedia.com, like us on Facebook, and follow us on Twitter for regular updates and breaking news.