A growing string of natural disasters may lead to huge insurance increases for businesses and homeowners.
Climate change may turn into a gold mine for insurance companies, who may begin raising rates once they finish recalculating their catastrophe models. According to a report in the Wall Street Journal, a growing number of global warming-induced natural disasters have insurers looking for ways to recover their costs, as well as predict how they will change in the future.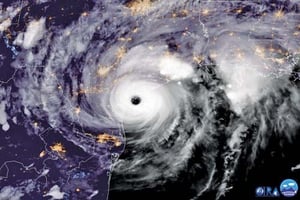 Insurance losses from just two of last year's hurricanes—Harvey and Irma—surpassed $100 million combined, according to global reinsurance brokerage and consulting firm, JLT Re. This year's most-recent hurricanes, Florence and Michael, could double that total. Wildfires, such as the slew that hit California this past fall, will tack on at least another $1 billion in claims, according to the state's insurance commission.
"It takes a lot of premium, a lot of margin, to account for this increased uncertainty, and I'm not sure we're doing a good job of reflecting this and charging appropriately for it," Arch Capital Group CEO Marc Grandisson says. "We need to incorporate a greater range of possible outcomes into our pricing."
Expect insurance rates, which thus far have posted modest increases, to eventually be jacked up based on forecasts, the Journal notes. In addition, rates are re-evaluated yearly, so increases are likely to continue for quite a while. Those rate changes could go across the board, impacting homeowner's, automotive, business and liability coverage.
"We don't discuss the question anymore of "is there climate change," says Munich Re CEO Torsten Jeworrek, a seller of insurance for insurers. "For us, it's a question now for our own underwriting."