This holiday season, I'd like to extend a wholehearted thank you to our readers, advertisers, partners, and colleagues for all of the big and small things you do. It is a herculean task to transform an industry, and we're successfully converting incremental change into exponential results.
This Thanksgiving, I'm feeling particularly grateful. I'm appreciative that the sustainability discussion has finally reached a tipping point, with countries and companies across the globe making bold commitments to reduce carbon emissions and adopt clean technologies.
I'm delighted that individuals from all walks of life have awakened to our pressing environmental realities, and that sustainability has become recognized as the most cost-efficient, resilient, and efficient solution.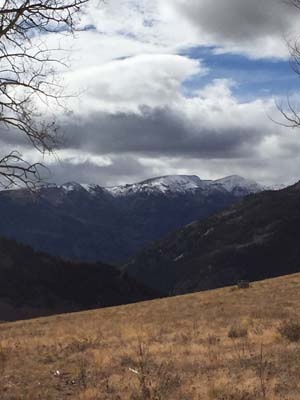 Although we have been blessed with gorgeous fall weather at Mariposa Meadows thus far, we can see the new snow that is already beginning to stick on the north-facing slopes of the high peaks.
Learn more about our latest VISION House project here.
I'm thankful that the renewable energy industry is booming—solar is now the fastest growing energy source in the U.S., and, in 2015, national investments in renewable energy projects reached $40 billion as major corporations like Google, Apple, Walmart, Owens Corning, and Whirlpool have invested in a record amount (2,100 megawatts) of clean energy technologies to power their facilities.
I'm gratified that, after decades of hard work, the green building market, and Green Builder Media, along with it, has evolved from niche and fringe to mainstream and intelligent.
I am pleased to be a part of a powerful community of passionate individuals who are dedicated to affecting positive change in the world. Pushing a boulder uphill can certainly be a thankless job, and I am encouraged by the ingenuity of the countless individuals developing solutions for sustainable living. We are the ones crazy enough to think we can change the world—and we are the ones who will succeed in doing so.
I'm grateful for the building professionals who are delivering high performance homes at price parity; the consumers who are looking beyond the price per square foot metric and making purchasing decisions based on long-term value; the product manufacturers who are embracing innovation and developing affordable green products; and the regulators who are making sustainability a baseline.
I am particularly thankful for my amazing Green Builder Media team. I'm in awe of your creativity and determination. You inspire me on a daily basis and challenge me to become a better person every day.
And here comes my standard reprise that I repeat as often as possible—our goal at Green Builder Media is to affect positive change within the building industry and beyond. Our mission is to increase awareness that the natural and built environments are intricately linked, and that the improvement of one restores the other. Our mantra is to constantly reinvent ourselves, remaining on the leading edge of sustainability so that we can deliver relevant, interesting, and visionary content to our community. Our commitment is unwavering and our task is clear: to continue exploring the frontiers of sustainability. We are pleased that you're here to join us for this wildly exciting journey into the future.
What are you thankful for this holiday season? Write to me at sara.gutterman@greenbuildermedia.com or follow me on Twitter or Facebook.
For more information about green building and sustainable living, visit Green Builder Media at www.greenbuildermedia.com, like us on Facebook, and follow us on Twitter for regular updates and breaking news.