Take our quick code quiz and you'll be entered to win.
What do you really know about building codes? If you're a homeowner, you're lucky to have a basic understanding. If you're a pro, you may feel strong in some areas, weak in others. Our short quiz combines a few easy "softball" questions with more specific rules and regs.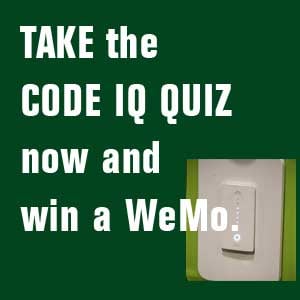 One survey of code officials found, for instance, that approximately 90% didn't feel comfortable with the International Green Construction Code. Another survey of building inspections found that about 45% result in code violations, despite many states requiring code knowledge for builders—suggesting that many builders lack adequate understanding of the building code—even on very common projects, such as decks, guardrails and stairs.
Do you feel have you have a good grasp on building codes? Why not test your knowledge base? Do you know what the right distance is between exterior deck balusters? Do you know where to go online to ask code and permit related questions? TAKE THE SURVEY NOW and answer a handful of building code questions. When you are finished you will be entered to win a WeMo Smart Light Dimmer Switch.
To learn more about building codes, check out Green Builder's sister publication Code Watcher—your one-stop center for everything building code related. Code Watcher is the online and print publication that brings the complex world of building codes, standards and green certification together.