If you build an eco-friendly apartment complex, don't miss any chance to enhance its green credentials.
AS A BUILDER OR LANDLORD, it is your decision whether you want your rental property to be more environmentally friendly. There is a lot of upside for property owners who decide to go green. You're attracting more would-be homeowners and encouraging them to continue renting, or perhaps convincing some to go back to apartment living. You're likely to draw renters of a higher quality. And you are contributing to global conservation efforts.
.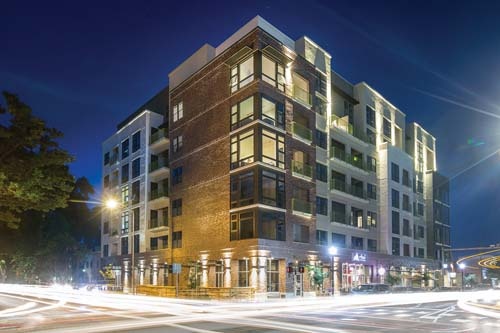 Apartments that are filled with green technology, such as 16 Powerhouse in Sacramento, Calif., are more like to command higher rents—and get them.
According to a recent study by J Turner Research, 60 percent of renters are willing to pay more for an environmentally friendly apartment. When you combine this finding with the fact that millennials make up a large portion of the rental population—and are the group most likely to seek out environmentally friendly homes for purchase—landlords and developers may want to consider emphasizing green features.
Here are some of the key features tenants are looking for in sustainable homes and apartments that property owners will want to stress:
Walkability. If the property is "walkable," it is sure to attract the attention of environmentally friendly tenants. Walkability is defined by how easy it is to reach supermarkets, public transportation, restaurants, etc. on foot.
Appliance efficiency. Study results showed that tenants consider energy-efficient appliances to be the most important factor in a green home. On top of helping the environment, efficient appliances can save hundreds of dollars on annual utility bills.
Recycling. This is one of the easiest and cheapest ways to go green. If you are targeting multi-family communities, consider adding recycling with easy-to-follow directions. For single-family homes, you can always hand out step-by-step instructions on how to recycle curbside.
Building basics
There are hundreds of apartment building materials and building operations options that may be better for your specific sustainability goals. Here are some you might find interesting:
Paperless. Business activities often leave a very noticeable carbon footprint. By making your business 100 percent virtual, you can save hundreds of dollars on paper. In addition, property management software will give you the ability to collect rent payments online. This will save your tenants time and money in the long run. You will also have an easier time sending notifications to your tenants by doing it all through email.
Insulation. One of the most common ways homes lose money is on energy bills. Air conditioning and heating are the most demanding appliances in terms of electricity. Heat and cold easily escape your property through poorly insulated windows and doors. So invest in good quality insulation and your tenants are sure to thank you.
LED lighting. LEDs save much more energy than traditional light bulbs. In addition, they also last much longer, which means tenants will not have to replace bulbs often. In terms of savings, the simple switch to LED lights can save hundreds of dollars on electricity bills—which makes for a strong selling point.
Smart technology. The Internet of Things is enabling a future that, to date, has only been embodied by the most far-reaching science fiction stories. But smart home devices and gadget are becoming more affordable and are, of course, environmentally friendly. For example, outfitting your properties with a smart sprinkler system that adjusts automatically when the weather changes will save water—a key benefit if you're in a drought-stricken or "water-challenged" state. It's an even bigger one if you pay your residents' monthly water bills.
Switching over to sustainable products can give the profit boost you need from your rental properti
---
Darren Novak is a New York City-based real estate investor and property manager.