GERMANY HAS BEEN LAUDED as the leader in distributed, clean energy, its renewable energy strategy touted as one of the most innovative and successful worldwide. The claim certainly has validity—Germany has increased the share of its total electricity production from renewables from 6% to 30% over the past decade; it has the highest per capita installed solar power capacity in the world; and its feed-in tariff (FIT) policy establishes long-term, fixed fee contracts for renewable energy producers, encouraging households, cooperatives, and communities alike to produce clean distributed energy.
However, when examining the country's total energy portfolio, the facts belie Germany's reputation as "the world's first major renewable energy economy." In glaring contrast to its image as a leader in sustainability, Germany is a heavy user of coal and the largest importer of Russian natural gas (over 40 billion cubic meters in 2013).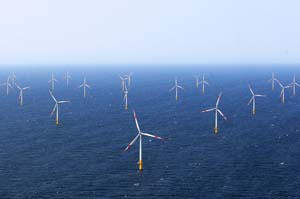 Wind turbines stand in the Baltic 1 offshore wind farm in the Baltic Sea near Zingst, Germany. Courtesy of businessweek.com.
While a utopic vision has been painted of a country that is utilizing massive amounts of renewable energy, in reality, Germany depends on fossil fuel imports for more than 70% of its domestic energy demand. Since nearly 30% of these imports (natural gas, oil, and coal), totaling approximately $103 billion, come from Russia, Germany is clearly in an untoward position as the global community reacts to Vladimir Putin's aggressive political choices with increasing sanctions and trade restrictions.
Exposed and vulnerable, Germany appears to be at a crossroads. In the short-term, the country could plausibly replace Russian imports with natural gas from Norway and the Netherlands (the other natural gas power players in Europe), or liquefied natural gas (LNG) from countries like Qatar and the US. But neither one of those options is wholly viable in the long-term, as production of natural gas in the North Sea is in decline and the limited supply of LNG has already been allocated to other countries that secured contracts years ago.
Another option, fracking, is being considered—and hotly contested. Germany's Federal Institute for Geosciences and Natural Resources claims that Germany has access to 2.3 trillion cubic meters of shale gas within its borders, which would satisfy the country's demand for up to a century. However, pressure from elected officials and environmentalists are blocking forward movement for fracking. In fact, Germany's Minister of the Environment, Barbara Hendricks, has even proposed a ban on most forms of fracking until 2021.
Critics argue that the proposed ban on fracking will not only inhibit Germany's ability to reduce its dependence on foreign imports, but will also hinder the country's economic growth.
But those critics don't seem to recognize the real opportunity that exists for Germany. Rather than acquiescing to a polluting fuel source that has a damaging environmental impact, the country has the unique and timely opportunity to fully embrace and authentically embody the image that it has created for itself through the further adoption of clean, renewable, distributed energy, thereby avoiding the ecological destruction caused by fracking and establishing solid roots in a sustainable economy that will benefit the country for decades to come.
Unlike the U.S., Germany actually has an energy policy, Energiewende (meaning "energy transition") that encourages distributed energy supply and a shift from centralized to distributed generation (for example, producing heat and power in small cogeneration units). The policy has been implemented with the express goal of avoiding overproduction of power by central utilities and reducing energy consumption through increased efficiency.
Germany currently has a target of producing 35% of its total electricity demand from renewables by 2020, and it's arguably the best poised country in the world to hit this goal (the biggest hindrance to increasing renewables on a mass scale in Germany is insufficient network capabilities for transmitting power generated in the North Sea to large industrial customers in the southern part of the country). But in order to maintain a genuine and lasing leadership position, become a true role model in a troubled time that is in desperate need of inspiration, and recognize the full financial benefit of a sustainable economy, is a 35% target aggressive enough? Call me an idealist, but why not shoot for 100%? If a substantial amount of money is going to be invested in infrastructure, why not choose renewables over fracking?
Do you think Germany can get to 100% renewables by 2020? Write to me at sara.gutterman@greenbuildermedia.com or follow me on Twitter or Facebook.
For more information about green building and sustainable living, visit Green Builder Media at www.greenbuildermedia.com, like us on Facebook, and follow us on Twitter for regular updates and breaking news.