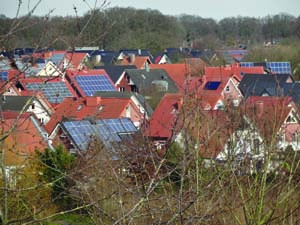 I have written before about the Energiewende, or "energy transformation," underway in Germany. In 2011, the German government made the monumental decision to phase out of nuclear power entirely by the end of 2022, and cover the electricity shortfall through energy efficiency and renewable power. Observers have debated ever since whether this decision was genius or folly. One thing that is indisputable, however, is that in response to this commitment, German engineers are innovating. The country is becoming, by necessity, a leader in managing renewable energy on a grand scale. This is a major challenge. As more and more intermittent wind and solar power is added to the national mix, Germany must develop new ways to manage its power grid to assure stability and meet demand—day and night, rain or shine.
One way of doing this is with a "smart grid," which combines second-by-second monitoring, mobile telecommunications and automated controls to identify anomalies quickly, and to coordinate between energy suppliers and consumers in real time. Dispersed battery installations (including electric vehicles) can be tapped to boost supply when power production is low, or provide a place to stash power when production is high.
Recently, the Bavarian village of Wildpoldsried became a smart grid proving ground. Wildpoldsried is literally a renewable energy power house, with solar on almost every rooftop, wind turbines in the fields, etc. The town actually generates three times as much power as it needs, allowing it to sell a substantial amount to the grid. This has been a boon to the town, but has created a real challenge for grid operators.
Working with a German technology company, the local utility installed 200 grid monitoring devices throughout the town to give a real-time view of power supply, and a variable transformer to offset voltage fluctuations. On top of the hardware, a software package balances supply and demand at all times, accounting for such diverse factors as the weather, spot prices for electricity and power quality. The successful system has optimized the flow of electricity both technically and economically, and has set the stage for larger demonstrations to come.
Another way to manage intermittent energy resources is to store the power they create. The ideal mechanism would do for renewable energy what a reservoir does for water: capture the resource when it is flowing, whether a trickle or a flood, then hold it until needed.
Some German engineers are working on a novel approach to this challenge: they have figured out how to use electricity to transform carbon dioxide and water into methane on an industrial scale. Methane is the major component of natural gas, and unlike electricity, it can be stored for months at a time in the existing gas distribution network, then be deployed as needed.
Because of its commitment to transitioning to a primarily renewable power system, Germany is operating on the technological leading edge of energy management. By addressing challenges few other countries have yet faced, it is innovating the future, forging a path for the rest of us to follow.
---