Geothermal: Ready for Prime Time
BY EXTRACTING AND HARNESSING latent underground heat with a fraction of the energy required to condition a typical home, geothermal technology is a highly sustainable, renewable energy strategy. But ironically, geothermal systems have captured less than 2 percent of the HVAC market, to date. That's about to change.

"Geothermal is a proven and reliable system for homeowners at all ends of the economic spectrum and makes a lot of sense when it comes to green building and energy efficiency at-large," says Titian Burris, residential market development manager for ClimateMaster in Oklahoma City.

A number of factors, including first cost, lack of awareness and available land space, have traditionally inhibited geothermal's growth. Fortunately, tax incentives, utility programs, educational initiatives and technological advances are creating some momentum. The compound annual growth rate for geothermal systems is poised to increase more than 13 percent annually through 2020, assuming that current tax credits are extended, according to a 2013 Navigant Research report. Furthermore, Green Builder's Readers' Choice 2014 survey of several hundred builders nationwide found that close to 28 percent are now installing geothermal in the homes they build; for 15 percent, it's a standard feature.

Currently, the federal government is offering a tax credit of up to 30 percent through 2016, under the Energy Recovery Act of 2009.

Combined with incentives in a number of states, homeowners are typically looking at an ROI of three to four years.

While the technology is viable nationwide, Jay T. Ayers, geothermal and IAQ product manager at Ingersoll Rand in Tyler, Texas, says it's most popular in the Midwest, followed by the Northeast—regions which typically have more available land space. Meanwhile, a booming Southeast construction market is making regions like Tennessee, Kentucky and the Gulf Coast the fastest growing locations for geothermal installations.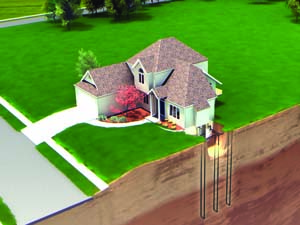 Ground Control. Geothermal loops can be installed horizontally or vertically to naturally heat water in the winter or cool water in the summer, thanks to the ground's relatively constant temperature. Image courtesy: WaterFurnace

Technological Prowess
Anticipated to help drive geothermal adoption are a number of technological advancements, including higher efficiencies, newer split systems, integrated and zoned controls, and variable-speed pumps and compressors.

For example, ClimateMaster's latest Trilogy 45 Q-Mode system has raised the industry bar with an energy efficiency ratio of 45—measured as the ratio of heat removed, in Btus per hour, to the electricity required to run the unit.

"In the past two years, we've also witnessed the benefits of inverter compressor technology with communicating controls, along with the improvements and refinements to refrigerant coils, motors and all aspects of variable speed motors," explains Ayers, whose company owns the Trane and American Standard geothermal brands. "As a result, we're able to achieve efficiencies in the +40 EER range and above 5.0 coefficient of performance (COP), which means that four units of heat are being pulled from the ground with only one unit from the machine/heat pump itself."

Marrying a variable-speed blower, variable-speed circulator pump and a variable-capacity compressor, WaterFurnace's 7 Series units scales compressor output and airflow to required heating or cooling levels, delivering efficiencies of up to 5.3 COP for heating, and more than 41 EER for cooling, which is more than twice as efficient as air-source heat pumps or air conditioners, and a third more efficient than dual-capacity geothermal units, says Tim Litton, director of marketing communications at WaterFurnace in Fort Wayne, Ind.

"Additionally, the 7 Series' extremely wide range of capacities—from 20 percent to 130 percent—provides unmatched humidity control, and can even eliminate the need for auxiliary heat in cold-weather climates," he adds.

Another newer offering is split-system heat pumps, which are half the size of a packaged product, and lend greater flexibility and installation options to builders.

Measuring Efficiency of Geothermal Heat Pumps

Heating efficiency is indicated by the coefficient of performance (COP): the ratio of heat provided in Btu per Btu of energy input.

Cooling efficiency is indicated by the energy efficiency ratio (EER): the ratio of the heat removed (in Btu per hour) to the electricity required (in watts) to run the unit.



"A split system also allows you to separate the condensing section from the air handler section to isolate sound, vibration and unwanted heat from the conditioned space," explains Goncalo Costa, director of product management at Bosch Thermotechnology North America in Londonderry, N.H.

Meanwhile, online control and monitoring capabilities and zoned systems providing individualized temperature control in multiple areas offer attractive features for builders and homeowners. For example, WaterFurnace's Symphony platform grants online access to the entire unit, not just the thermostat, thereby providing homeowners with key data on their energy usage and tools to control it. In addition, contractors can analyze 140 different data points in 10-second increments to help diagnose and fix problems more efficiently.



Countering Market Barriers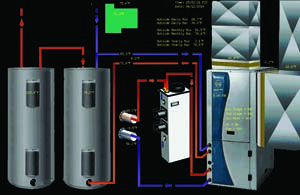 Demonstrating Efficiencies. Live data from one of the 35 single-family homes in the Rivera Greens development in Clarence, N.Y., is streamed onto the geothermal provider's website. In addition, the provider and homeowner can track energy usage and quickly diagnose problems.


While first cost has traditionally limited geothermal adoption, tax incentives—at the federal, state and local levels—are starting to make a difference. At the same, geothermal manufacturers have begun turning to utilities as an untapped resource.

Because geothermal heat pumps can help power providers reduce peak demand and infrastructure requirements, utilities have a vested interest in the technology. Furthermore, by converting homeowners with gas furnaces, who are "summer-only" air conditioning power consumers, into geothermal users, these folks become year-round customers as they now require electricity to power the geo-exchange system's circulator pump, blower and compressors, explains Litton.

"It's for these reasons that, in an effort to increase adoption, a number of utilities around the country are footing the bill to install the underground piping portion of a geothermal system," he says.

In fact, Bosch recently partnered up with Orca Energy to essentially lease geothermal systems to builders and homeowners. Interested builders will receive free design, installation and maintenance services for the ground heat exchanger while homeowners are charged a reasonable one-time connection fee and a monthly utility charge to Orca Energy, which is linked to the Consumer Price Index to prevent this fee from exceeding conventional space heating/cooling and hot water energy costs.

While such financial programs seem promising, the industry is still left with perhaps its biggest challenge: a lack of awareness.

"Many consumers are either unaware of the technology and its benefits, or unaware of the economic incentives that they can receive for installing a geothermal system," says Burris. "Today's consumers usually begin their research online and, unfortunately, simply can't search for terms with which they're completely unaware."

Recognizing HVAC contractors as an important part of this equation, many manufacturers are targeting this group with training and educational programs, in addition to builders and architects.

"Finding quality contractors that are 'fired up' about geo is crucial to our success, but in order for geothermal dealers to be really successful, it will still take more," says Litton.

According to Ayers, a modification of installation standards could help address the issue of infrastructure limitations. Current practice leaves the decision and cost burden of installing a geothermal unit up to the homeowner, once the planning of a new subdivision has already been completed.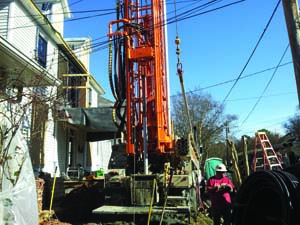 Drilling for Coils. The cost and feasibility of installing a geothermal system depends on the availability of land, soil type and other factors. Here, horizontal boreholes are drilled out to install piping for a residential geothermal system in Raleigh, N.C.

"If builders installed geothermal loops on the front end of a project, much like sewer systems, water pipes or other whole-neighborhood utilities, the cost would be significantly decreased," he says.

Fortunately, this is starting to happen with geothermal contractors and developers teaming up to foot the initial geothermal infrastructure bill, and homeowners paying it out through reasonable monthly fees over a long period of time.

On the Horizon
Moving forward, manufacturers anticipate that tax incentives, newer financing programs and volatile fossil price prices will combine to create a more ideal environment for geothermal to thrive.

"With the high cost of propane and electricity predicted to further skyrocket, particularly as coal plants are being shut down across the U.S., geothermal is a simple answer," says Burris.

And now that green building practices have evolved from a novel idea into a cultural mindset, geothermal technology is standing out even more as an appealing option.

"We see a bright future for geothermal because this technology is the best energy-saving solution, with the lowest life-cycle cost, and the quietest choice for an HVAC system," says Ayers.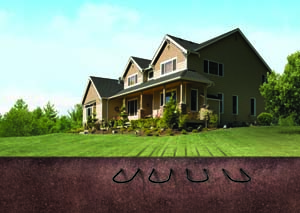 A Geothermal Primer Geothermal systems can heat and cool buildings and, if equipped, be used to heat water as well. A system consists of a heat pump, an air delivery system (ductwork) and a heat exchanger—usually a system of pipes buried in shallow ground. In the winter, the heat pump removes heat from the heat exchanger and pumps it into the indoor air delivery system. In the summer, the process is reversed.

There are four main types of systems:

Horizontal closed-loop. This system typically requires a four-foot trench and uses two pipes, one buried at six feet and the other at four feet. Alternatively, pipes are buried side-by-side at five feet in a 2-foot-wide trench. This is the most cost-effective solution for residential installations.

Vertical closed-loop. Small-diameter holes are drilled about 20 feet apart and 100–400 feet deep. Two pipes insert into these holes, and connect at the bottom with a U-bend, forming a loop. These systems are more expensive, but used to minimize land disturbance.
Pond or lake closed-loop. In this low-cost option, a supply-line pipe runs underground from the building to a nearby body of water. The pipe is coiled into circles at least eight feet under the surface to prevent freezing.

Open loop. This system uses well or surface body water as the heat exchange fluid, which circulates directly through the heat pump system. Water returns to the ground through the well, a recharge well or surface discharge. This option requires an adequate supply of relatively clean water. Source: Dept of Energy