New reports show Geothermal to be, "One of the most mature and stable platforms of renewable energy usage…" High consumer satisfaction, green building growth, and programs to reduce first cost are rocketing geothermal heating and cooling into the US mainstream.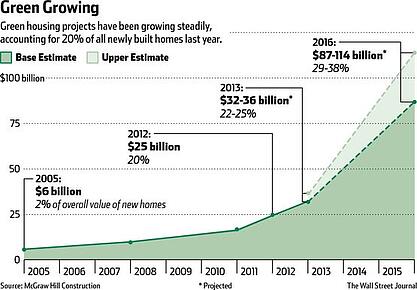 Geothermal heating and cooling technology has been an organized technology for more than 40 years, having been applied successfully for over 70 years. Geothermal systems are the most efficient air conditioning and heating technology available, providing premium comfort and remarkable equipment longevity, storm resiliency and impressive tangible benefits available only to those implementing the technology. Still, the technology has achieved only minor market penetration in the US, while the retrofit market in Canada and some European countries are favored with retrofit factors approaching 40% of equipment replaced /upgraded (Canadian GeoExchange.org).
In 2009, the US Stimulus Act provided tax incentives equal to 30% of the cost of geothermal HVAC installations for new construction, retrofits or upgrades. This incentive bolstered efforts to implement geothermal installations throughout the US. This has served to provide a base of well-trained tradesmen and professionals proficient in design, installation, and maintenance of geothermal HVAC systems, adding significantly to implementation of geothermal heating and cooling systems in new homes.
The National Association of Home Builders (NAHB) shared the results of a national survey commissioned to determine the satisfaction levels of green homeowners from last three years (GuildQuality), of which 94% agreed that they would recommend a green home to a friend.
Respondents were asked the open-ended question, "What green feature was most important to you when choosing or building your green home?", and the answers are depicted in the following word cloud (Credit: GuildQuality):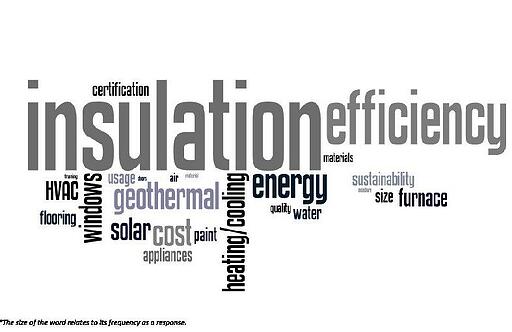 Geothermal heating and cooling has become an important consideration for potential homeowners.
When asked, "What green related aspect of your home are you most satisfied with?" respondents specifically cited "Geothermal Features" much of the time, even though the number of homes that included geothermal heating and cooling was not noted.
Keeping this in mind, a Wall Street Journal report entitled, "Green Goes Mainstream for New Homes" projects an increase in green home building from $36 billion in 2013 to $114 billion in 2016.
With up to 38% of residential construction fitting the category of green housing by 2016, we can be reasonably certain the geothermal HVAC system fit the category of a "mainstream" heating and cooling technology.
Navigant Research calls geothermal heat pumps, "One of the most mature and stable platforms of renewable energy usage…" , and Bloomberg New Energy Finance states that the US gained additional momentum in 2013, "…creating whole new industries and thousands of new jobs in the energy efficiency and renewable energy sectors."
With regard to green home mortgages, US News Money reports and overall consumer advantage in the form of energy cost savings, which may contribute to increased mortgage responsibility and capability according to this Institute for Market Transformation (IMT) report (stating a 32% reduction in the default rate among green home mortgages).
The growth of Geothermal Utility Services such as Canadian based GeoTility, are likely to bolster further implementation in mainstreaming geothermal HVAC technologies as they expand into the US. Consumers are charged a one-time connection fee, then a predetermined monthly charge, significantly reducing first costs for both new homebuyers, and those choosing to upgrade to geothermal heating and cooling.
Chime in; Will geothermal be an important feature in your next green home?
– Jay Egg is a geothermal consultant, writer, and the owner of EggGeothermal. He has co-authored two textbooks on geothermal HVAC systems published by McGraw-Hill Professional. He can be reached at jayegg.geo@gmail.com .