Geothermal Heating and Cooling Book; Real Cheap, Really Good!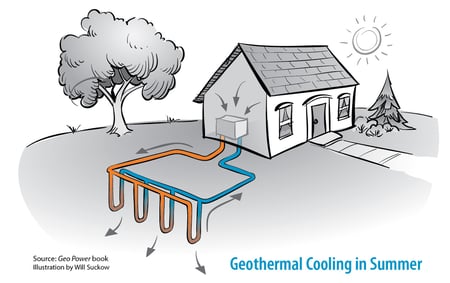 IN MY EFFORTS TO GET UNDERSTANDABLE and easy to read information into the hands of consumers about green technologies, it is refreshing to see an affordable book come out on geothermal heating and cooling technologies. The new book, "Geo Power" is just that; affordable, understandable, and richly illustrated.
Turbo-Charged Efficiency
Many don't understand the mystery of geothermal hyper-efficiency. Some mock at the idea that anything can be more than 100% efficient. "Geo Power" effectively explains movement of heat rather than combustion for heat. The mind that grasps the concepts behind geothermal heat pumps (GHPs) becomes an instant convert for life. My books are more expensive, and progressively more wordy and technical. That's all great if you're looking for that level of information and commitment. Lloyd's "Geo Power" from PixyJack Press is under $20, and has awesome illustrations that help to explain clearly how geothermal heat pumps operate, and how consumers can take advantage of the technology.
When I received my copy (yes, I bought my own copy from Amazon), the first thing that caught my eye was the great illustrations. From the basics of how geothermal loops go into the ground to the comparisons between a refrigerator and a heat pump, the pictures tell a thousand words.
I thought a "COP" was a policeman...
Don goes into explanations on his successful efforts to explain "added value" of geothermal heating and cooling to his bank, increasing his property value. He gives down to earth explanations of such terms as Energy Efficiency Ratio (EER) and Coefficient of Performance (COP) and how they correlate. And, if you want to know some of the science behind "moving heat", you will not be dissapointed.
So if you're an engineer and want to get solid engineering information (400+ pages of it) on how to apply the technology, written by 3 geothermal industry engineering types, "Modern Geothermal HVAC Engineering and Control Applications" is your book. If you want a book written from a former contractor's perspective and with good dose of insight from one of the world's great green writers (Brian Clark Howard of National Geographic) "Geothermal HVAC, Green Heating and Cooling" is your book.
But if you want the answers from a real guy (and, he's an engineer, too) that just loves and understands geothermal heating and cooling technology; "Geo Power" is the book for you. As a matter of fact, Don Lloyd's book, "Geo Power" may be the first thing an individual considering geothermal should purchase in pursuit of help to really understand geothermal heating and cooling. I believe that after reading through its pages, it will become clear to the reader that geothermal heating and cooling is the best way to reduce energy consumption, reduce CO2 emissions, and increase the comfort in our homes and buildings, period.
Got GEO?
Let's get involved! Industry Stakeholders have created a website with vast resources to educate the public on geothermal heat pumps. The "Geothermal Day" website http://www.geothermalday.com/ aims to raise awareness about environmental and economic benefits of geothermal energy and its vital role in building a clean and secure energy future. We are inviting industry partners, communities, businesses and educators to join efforts to advance further understanding and acceptance of geothermal technology as an unlimited, renewable form of energy. Join us by co-creating and sharing educational resources and participating in interactive activities in local communities and on-line.
"Within your lifetime, the house you live in will probably be heated and cooled by geothermal energy."
Jay Egg is a geothermal consultant, writer, and the owner of EggGeothermal. He has co-authored two textbooks on geothermal HVAC systems published by McGraw-Hill Professional. He can be reached at jayegg.geo@gmail.com
Want more motivation? Here are the 10 good reasons to buy "Geo Power" that were sent to me by the publisher:
1. Green from green. Geo Power makes a clear case that using this green energy technology will save you serious greenbacks EVERY year. Payback time is sooner than you think!
2. Save time & hassle. This affordable $20 book pulls everything together in one handy reference to save you research time and headaches.
3. Sensible & candid. Using down-to-earth language and helpful illustrations, author Don Lloyd explains how GHPs work and all the various system options.
4. Science made simple. Get a handle on the technology behind geothermal heat pumps and discover how they really do achieve super efficiencies.
5. Pros vs Cons. Geo Power cuts through advertising hype so you'll have realistic expectations of the most reliable, non-polluting way of extracting free energy from the earth.
6. Insider advice. Get good tips on finding & selecting a qualified contractor.
7. Pair it with solar. Solar energy is a perfect match for a geothermal system. Learn how to generate your own electricity to run the heat pump and become more self-sufficient.
8. Get empowered. Read about a number of Earth Smart Home profiles from around the country.
9. Generous supplementary info. Geo Power includes a detailed appendix with additional know-how and resources.
10. Need a job or career change? An entire chapter is devoted to joining the geothermal industry.