Georgia-Pacific DensDefy Membrane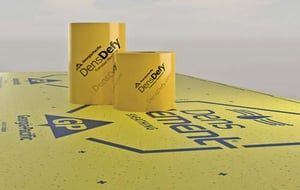 Water intrusion during construction can cost a fortune in rework-related expenses and time. To counter this, Georgia-Pacific unveils DensDefy™ Liquid Flashing, a flexible liquid-flashing membrane that seals and protects against water intrusion for transitions between substrates at rough openings, penetrations, joints, sheathing fasteners and seams, and unwanted air movement.
DensDefy Liquid Flashing is highly durable and eliminates the need for joint reinforcing tape, reducing overall preparation time. It's ideal for gaps of more than 1 inch wide and for transitions between different materials. The product is fast cure—even under moist conditions—and may be applied in low temperatures and high elongations. It can tolerate rain immediately after application, without 12-month exposure to normal weather conditions, and is easy to install without primer.
Liquid Flashing works in conjunction with the DensDefy Transition Membrane, a flexible, self-adhering membrane used to maintain continuity of the above-grade water-resistant barrier and air barrier at complicated transition areas. The robust adhesive bonds easily to most building substrates.
For more information: www.densdefy.com