At Green Builder Media's recent Sustainability Symposium 2019, General Wesley Clark outlined, in no uncertain terms, the urgent need for climate action to protect our economy, our society, and the very future of our planet.
Last week, Green Builder Media held our third annual Sustainability Symposium. The agenda was jam-packed with luminary presenters who shared extraordinary ideas and remarkable insights related to the transition to a sustainable future.
General Wesley Clark, retired Four-Star General, Army Chief of Staff, and NATO Supreme Allied Commander, presented the opening keynote, kicking off the day with an informed and eloquent overview of the imperative of climate action.
Clark emphasized the challenges and opportunities presented by a changing climate. "I don't know if there is an emergency on our southern border, but there is an emergency with respect to climate change," he asserted. "Climate action is an urgent need, but it also presents the greatest economic opportunity in the history of human kind."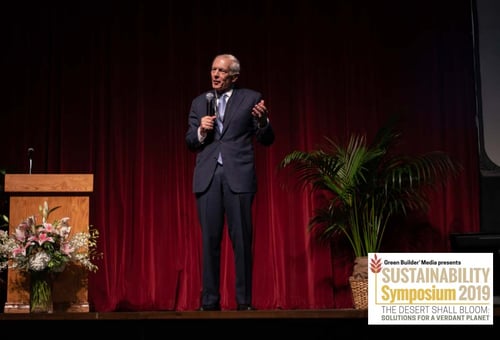 He expressed cautious optimism about the future—while he understands the magnitude of the problem, he believes in human ingenuity and sees the potential for unprecedented solidarity. "We have all of the tools, financial resources, and institutions to solve this problem. It's the kind of challenge that could bring humankind together in a way that we've never been brought together before. We can deal with this if we choose to."
But he is also realistic about the enormity of the undertaking. "We know that 17 of the 18 warmest years in the last 136-year record have occurred since 2001. The increase in temperature is not a linear function—it's more than a linear function. Scientists can't predict it accurately yet, but we see the evidence: if you put carbon dioxide in the atmosphere, if you burn fossil fuels, if you use energy from the Earth the way we've been using it, the temperature is going to go up… The last time the atmosphere's carbon dioxide levels were this high was 3 million years ago, when the temperature was about 5 degrees Fahrenheit higher than it is today and sea levels were 50-80 feet higher than today."
To properly address climate change, Clark asserts that we must transition to 100% clean energy. He is passionate about renewable energy—in fact he spends most of his time these days helping corporations develop renewable energy adoption strategies, but he recognizes that, while renewable energy is growing, our nation will continue to source most of our energy from fossil fuels for many years to come.
Climate action tops Clark's list of national security concerns, but he is also worried about terrorism and cyberattacks. "We have failed to design our infrastructure and networks for resiliency to deal with climate change and also for security to protect ourselves against terrorism and cyberattacks, which is a grave error," he avows.
He affirms that China will be pivotal in shaping our financial and environmental future, given the continued growth of the country's economy as well as the scale of its carbon emissions, waste production, resource consumption, and population growth. "China wants to be the largest power in the world and the center of civilization. This is the China dream. How China evolves will be a major factor in whether or not we can tackle climate change. Bringing China into our global systems and institutions is a huge challenge for the U.S. Right now, we have a trade dispute that is long overdue… we have to get the balance right to simultaneously work with and compete with them."
He recognizes that climate action is complex and requires a multi-pronged solution. "It can't be fixed with government action alone or a magic invention, it can't be solved with one nation operating by itself, and it can't be tackled without investment."
He asserts that scale, competing interests, distractions, and technology development have prevented us from appropriately tackling climate change.
With respect to scale, he points to our transportation systems. "There will be 2 billion cars and 500 million diesel trucks on the roads by 2040, and the average car lasts 19 years. It's hard to get rid of old cars—if you want to address carbon in a meaningful way, you have you get rid of 2 billion cars. We are currently producing 16 million per year, China is producing 20 million per year. It's going to take a long, long time to wean ourselves off combustion engine vehicles at a scale large enough to make a difference."
He also cites competing interests as a major hindrance to climate action. "At $80 per barrel oil (which we're currently at), the most valuable thing in the world is oil reserves in ground. Those reserves are valued higher than GDP of U.S. and higher than global stock markets. The people that own that oil want it to be used… And there are huge financial equities tied up in fossil fuels. Bonds, banks, public utility commissions, and major corporations make their money on current energy systems. To them, renewable energy is a threat. In fact, between 2006-2009, energy companies spent over a billion dollars lobbying against climate-related bills and issues."
He laments that climate action isn't a front-page issue and that people are too distracted by other less important news to give climate change the attention it deserves. "You can find all kinds of useless news on the front page, but you have to really search to realize that each day we're emitting out about a billion tons of carbon into the atmosphere. Climate change should be the most important news story every day."
And he struggles with the pace of technological change. "Batteries and solar are still too expensive by conventional standards to produce baseload power to replace coal, gas, and oil." He also wants to see more carbon capture technology that can apply carbon dioxide for practical purposes. "It's not enough to stop emitting, we have to extract as well. We don't currently know how to take carbon dioxide out of the air and then use it in a beneficial way. We need to figure that out."
Clark is adamant that placing an escalating price on carbon is essential for tackling climate change. "Only when we place a high enough price on carbon can we drive meaningful behavioral transformation," he asserts.
He rails against the status quo. "We have taken fossil fuel energy and built a civilization with it. The price is the carbonization of the atmosphere. We're like the butterfly coming out of the cocoon, eating up the cocoon to get free. Except we have the smarts and the knowhow to recognize that we have to sustain and protect this Earth."
He has no doubt that we are capable of addressing climate change, however, he insists that we need substantially more political will, money, and leadership if we're going to succeed.
"This is the greatest economic opportunity of our lifetime. We have an immediate challenge. We almost have the technology to fix it. We need a new way of looking at mankind." Can we meet the challenge?
What do you think about General Clark's presentation at our Sustainability Symposium? Write to me at sara.gutterman@greenbuildermedia.com.
Want to read more? Follow me on Twitter and Facebook. For more information about green building and sustainable living, visit Green Builder Media at www.greenbuildermedia.com, like us on Facebook, and follow us on Twitter for regular updates and breaking news.