Game Changer

Matt Power, Editor-In-Chief
3 min read
For Tom Elliott and Barbara Scott, Desert Rain is more than a home; it is an outer expression of the couple's inner values and beliefs. When they purchased two lots near downtown Bend, Oregon, six years ago, their intention was to build a super-green "residential compound"—a main house, two smaller dwellings, garages and infrastructure—to LEED Platinum standards. They wanted to break the pattern of "one lot, one house" in favor of denser development that fostered a strong sense of community.
Nearly a year into the design process, Elliott and Scott learned about a new green building certification program called the Living Building Challenge. This comprehensive program includes 20 Imperatives organized under seven "Petals:" Site, Energy, Water, Materials, Healthy, Equity and Beauty. LBC projects must produce at least as much energy as they consume, harvest all water and process all wastewater onsite, and use mostly local materials that don't include any components from the Red List.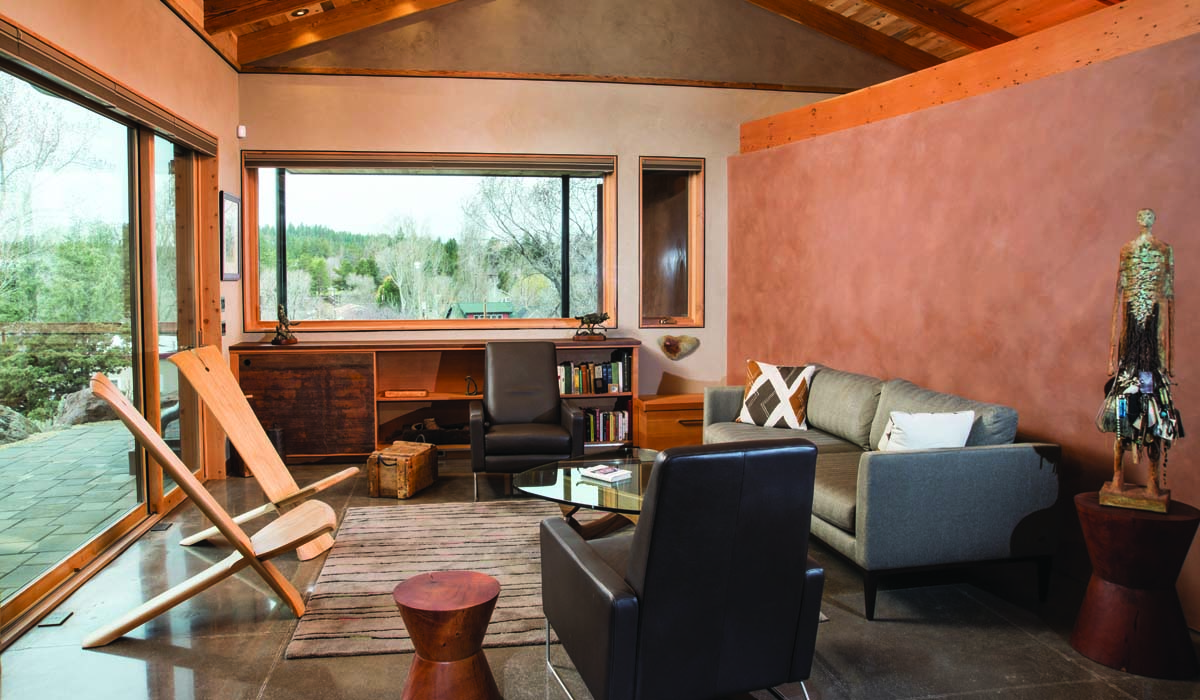 "We knew immediately that's what we wanted to do, even if it meant letting our entire team go," says Scott. Fortunately, their team, which included Tozer Design, Timberline Construction, landscaping firm Heart Springs Design and sustainability consultant ML Vidas, was up for the challenge. At first, designer Al Tozer sought to retrofit the LBC standards into the existing design, which by then was fully developed. But once they received bids near the end of 2010, they realized they needed to start from scratch. The main residence was downsized from 3,000 to 2,236 square feet and went from two stories to one, to gain roof area for rainwater collection. The new design included a unique design feature: a curving wall that begins outside the west façade, threads through the house and emerges through the eastern wall. This curving wall separates the public from private spaces and introduces a feminine, organic element.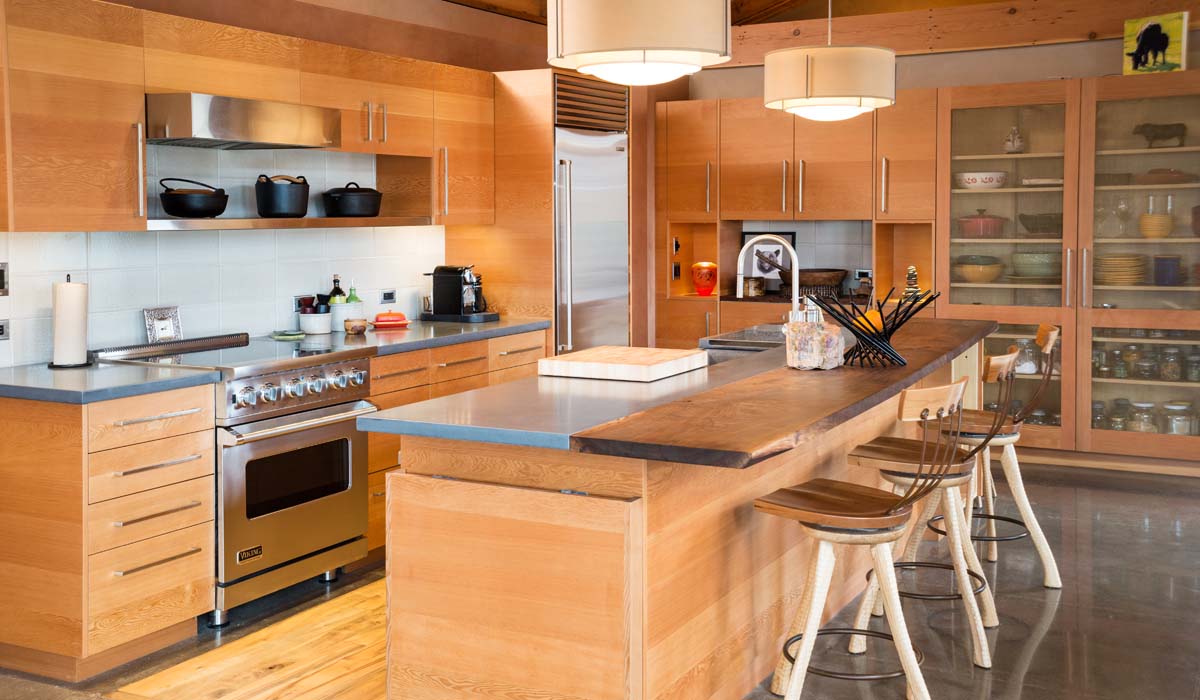 Morgan Brown of Whole Water Systems consulted on the Water Petal requirements. Bend receives an average of nine inches of rain per year, which required calculating enough roof area and storage capacity to supply water for eight people—the maximum occupancy for the three dwellings. The rainwater system collects snow and rain from all roofs and directs the water to a 35,000-gallon, three-chambered cistern under the main residence's detached garage.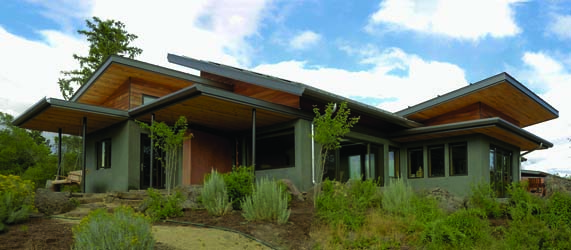 The Water Petal also requires managing all wastewater onsite. Being within city limits precluded a septic system, so Morgan designed a constructed wetland to handle graywater. Elliott came up with an innovative solution for blackwater: a series of vacuum-flush toilets which route waste to a central composter and solar evaporator. Both are ground-breaking systems for an urban area; working with the City and Oregon DEQ for approval required patience and persistence. Oregon's graywater code was (and is) fairly new; there simply weren't any permitted residential systems of this type to serve as precedent. But pushing boundaries is part of the Living Building Challenge agenda—to prove what can be done, so that others might follow in their footsteps.
Vidas served as the hub for vetting every single product and material used in Desert Rain, ensuring they met the Appropriate Sourcing and Red List criteria. The restrictions inspired several innovative solutions, such as the custom exterior plaster recipe, which utilized regional ingredients.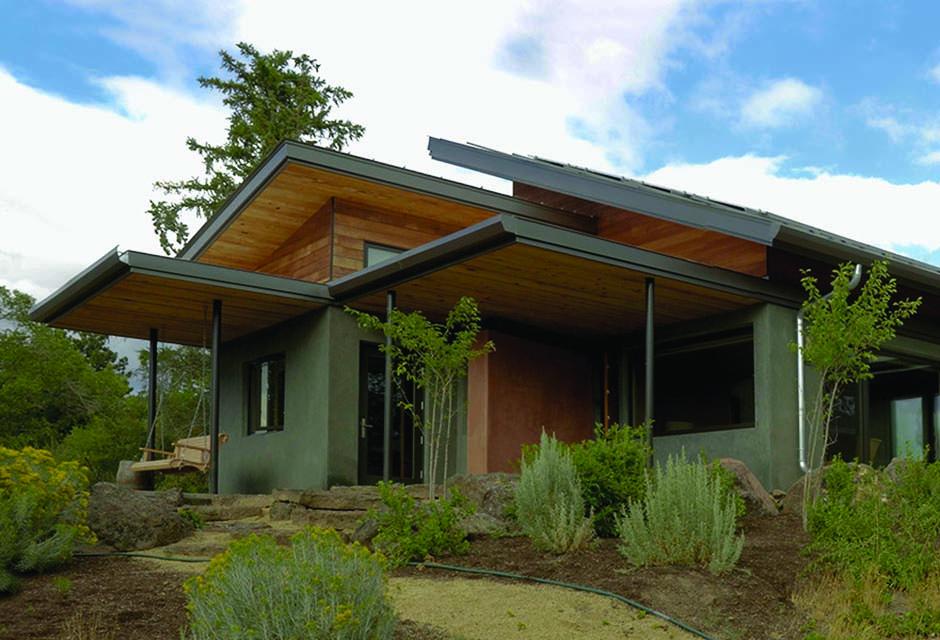 The project began with the careful deconstruction of two old buildings on the site. Some materials were donated to Habitat for Humanity, but the lumber was salvaged and incorporated into Desert Rain, as was lumber from a large ponderosa pine that had to be sacrificed. The entire project generated just 600 pounds of waste.
Education was a priority for Scott and Elliott. They required every single person who worked on the job site to attend a presentation on the LBC. They also allowed the local paper to cover the project through an ongoing series of articles, and agreed to complete transparency on everything, including the budget. Scott and Elliott have opened their doors to dozens of groups for tours, public and private, and they and other team members have given presentations at conferences and local events.
"We believe our communities will not be saved by heroic feats of technology, or design, or government intervention," says Elliott. "Ultimately, our choices in the world are a personal matter, and the future will be insured only through countless individual acts of forbearance, care and innovation." Completing Desert Rain, which the couple views as a demonstration project as much as their residence, was much more difficult and much more expensive than they imagined it would be. But they are already planning their next project, which they're calling "LBC Lite:" a market-rate Living Building Challenge home.
---

Veteran journalist Matt Power has reported on innovation and sustainability in housing for nearly three decades. An award-winning writer, editor, and filmmaker, he has a long history of asking hard questions and adding depth and context as he unfolds complex issues.