Functional Forms
Teams stretch their design skills and test their building science knowledge as they compete to design the best zero-energy multi-use building for a site in Portland, Oregon.
Text and images provided by Hammer & Hand, edited by Green Builder staff.
THE PERFORM COMPETITION, now in its second year, encourages architecture students and interns to explore the nexus between high-performance building and high design. As a builder that partners with architecture firms on every project it builds, Hammer & Hand launched the competition to help advance the energy performance training of emerging design professionals and to demonstrate that performance and design are inherently complementary.
Hammer & Hand is a builder that partners with architects on commercial and residential projects in Portland, Oregon, and Seattle, Washington.
For more information about the perFORM competition, click here.
This year's competition challenged students and interns to design a zero-energy, mixed-use building for a site in the heart of Portland, Oregon's Eastside. Entrants and jurors evaluated the energy performance of design concepts using perFORM's energy verification spreadsheet to determine if a given design's energy generation from onsite renewables like solar PV panels would exceed its energy consumption on an annual basis—in other words: Did the design represent a net-zero-energy building? With this energy performance prerequisite determined, the jury then judged entries based on the criteria of resourcefulness, replicability and beauty.
With 50 entries, participation in the perform competition doubled compared to last year. Two dozen academic institutions from across North America were represented, plus as many private architecture firms.
A group submission by University of Cincinnati students Jon Lund, Narek Mirzaei and Luis Sabater Musa won the $3,000 first place award. Two runner-up winners, a group from University of Illinois Urbana-Champaign and an individual from California State Polytechnic University Pomona, will each receive a $1,500 award.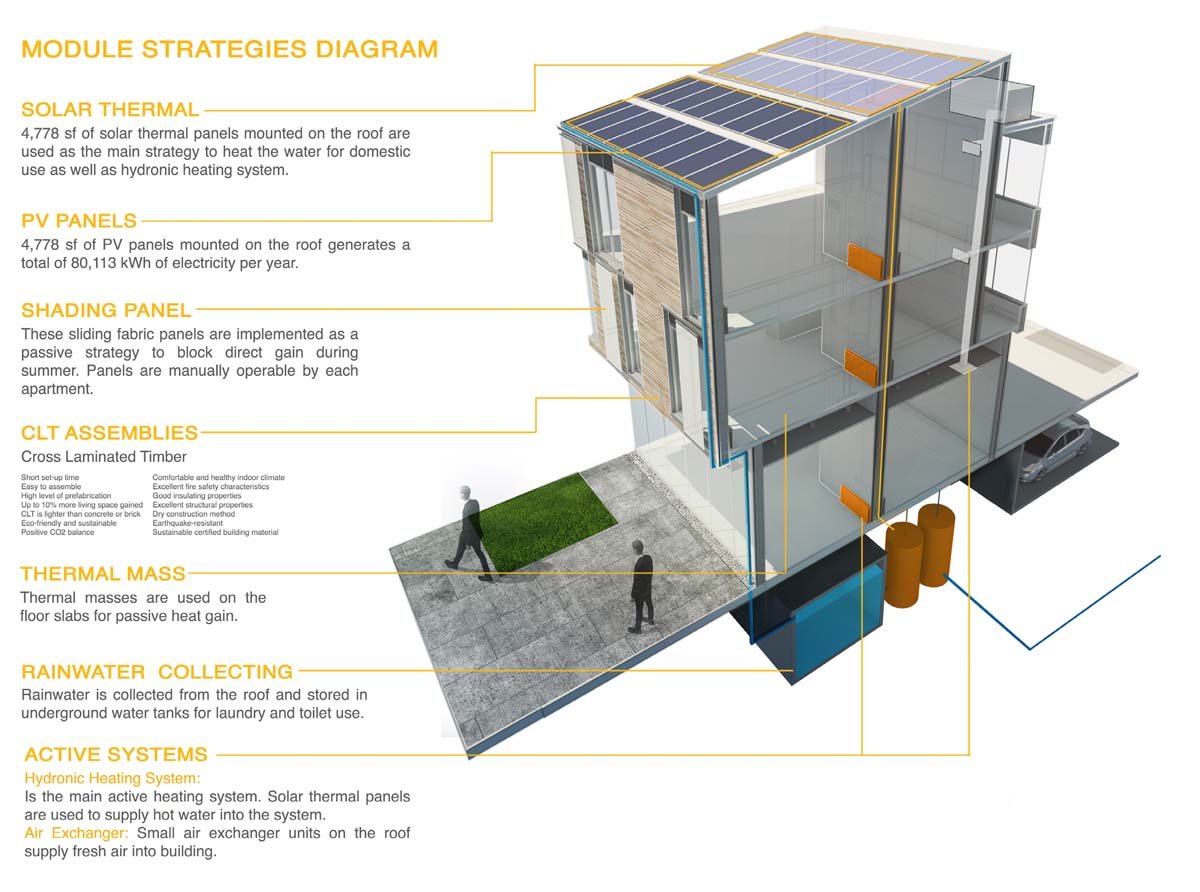 The winning project, created by a team from the University of Cincinnati, shows a good balance between active and passive energy performance; it also addresses other components of sustainability, such as material choices.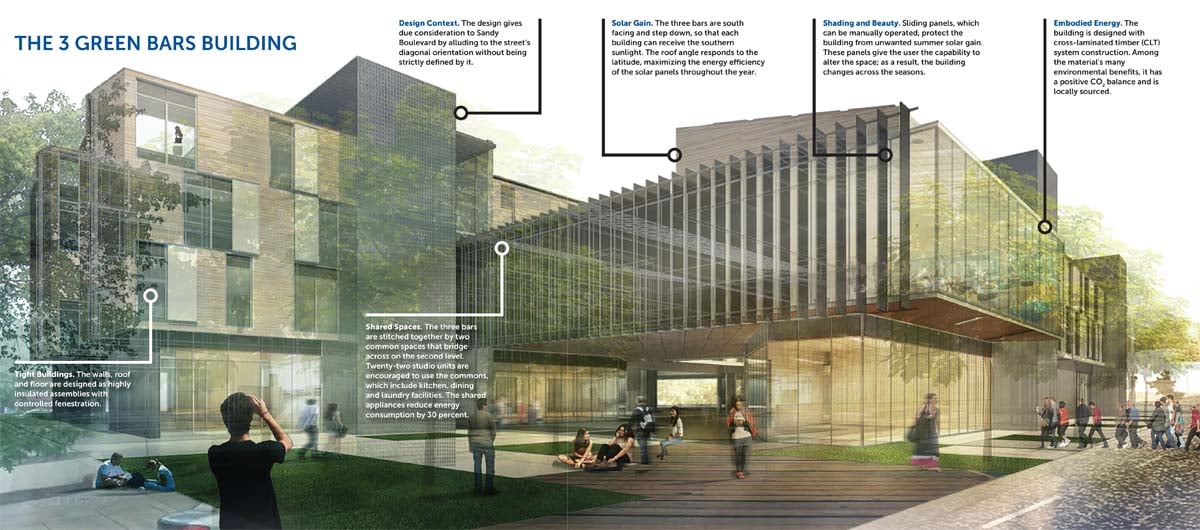 This project was recognized for its strong urban and environmental response, well-considered proportions and design restraint, and emphasis on building energy performance as the path to a net-zero-energy building. Click the image to see a larger version.
Team: Jon Lund, Narek Mirzaei and Luis Sabater Musa, University of Cincinnati
The University of Cincinnati team was the only one that identified where the highest energy usage comes from in this type of development and then actually rethought spatial adjacency and programmatic requirements to reduce that energy footprint. For example, this team carefully studied the lighting and domestic hot water energy use of their design and then provided shared kitchen, dining and laundry as a way to both reduce energy consumption by 30 percent and promote social interaction. They also made many of the right passive moves to reduce energy loads first before digging into active systems. Their approach expressed well the perFORM competition's emphasis on building performance: First create a super-efficient envelope, understand what the domestic loads are and work to lower them, and then consider onsite renewable energy generation. The team did all this while also respecting the site and employing simple, elegant proportions for its buildings.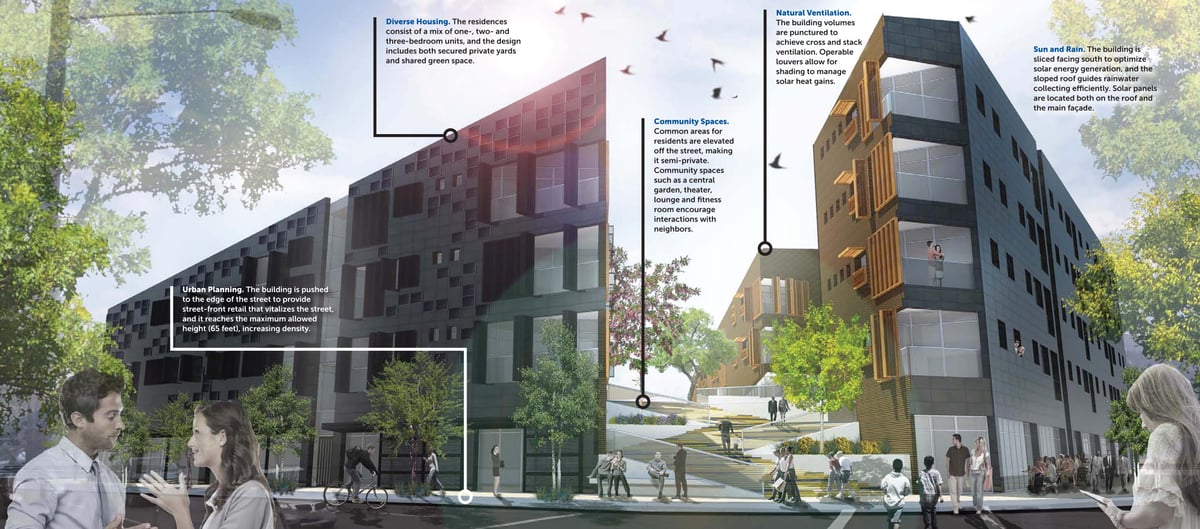 Runner-Up: Public and Private Balance
This successful design focuses on responding to two different types of housing contexts—urban and residential—by combining advantages from each. Click the image to see a larger version.
Team: Sang-Oh Jo, Junga Hong and Do Yoon Kim, University of Illinois Urbana-Champaign
The dynamic, muscular form of this design, created by the team from the University of Illinois Urbana-Champaign, illustrates one of the competition's most successful connections with the street-level urban fabric. The team clearly understood the relationship between building form and energy consumption, creating a big volume and conceptually cutting it up so that it worked. They got the basic physical principles right, while also creating lots of space for a substantial solar array. The entry also represented high-performance building technologies accurately, with thick walls, deep sills and windows pushed back from the building face.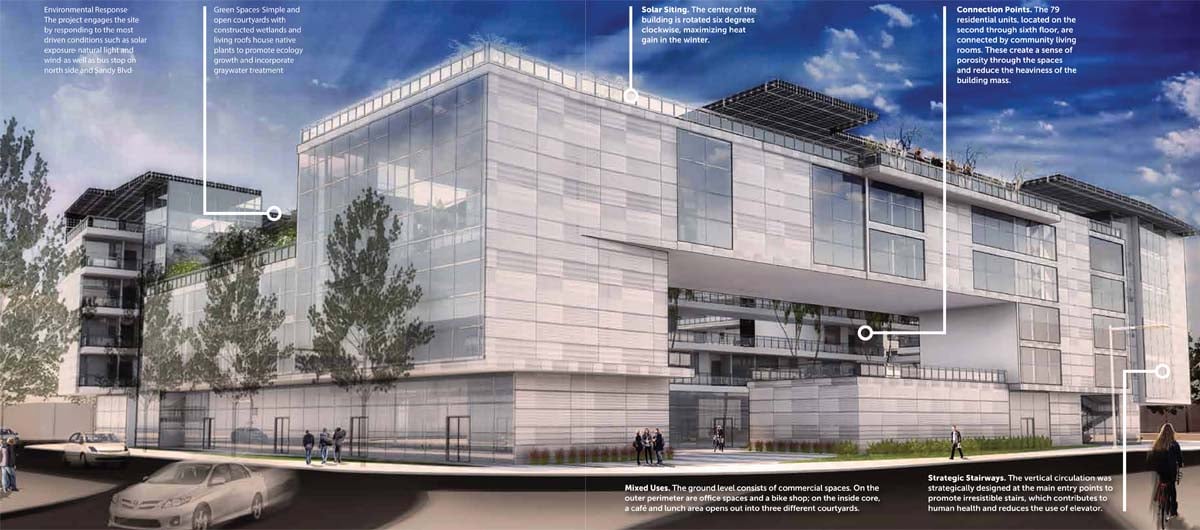 Runner-Up: Connection Through Shared Living Rooms
This unique design demonstrates a strong urban response at a scale well suited to the site. Click the image to see a larger version.
Team: Eduardo Gandara, California State Polytechnic University Pomona
Designer Eduardo Gandara centered his design around the concept of "community living rooms," which provide places in which to build a community connection with others. The building is oriented to take advantage of views of Hood Mount, downtown Portland and Forest Park.
This building has a nice mix of scales, from the "big move" to the intermediate to the pedestrian scale. The design's layering of elements and shadow lines is strong, making for a very textural building. The building is also porous to the sidewalks, with openings on all sides, giving the small public courtyards a sense of space. The scheme's opening at the site's northeast corner acknowledges Sandy Boulevard without being a slave to it. Furthermore, the design's energy strategy is sound, with reasonable use of a ground source heat pump.