FSC to recognize organizations pursuing responsible forest management and conservation.
The Forest Stewardship Council (FSC) has announced they are accepting nominations and entries for their annual Leadership Awards recognizing excellence in the FSC system. The winners will be awarded during Greenbuild at their annual awards ceremony. The event also serves to recognize all of the individuals and organizations that dedicate their time and efforts to protecting forests and to inspire continued commitment for years to come.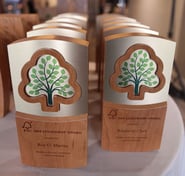 The purpose of the Leadership Awards is to celebrate organizations and their achievements, and to encourage others to continue their pursuit of responsible forest management and conservation.
In anticipation of this year's awards they will be celebrating the 2014 winners in their newsletter each month until October 2015, when they announce the new award winners.
Organizations can be nominated in the following categories:
-A design & build project for commercial, institutional, residential, or mixed-use construction projects or furniture or other products that were completed in 2014 or 2015 and utilize at least 50% FSC-certified materials. The project must be located in the US or Canada.
-An FSC-certified company or organization with a current and valid certificate, headquartered in the United States or Canada.
-An FSC trademark license holder with a current and valid trademark license, headquartered in the United States or Canada.
-A nonprofit organization with a common cause or partnership with the Forest Stewardship Council and with an office in the United States or Canada.
-An uncommon partnership such as a campaign, event, or project that your organization completed in tandem with another organization brought about by your common interest in FSC and responsible forest management.
Applications are due by Friday, September 18, 2015. Click HERE for the application.
Green Builder Media is also running their annual Green Home of the Year Awards. Entries will be accepted until 11:59pm ET on July 24, 2015. Learn more HERE.