Friedrich Smart Room Air Conditioners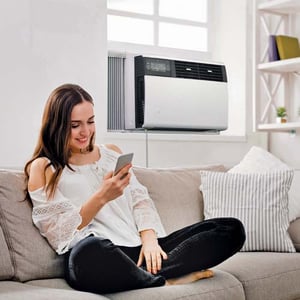 For all of its Wi-Fi-enabled product lines, smart air conditioner frontrunner Friedrich Air Conditioning Co. is unveiling an updated, simple-to-use wireless platform interface, making it intuitively easy for customers to control their A/C units via their smart devices and set their comfort level from anywhere, at any time. Friedrich's new platform will also be compatible with Amazon Echo and Google Home.
Customers with Kühl, WallMaster, Chill Premier and Uni-Fit products can now choose from Friedrich's wide variety of room A/C units that are either window or through-the-wall options, ranging from 5,200 to 35,000 BTUs, and from models designed to fit nearly any budget.
Each line also features the company's "QuietMaster" technology, designed to operate up to 45 percent more quietly as compared to competitive room A/C units. QuietMaster reduces operating noise through exacting manufacturing standards that include using dense, sound-blocking insulation, a quiet rotary compressor, steel inner walls, a completely-enclosed commercial grade fan motor, insulated air plenum (to prevent noise intrusion), motor mounting techniques that eliminate extra vibration and a blower wheel housing made from solid steel.
For more information: www.friedrich.com