Free Webinar: Sustainable Protection With Residential Fire Sprinkler Systems
Whether you need to meet the fire sprinkler mandate in your jurisdiction or want to add a life-safety upgrade to your homes that also helps conserve water, there's a smart solution that really works for builders, contractors and homeowners alike.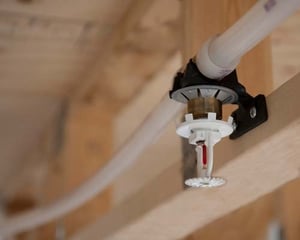 With more jurisdictions across the country requiring fire sprinklers in homes, a multipurpose system is a smart solution for builders. It can save on installation and materials costs compared to a separate plumbing and fire sprinkler system, and oftentimes the fire sprinklers can be installed by the builder's plumber already on the job. Plus, it gives builders an opportunity to differentiate their houses, particularly with the recent heavy press given to natural disasters.
In this free webinar, learn how a fire sprinkler system can:
Benefit builders, installers, and homeowners
Meet codes and mandates (in place now or coming with the next code cycle)
Save significant amounts of water
Reduce the amount of building materials required for a job
Save lives!