Free Ebook: What Builders Can Do to Stop Wildfire Disasters
The National Fire Protection Association® (NFPA®) and Green Builder Media are proud to announce the publication of a new ebook on wildfire mitigation, Enough Is Enough. The follow-up to NFPA's popular 2015 book Design With Fire In Mind: Three Steps to a Safer New Home, this book details what needs to be done to prevent loss of property and lives to fire. And its release couldn't come at a better time: Between the publication of these two books, back-to-back record-setting wildfire seasons in California alone destroyed more than 25,000 residential structures, took more than 100 lives, and resulted in $24 billion in insured property losses.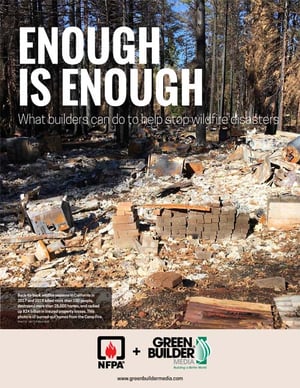 Enough Is Enough is much more than a rallying cry, it is a practical script for a new era of safe home building in wildfire-prone areas. The book analyzes post-fire scenes of some of the major fires of the past four years and offers detailed suggestions and best practices for how to design and build homes using what was learned from those tragedies, including:
A holistic approach to the wildfire problem, acknowledging that a single weak link opens the whole system to catastrophic failure.
The ways California's 2008 Building Code affected how homes fared in recent fires.
The importance of codes and ordinances for property safety and their impact on insurance strategies for rebuilding after a disaster.
The impact of embers and how to design ignition-resistant homes and commercial buildings to stop their ability to spread fire.
Details on how to properly use landscape features, and home materials and maintenance to reduce vulnerability to fire.
Why understanding fire history as well as current risk mapping is important.
The right way to rebuild homes after disaster has struck.
How ignition-resistant homes are the affordable choice for new construction.
Links for more wildfire initiatives and resources available through NFPA.
"How we build, design, and maintain homes can make them less vulnerable to a fire, but these efforts need to be supported by the understanding and action of everyone in the community," says NFPA's Wildfire Division Director Michele Steinberg. "This project has afforded Green Builder Media and NFPA a great opportunity to provide important, actionable steps to planners and developers as they build safer places for residents to live."