Four-Part Harmony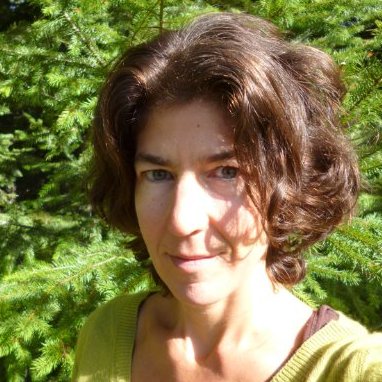 Juliet Grable, Guest Columnist
5 min read
THE GUEST HOUSE at Buoy Bay was the prototype that launched the Cottage Series, one of eight pre-design series offered by Method Homes. It's located at the south end of Orcas Island, one of the San Juan archipelago o­ff the Washington State coast. Architect Christopher Rost hopes his collaboration with Method Homes will open up opportunities in residential prefab.
"There are two factors limiting [the market] today," he says. "The stigma of the mobile home and the emphasis on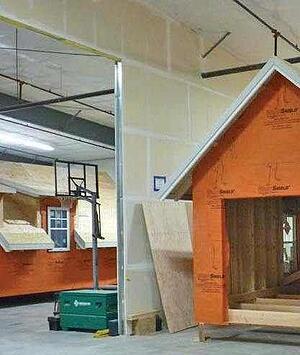 modern in high-end prefab."

Rost has been practicing for over twenty years. He is Studio 29, along with his wife, Carol Rost, who serves as office and project manager and consultant. The couple moved to Orcas Island in 2006. Working in the beautiful but fragile environment prompted Rost to seek construction methods that minimized environmental impact; he also wanted to design structures that were flexible, expandable, and moveable. After briefly considering shipping containers, he concluded pre-fab was the way to go, especially for island construction, which is often characterized by hard-to access sites on steep slopes. In a bit of serendipity, Rost was approached by a client who was interested in both traditional cottage design and modular construction. He chose Washington-based Method Homes as a partner for the company's experience in high-end prefab.

"From our standpoint, we loved having an option that combines sustainable building with traditional design, since a lot of the newer prefab companies are speaking to the modern vernacular," says Courtney Peterson, communications coordinator for Method Homes.

Peterson says Method's employees are master craftsmen, with extensive backgrounds in building. Nonetheless, the Buoy Bay project presented new challenges, including a huge number built-ins— sleeping nooks, bookshelves and the like—and Craftsman finishing details such as flat panel-and-frame wainscoting and cornice moldings.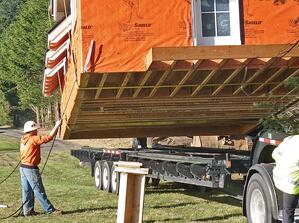 The modules employ traditional stick frame construction, most of which happens in Method Homes' Ferndale, Wash., factory. The benefits of factory construction boil down to time and efficiency. Buildings proceed side-by-side, allowing for bulk purchase and economic use (and reuse) of materials. The company claims a material waste of less than 10 percent. Factory construction reduces exposure to the elements when sections are not yet finished, and limits disturbance caused by trips to and from the home site.
Modules take four to eight weeks to build, and arrive on-site 85 to 90 percent complete, with interior finishing, fixtures, windows and siding. The Buoy Bay modules arrived only partially sided, so workers could install the steel straps necessary for the building's structural integrity.
Modules are compatible with any type of foundation, including site-built basements, slabs, perimeter and pier foundations. After installation, contractors take six to eight weeks to "stitch the seams" with drywall, flooring and siding, apply the final roof covering, build interior stairs and exterior decks and hook up utilities.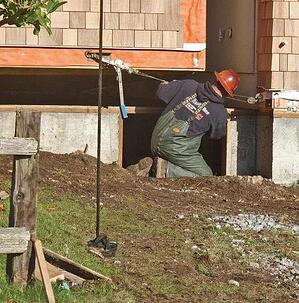 Though barges and ferries carry modules to the San Juans, most of the time they're shipped on ‑ at-bed semis, one per truck. Method Homes uses Acc-U-Set Construction to deliver and install many of its projects. "They go just about anywhere we go," says Peterson.
Method Homes began in 2008 with a prototype cabin in Glacier, Washington. Since then, the company has built over 70 projects, from Alaska to Pennsylvania, and nearly all the San Juan Islands. Method partners with several architecture firms, and offers eight series of pre-designs, each with multiple floor plans. Though all of their designs can meet LEED standards without upgrades, the company keeps pushing the green envelope with projects and collaborations, including a portable classroom built to Living Building Challenge standards for a Seattle school district.
The Cottage Series stands out as a departure from Method's modern aesthetic. Clients can choose from six floor plans ranging from 1,436 to 2,254 square feet; matching garage and accessory dwelling units are also available. Base prices run from just under $220,000 to $346,000, which does not include design, site work, foundation, appliances, delivery, installation or onsite completion. Method conducts a feasibility study for each project to estimate its "turnkey cost," including line item estimates for things like utilities, site development, transportation, and installation.
The Buoy Bay Guest House became the template for Plan 1 of the Cottage Series. At 1,484 square feet, it's one of the smallest floor plans. The layout features two bedrooms, two baths, and a pair of built-in sleeping lofts; a covered porch, deck and upstairs balcony complete the Craftsman-style package.
"The plans are endlessly customizable," says Peterson. Clients work with the architect and Method's interior design team on system, material, and finish packages. For example, the basic package includes interior drywall and Hardie composite siding, but you can upgrade to cedar siding or shingles and wainscoting, as the owners of the Buoy Bay Cottage did.
"We prefer to work with local companies and FSC-certified lumber when possible," says Peterson. Method and Rost use many of the same suppliers, including Seattle-based Bamboo Hardwoods for bamboo flooring and composite decking. Green upgrades are available, too. The Orcas Island house includes an electric radiant­ floor, aluminum-clad wood windows, a 3.4kW solar PV array, and Jenn-Air Energy Star-rated appliances.
For Rost, the pilot project gave him a unique opportunity to compare pre-fab with another of his projects, a traditional custom home being built at the same time, on the other side of the island. The Buoy Bay Guest House cost $100 a square foot less than the other custom home, and only took four months—compared to ­fifteen—to build.
Designing for prefab requires an understanding of the manufacturing process. Thinking in modules is "more of a product design exercise," says Rost. Highway codes and truck dimensions limit modules to 16 feet wide and 60 feet long, which includes legal overhangs. With total vehicle height in mind, Rost keeps module height around 13 feet. Though permits can be acquired for larger loads, they require extra fees and special conditions, such as escorts and road closures. The speci­fic path of travel imposes further restrictions. Before he does anything else, Rost studies the route to identify physical barriers, such as bridges.
Custom clients often want large living rooms and vaulted spaces, which aren't compatible with straight prefab. Rost favors a "hybrid design" with such clients, building part in-factory and part onsite. He's taking this approach with a remodel-addition project on another of the San Juan Islands.
"The construction and development indust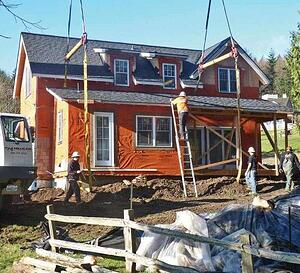 ries as they exist today are unsustainable," he says, adding that affordable but high-quality modular housing can play a large role in greening the building landscape. He sees opportunity in multifamily construction because of the repetition of elements, and would eventually like to work with a large-scale manufacturer. He also imagines forging partnerships with developers and NGOs, to crack the affordable housing market.
Rost challenges the perception that there's an inherent connection between contemporary design and sustainable building. "Green is more about process and materials," he says. "You can apply these to any design."