Flooring Revolution
When people think of innovation today, enabling smart home technologies generally come to mind. But other building product categories, like flooring, are experiencing similar important advancements.
When it comes to increasing the durability, aesthetics, and sustainability of your projects, selecting the right flooring products can pack a big punch. There are several trends in green flooring that are worth consideration.
Demand for low-maintenance, affordable, and eco-friendly options like bio-based tile and stained concrete is growing. Terrazzo tile is also trending due to its durability and design flexibility, in conjunction with its ability to be installed without harsh materials to maintain a healthy indoor environment quality. For commercial projects, recycled broadloom and carpet tiles have become the preference, which reduce installation waste and long-term maintenance.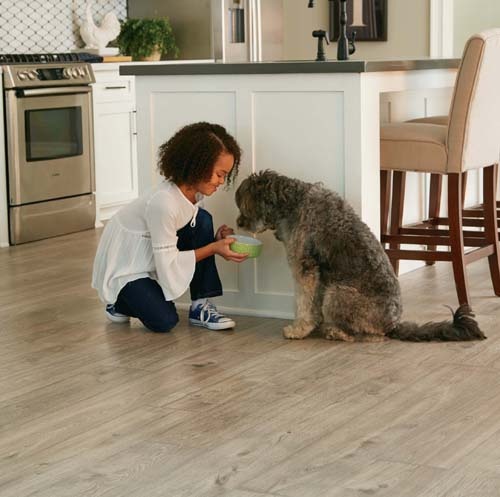 For more information about Mohawk's green flooring options, visit their booth at Design & Construction week in Orlando on
January 9-11
at booth W3641.
Innovative flooring companies like Mohawk are not only addressing recycling, durability, design, and resource use with their sustainable flooring options, they're also tackling one of the building industry's most pressing issues: labor shortages.
With the introduction of Rev-Wood, a laminate wood hybrid product, Mohawk is offering a waterproof, easy to install, "floating" floor that, because of its virtual indestructability, can be installed at any point during the construction process—which can help a builder make up valuable time on a jobsite.
David Holt, Senior Vice President Builder/Multifamily says, "Mohawk is focused on offering products that solve the labor conundrum, since it's a such a problem for the industry. Our flooring solutions require fewer adhesives, they don't require heat guns, seam tape, or power stretchers, and they are very dimensionally stable, which translates into shorter install times, better results, and fewer claims and call backs for builders."
Holt adds, "Mohawk has a great sustainability story—for example, we're the largest recycler in the flooring industry, turning 3 billion plastic bottles per year, or 20% of all bottles in the domestic post-consumer market, into our Everstand carpet. But what I'm most proud of is that we are the only flooring supplier that manufacturers everything we sell in the USA and owns all of our own assets. We invest money in plants here in the USA where we can control quality. This allows us to eliminate the use of fossil fuels for international transportation, and also shortens lead times for our customers."