The Flint water crisis exposes major deficiencies in our national water infrastructure and the safety of our water.
When most people think about water problems in the U.S., the first thing that comes to mind is water scarcity. But the Flint water crisis has brought to light another pressing issue: water quality.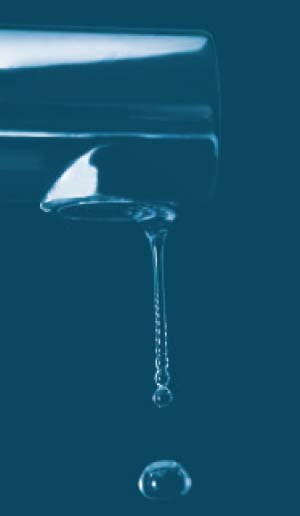 A recent Gallop poll showed that 55% of Americans expressed that they worry "a great deal" about polluted drinking water. This worry is certainly valid, considering the dilapidated state of our national water infrastructure, in combination with rampant cost-cutting measures and patchy water management practices in communities across the country.
In Flint, the water crisis was entirely man-made—officials decided to switch the water supply from Lake Huron to the Flint River to save money. Failure to treat the water properly corroded the lead pipes, resulting in a toxic soup that was consumed widely by Flint residents.
Unfortunately, Flint is a microcosm of a systemic problem, and only one example of habitual pattern that we have in this country of avoidance of clear indications and consistent warnings that we've done grave environmental damage.
According to actor and environmental activist Mark Ruffalo, "In 2009, federal data revealed that water being delivered to tens of millions of Americans contained illegal concentrations of dangerous chemicals. That contamination has led to widespread ill-effects such as rashes and elevated risk of various diseases, as well as hundreds of thousands of Clean Water Act violations… Sadly, there have since been numerous high-profile cases of contamination, such as in Toledo, Ohio, in 2014, where agricultural runoff and crumbling infrastructure led to an algal bloom in Lake Erie that made the city's drinking water unsafe. Also in 2014, in West Virginia, a chemical spill contaminated the Elk River, the tap water supply for hundreds of thousands of people. This past August, 3 million gallons of contaminated water were released into the Animas River in Colorado, resulting in lead levels 3,500 times normal and arsenic levels 300 times normal, affecting many communities and farms."
The level of national water pollution is vast, and is much more extensive than the general public has been lead to believe. In addition to decaying infrastructure and shady oversight, the punitive combination of fracking and big agriculture—two industries in which profit and politics have trumped public health—is contributing to the dramatic decline in our nation's water quality.
Fortunately, the White House is responding. President Obama's recently submitted budget included $267 million specifically devoted to water innovation. The proposal calls for the development of water conservation investment, R&D of new water supply technology, real-time water monitoring systems, and affordable water treatment and desalination technologies.
And while every drop of water shapes the stone, this budget request represents only a small step down a long, arduous road (as a point of reference, it's projected that solving the Flint crisis alone will cost $1 billion.) "Until we spend billions of dollars on water-efficiency technology and better water management, until we spend on 21st-century water ideas, in other words, we're never going to solve our 21st-century water problems," says Peter Gleick, president of the Pacific Institute and one of the nation's leading water experts.
It's important to use situations like Flint as a clarion call for a new approach to water testing, monitoring, and stewardship. It's the only way that we can ensure that our communities will have safe drinking water today and into the future.
How do you think we can ensure access to safe and abundant water? Write to me at sara.gutterman@greenbuildermedia.com or follow me on Twitter or Facebook.
For more information about green building and sustainable living, visit Green Builder Media at www.greenbuildermedia.com, like us on Facebook, and follow us on Twitter for regular updates and breaking news.