Flex House: Water Miser
The Flex House demonstrates how to live right with less water.
The Flex House was designed and built in California, a state that has just recovered from the worst drought in recorded history. With its large population and dependence on agriculture, the Golden State is—by necessity—leading efforts to reduce water use across the board. With emphasis on right-sized living, Shelter Dynamics and Green Builder Media set out to demonstrate strategies in The Flex House that reduce potable water use while meeting or exceeding California's stringent standards.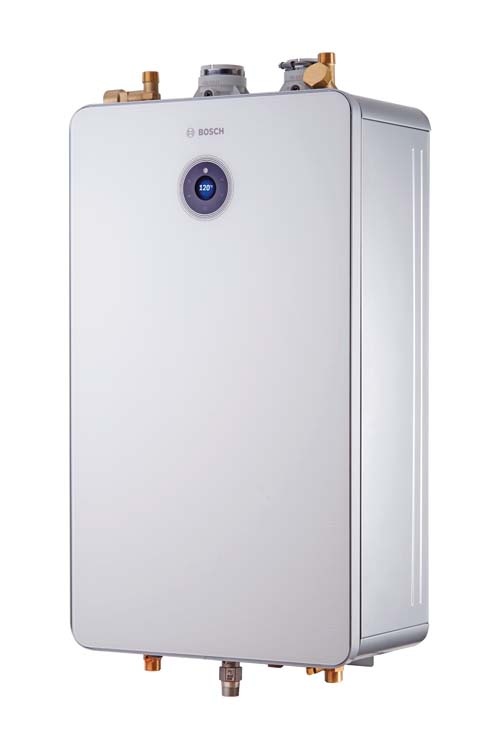 Lack of a dedicated return line and inclusion of a recirculation pump helps the Bosch Greentherm 9000 series tankless water heater
save 11,000 gallons a year per household. www.bosch-home.com/us/
Reducing Demand
Just as a high-performance home reduces energy demand before adding solar panels, The Flex House shrinks its water footprint by first reducing demand with efficient faucets and fixtures provided by American Standard.
Both the toilet and lavatory faucet are certified by the EPA WaterSense program. By definition, WaterSense-labeled products use 20 percent less water than their conventional counterparts, but these products go even further. The contemporary-style faucet uses 1.2 gallons per minute (gpm), while the toilet uses 1.1 gallons per flush (gpf), exceeding the WaterSense standards of 1.5 gpm and 1.28 gpf, respectively.
In the kitchen, the sleek Beale pull-down "touchless" faucet enables hands-free operation and can be turned on or off by waving a hand in front of the sensor; sliding the door over the sensor enables manual mode. The faucet's maximum flow is 1.5 gpm, below the maximum threshold of 1.8 gpm for kitchen faucets set by the stringent CalGreen program. (At present, the WaterSense program does not certify kitchen faucets.)
The company is maintaining performance with these lower flows through technological innovations and high-quality manufacturing.
"Performance with conservation—that's what I like to tell people," says James Walsh, vice president of product management at LIXIL Americas, the business unit under which American Standard operates. He cites products such as the FloWise three-function showerhead as an example of a product that combines performance with water savings. The showerhead includes a 1.5-gpm water-saving mode that uses a turbine to rotate the head, providing the user with a full, satisfying spray.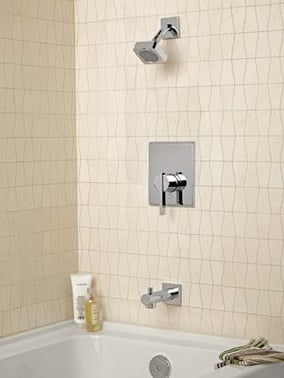 The FloWise three-function showerhead from American Standard automatically reverts to the 1.5-gpm water-saving mode. www.americanstandard-us.com
The Greentherm condensing gas tankless water heater from Bosch also helps save water. Models in the Greentherm 9000 series include a built-in recirculation pump and require no dedicated return line. This drastically reduces the time spent waiting for hot water at the tap, and the company claims this feature can save an estimated 11,000 gallons a year per household. The compact appliance is also a good fit for this smaller-footprint home.
Using Water Twice
The Flex House also demonstrates a graywater system from Nexus eWater, consisting of a NEXtreater graywater treatment unit and a Recycle Ready Assembly, a pre-assembled graywater collection system. Such systems typically capture two out of every three gallons of indoor water for reuse in landscaping and for toilet flushing.
The appliance-like NEXtreater uses floatation, physical and carbon filtration and UV disinfection to treat graywater to NSF 350 standards. Developed by NSF International, this standard establishes requirements and water quality standards for onsite reuse systems. California adopted NSF 350 into the California Plumbing Code in 2013, which opened up opportunities for mainstreaming graywater reuse throughout the state. The NEXtreater was the first graywater product to receive this certification and remains the only one widely available in California. With its products, Nexus eWater has positioned itself to provide market-ready and code-compliant systems to builders, developers and homeowners across California.
"We've taken a productized, modular approach to onsite graywater recycling," explains Tom Wood, CEO for Nexus eWater. "The Recycle Ready Assembly makes installation simple for builders and contractors—there are just five connections—and the NEXtreater was designed to be as simple to use as an air conditioner."
The Recycle Ready Assembly includes a holding tank for untreated graywater and a larger reservoir for treated graywater. The company is advocating that new construction with dual plumbing go a step further and add a Recycle Ready Assembly.
The Scoop on NSF 350
NSF/ANSI 350 and 350-1 establish material, design, construction and performance requirements for onsite residential and commercial water reuse treatment systems and set water quality requirements for the reduction of chemical and microbiological contaminants for non-potable water use. Treated wastewater can be used for restricted indoor water use, such as toilet and urinal flushing, (and in California, for laundry washing) and unrestricted outdoor water use, including lawn irrigation and vehicle washing. Several codes, including the International Residential Code (IRC) and Universal Plumbing Code (UPC) recognized NSF 350 in the 2015 code cycle.
Dual plumbing keeps graywater from showers, sinks and washing machines separate from the wastewater from dishwashing and toilets. If the home does not include a graywater treatment system, the two wastewater streams combine into a single pipe outside of the house, and all of the wastewater flows to the sanitary sewer system. In California, municipalities with water recycling in place require dual plumbing in new construction; municipalities without water recycling may still elect to mandate it.
"The logic was, some municipalities are already requiring dual plumbing; let's give them an option so homeowners can actually do something with it," says Josh Fuller, director of marketing and sales for Nexus eWater. "The builders are coming around because they feel like they are giving the homeowner something of value." The NEXtreater, which is the most expensive part of the system, can easily be plugged in later.
Taking It Outside
The Flex House takes water conservation outside the home by demonstrating efficient irrigation with the Rachio Smart Irrigation Controller. This controller communicates with local weather stations and incorporates information about each watering zone to create watering schedules that guarantee plants only receive water when they need it.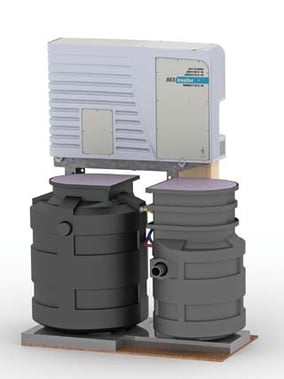 The Recycle Ready Assembly from Nexus eWater includes a 75-gallon holding tank and a 200-gallon reservoir for treated graywater.
www.nexusewater.com
According to the EPA, Americans spend 9 billion gallons of water on landscaping, and the agency estimates that up to 50 percent of that water may be wasted by inefficient systems. Recognizing the huge potential savings, the EPA began certifying smart controllers through its WaterSense program starting in 2011.
"[Conventional] irrigation controllers were as smart as they were going to get the day they were placed on the wall; the intelligence was confined to the device itself," says Ric Miles, VP of Business Development at Rachio. "There was no insight into seasonality or meteorological events, because they were not connected."
In contrast, a smart irrigation controller can track local weather and soil moisture and match that information with detailed information about planting zones, including soil type, slope, sun exposure and plant species to create customized watering schedules for each zone. These controllers can make decisions based on forecasts; for example, if it's predicted to rain tomorrow, the controller might suspend the irrigation program today.
"[We spend] thousands of gallons of water on landscaping and irrigation; it accounts for over 50 percent of the water consumption in many homes," says Miles. "If you can skip weather events, or if it's overcast and cool; if you can take advantage of the different characteristics of different zones, you can save an average of 30 percent and even up to 60 percent."
The controller also automatically compensates for seasonal fluctuations. Most schedules are created around peak need—usually mid-to-late summer, when solar radiation is most intense. However, water needs are typically lower in the "shoulder seasons" of spring and fall.
The EPA estimates that replacing a standard clock timer with a WaterSense-labeled irrigation controller save an average home nearly 8,800 gallons of water annually. Rachio's was the first controller to be certified by the WaterSense program, in 2014. It can be controlled through an app from anywhere, and users can share access.
High Performance with Low Flows
There's no denying "low-flow" toilets and faucets save water. But for customers to embrace these products, they must guarantee performance at these lower flows. For showerheads, this means creating adequate pressure and coverage with less volume. For toilets, this means ensuring the toilet does its job of removing solid waste while adequately cleaning the rim. American Standard's high-efficiency, low-flow toilets receive the highest ratings for flushing solid waste, according to Maximum Performance (MaP) testing, an independent evaluation of flushing performance.
American Standard was recognized with the WaterSense Excellence in Innovation and Research award in 2016, in part for its research on high-efficiency toilets and "drain line carry." Conducted in collaboration with the Plumbing Efficiency Research Coalition (PERC), the study looked at how toilet paper, slope of plumbing lines and the flushing characteristics of the toilets themselves affected the ability of toilets to successfully "kick waste to the curb," as described by James Walsh, vice president of product management for American Standard, part of LIXIL.
"In homes, drain line carry is not as much of an issue, because there are multiple sources of water to push toilet paper and waste through the pipes," explains Walsh. In homes, showers, dishwashers and washing machines all contribute to the flow through the drains, but in commercial buildings, toilets and sink faucets typically provide the only water that can facilitate the removal of paper and waste through drain lines.
"That's why our testing with PERC is so important, to ensure that commercial low-flow toilets can attain the same high performance as their residential counterparts," says Walsh.
The WaterSense threshold for toilets is 1.28 gpf, which is 20 percent lower than the current standard of 1.6 gpf. Aggressive green building standards such as California's CalGreen program are using or exceeding WaterSense standards. Manufacturers are responding.
"We have a hydraulic platform that does an outstanding job with both drain line carry and rim wash," says Walsh. This VorMax technology primes the bowl using two flush valves and a single, powerful jet of water, rather than shooting water through multiple holes to clean the rim.
"We've now taken this technology and developed an even more water-conserving VorMax toilet that uses only one gallon of water to flush 1,000 grams (2.2 pounds) of solid waste—the highest MaP rating," says Walsh.
Learn more about MaP testing at www.map-testing.com
Putting It All Together
We use water to produce energy, and we use energy to treat, transport and heat water. Consequently, reducing potable water use almost certainly also cuts energy use, even if it's not necessarily reflected in a utility bill.
There is a growing awareness of the "water-energy" nexus—the complex interdependencies between energy use and water.