At PCBC in San Diego, The Flex House became the toast of the show floor, winning high praise from both exhibitors and attendees.
Reaction to the great unveiling of The Flex House in June surprised even the Shelter Dynamics team that built it. As the follow-up to the previous year's "The Arc House," this design proved even more seductive. Even as we finished installing the last pieces of furniture and patching minor drywall dings, we had other exhibitors and exhibition workers asking for an early tour.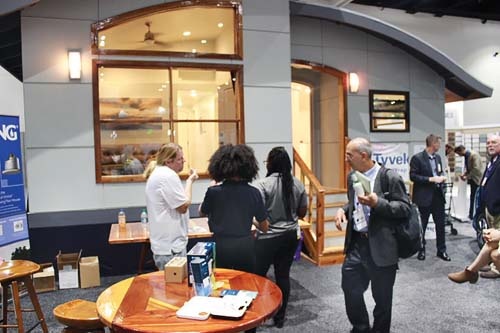 By personally being on hand to answer questions and listen to comments from visitors, we learned a lot about which buyers this type of project attracts, both on the pro and homeowner sides. The article on the following pages will get into more detail about design choices for The Flex House, but quickly, here are five things that really resonated with our first several hundred visitors.
Big Impression. Almost universally, visitors would ask about the square footage of the house at the end of the tour. When we told them 760 square feet, the response was almost always "Wow. It seems a lot bigger than that." The high ceilings, radiused corners and U-shaped flow of the floorplan definitely contributed.
R-40 Walls. For pros especially, who walk into The Flex House assuming it's a built-to-code manufactured home, the Bayseal closed-cell spray-foamed wall performance is an instant impression changer. This home is far more energy efficient than a typical factory-built project.
Power and Water. The presence of a Jinko solar array and complete Nexus graywater system also took visitors by surprise. Add in the water savings potential from the Rachio smart irrigation system, and you have a truly "flexible" turnkey house with low impact on local infrastructure , with the potential for off-grid living as well.
Hard Cost. At an estimated $85,000 off the factory floor, trimmed, finished and ready for occupancy, the house immediately caught the imagination of several California builder-developers. "How long to deliver 100?" one builder asked. Many other would-be buyers made serious inquiries into purchasing a unit. This is the prototype, however. Factory ramp up isn't likely to happen for a year or so.
Affordable Luxury. Trimless windows, composite Mohawk floors and the Neolith "sintered stone" countertops in the home were carefully selected for their clean modern look, but they're budget busters. The ultra-modern cabinets in the kitchen were off-the-shelf purchases. The overall feeling is custom and luxury, but without the price tag.
Of course, it is the sum of The Flex House, not its individual parts, that that compelled many visitors to tells us "This is the best thing at the show!" And the story doesn't end here. We intend to keep improving and tweaking the house for its upcoming exhibition at both Solar Power International and the Consumer Electronics Show.