Flex House Expected to Shine Bright in Vegas at Solar Power International
Green Builder Media and Shelter Dynamics are bringing the Flex House, our small-footprint, net-zero energy, solar powered demonstration home, to Solar Power International next week. We anticipate that the home, once again, will steal the hearts and minds of attendees with its unique design, high performance products, and smart technologies.
Green Builder Media partnered with specialty modular builder Shelter Dynamics to showcase the concept of "Right Sized Living" with the Flex House.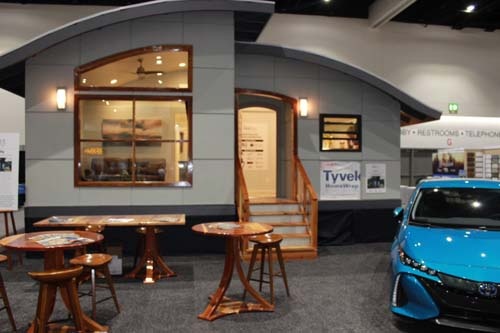 Weighing in at only 760 square feet, the Flex House makes a big impression with its high ceilings, arched doorways, rounded corners, clerestory windows, and U-shaped flow. The home is designed to accommodate the buyer's lifestyle needs—the floors are installed first, so walls can be moved (or eliminated entirely) to create bigger or smaller rooms.
But Right Sized Living doesn't just refer to flexible spaces and square footage, it also means using exactly the amount of resources that you need—no more, no less, which is particularly important here in the U.S., where we've grown accustomed to living large.
The Flex House is net-zero: its R-40 walls feature Bayseal closed-cell spray-foam, DuPont Tyvek Housewrap for moisture management, and high performance trimless windows that enhance both the energy efficiency and the sleek, contemporary design.
Designed to be its own microgrid, the Flex House produces all of its own power. With super-efficient Eagle 60 Mono-PERC modules from Jinko (that are optimal for space-constrained applications) combined with an advanced Enphase microinverter and sixth-generation Enphase IQ™ System, the Flex House solar system blends high performance with reliability and unmatched intelligence.
The solar system powers the Bosch electric vehicle charging station, which, in turn, powers the Toyota Prius Prime, which also serves as back-up battery storage.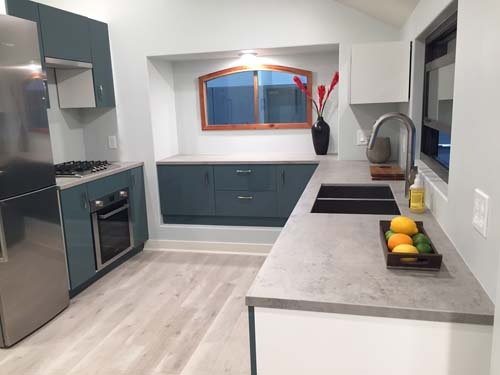 Energy savings is augmented by Bosch's smart appliances, tankless water heater, and ductless mini-split HVAC system, as well as smart lighting from Sylvania.
The Flex House addresses water conservation and reduces the impact on local infrastructure with beautiful, low flow plumbing fixtures from American Standard, a smart irrigation system from Rachio, and a greywater system from Nexus e-Water.
A home simply isn't sustainable if it burns down during a fire, so the Flex House includes a Viking fire protection system to ensure its resiliency.
And, to make the Flex House feel both custom and luxury, the home boasts sustainable composite flooring from Mohawk and "sintered stone" countertops from Neolith.
Perhaps the best part about the Flex House is its price tag—rolling off the production floor at $85,000-$100,000 (depending on the solar system requirements and select finishes), the turnkey house offers a beautiful, high-quality and affordable option to buyers.
While this model is a prototype, we're in the process of ramping up manufacturing and we expect to be taking orders by early next year.